Interviews
Lauren Dahn Photography – The Woman's Photographer – Intimate Images for the Sentimental, Audacious, Refined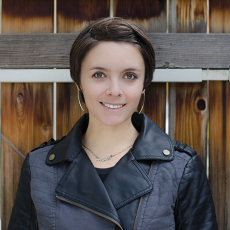 Lauren Dahn always knew that she was a smart girl. Growing up as a tomboy in the wilds of Alaska, she was comfortable with power tools and motorcycles and knew she could hold her own in the business world when she incorporated her first business venture at the age of 20. As a world traveler, she was never far from her camera and used her view through the lens to observe beauty in all its forms. It wasn't until she decided to really step outside of her comfort zone and booked a Boudoir Photo-shoot as a gift for her fiancée on their wedding day a few years ago that Lauren made a life-changing discovery. "I realized that being sexy does not undermine my intelligence," says Lauren. She also realized that although her husband appreciated the gift very much, the experience was really a gift to herself.
It didn't take long for Lauren to create her own boudoir photography business with the intention of helping women feel their beauty and audacity regardless of their former ideas of what they were capable of. When she and her husband moved to Ashland two years ago from Florida, she knew that she had the power to help women tap into their bold, audacious sexiness by creating a beautiful, fun and comfortable environment in which to explore.
Thanks for talking with us today Lauren. You refer to your specific business as creating "intimate images." Tell us more about that.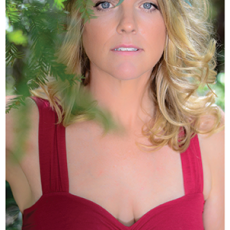 I specialize in empowering women, specifically those women who are refined, sentimental and audacious creatures.

Boudoir Photography has many different definitions but my definition is simple. It is the celebration of your body, in all its perfect imperfections. Whether the client wants to do that in heels and lingerie or in the forest covered in mud is alright with me!

It's no secret that women are their own worst critics; my job is to hold up a mirror for them to see themselves in a different light. I just happen to use a camera to do so.
Are women nervous when they come in? How do you help them through?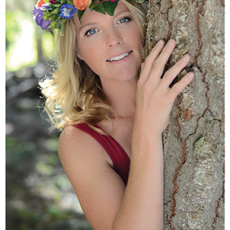 Heck yeah they're nervous! But that's ok, that is what makes it an exciting and transformative experience. Luckily, I am like a spiritual guide on their path to sexy! Ha ha! Mainly, I strive to build trust and I do so by listening, really truly listening to them. Every woman has a story, about why she feels the way she does about her body. Whether she has six children or climbs mountains for a living, I want to know all about it. I listen to how they feel about their bodies. I listen to what they love about themselves and what they don't. Inevitably, building that trust helps to alleviate any concerns and it becomes a journey we take together.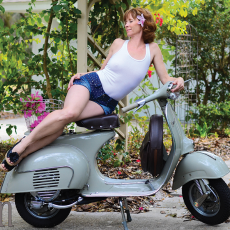 You say that you originally intended to do something different and a little racy for your fiancée when you booked your own boudoir photo shoot and were surprised to learn that it would eventually be a huge gift to yourself. Tell us more about that surprising experience.
I mentioned that every woman has a story, here is mine; I used to believe that sexy and smart were mutually exclusive. I thought that if I wore figure hugging clothes to business meetings I would not be taken seriously. We have so many negative stereotypes surrounding female bodies in our society and sadly this was a big one for me. Beautiful girls must be ditzy right? I had no idea that a 2 hour boudoir photo shoot was going to utterly shatter this stereotype for me. I did the shoot, unleashed my sexy and was transformed. Guess what? I can be sexy AND smart and that has made me a better woman, business owner and wife because I am not limited by that ridiculous stereotype. My husband absolutely loved the photo album from my shoot but that experience means more to me than I could have ever imagined. In fact, that experience is why I became a woman's photographer, to help woman crush stereotypes and create new identities surrounding their bodies.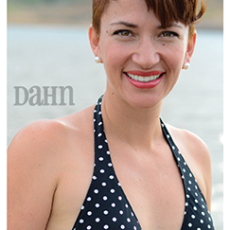 Who are your clients?
My clients are usually age 40 and up. They are thoughtful, intelligent and adventurous. I would say 50% are coming to me having no idea how beautiful they are and the other 50% know they've got it going on and are ready to show it off.
Tell us about the process. What does a typical shoot look like?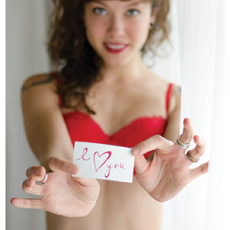 From the moment a client contacts me I am there to support them. We meet for coffee and I ask a lot of questions so we can chose the style and theme of their shoot. I also assist with wardrobe consultation. In the weeks before the shoot I mail them a customized welcome packet with information and a surprise! The day of the shoot the client is 100% pampered, they are literally a star for the day. My team of professional hair and makeup artists get them ready and when its time, we crank up the tunes and start shooting. I guide them completely on poses and facial expressions. It's a lot of laughing and goofing around and it only takes about 10 minutes for the nerves to go away and that's when the magic happens!
What do your clients have to say about their experiences with you?
After we wrap the shoot they are surprised, elated and empowered. I have had clients tell me that they had so much fun they wouldn't even mind if the photos went missing and we had to shoot again. Ha ha! I usually text them sneak peeks over the next day or so and then we have the Big Reveal, where they see their images for the first time and choose the photos they want in their album. This is typically very emotional. I like to watch their faces as they see their images. It's usually a mix between disbelief and pride and there are almost always tears involved. Happy tears that is!

Then when their finished album arrives it's emotional all over again. Albums are my best sellers and what I most recommend, especially in this digital age when we aren't printing photos anymore. The albums become heirlooms and I have seen my clients clutch the albums to their chest and one client told me, if her house was on fire her boudoir album would be the first thing she would grab!
The atmosphere you create for these women is quite intimate. Do these clients sometimes become close friends?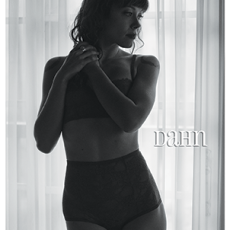 Ha ha, every woman I have ever photographed has become a close friend to me. I have a lot of BFF's! I am very lucky.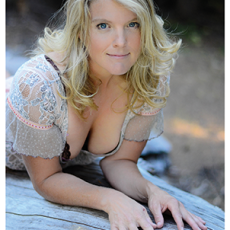 Being a business owner comes naturally to you! You started your first business as a very young woman. Tell us more about that.
Being a business owner has always made the most sense to me. It is tough yet rewarding and I wouldn't have it any other way. After college I started my first company refurbishing affordable housing for low income families. I have come a long way from patching drywall, doing plumbing and electrical repairs and digging ditches!
Have you had any mentors along the way?
Absolutely! I am a sponge looking for wisdom and advice wherever I can get it. People often ask how I differentiate myself from my competition. But as my business coach and mentor Jeff Jochum says, "Anybody can do what you can do. No one can be who you are." My clients hire me for who I am and how I connect with them, not because I can take a good photograph.

It's advice like this that has helped me be successful in life and business. No one does it alone and that is certainly true for me. My parents have also been greatly influential on me. My dad especially has helped me manage self-doubt and challenges me to constantly think big. There is always a different way of looking at a problem. He loves to say, "Let's figure out how can you have your cake and eat it too." And that is invaluable to me.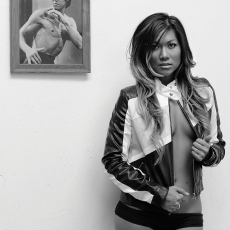 You hate the saying, "I could never do that." Why?
Yes, that is a statement I simply don't have time for. I ride a motorcycle and so many women tell me, "I could never do that." I think they really believe they can't do it and that really bums me out. The distinction lies in confidence, not in capability. I learned to ride a bike just like a man does; slowly and with practice. I am no more or less capable than anybody else and neither is any other woman I meet. I am not saying all women should be biker chicks but I challenge women never to say the phrase, "I could never do that." Because no matter if the task is learning to ride a motorcycle, traveling alone, picking up a new language or starting a business, women need to realize they are capable and capability is everything.
I understand that your passion for attracting audacious women in your life has led you to another photo project.
The Audacia Profiles! I started this personal project as a way to reach out and connect with bold women in the Rogue Valley. My theme of celebrating woman continues in this project but I focus on women business owners. Through interview and photos I spotlight their audacity and dive into the details of their businesses. Check out the website and help support all these amazing women and their businesses. I am always looking for women to feature so contact me if you are a woman business owner and would like to participate: www.theaudaciaprofiles.com
Do you have any favorite shots Lauren?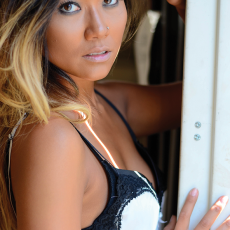 My favorite shot is actually one I took of my mother. We do a boudoir shoot every year and every year I swear she gets more beautiful. She loves flowers and nature and so for her 54 birthday we pulled her Vespa out of the garage and put it in the garden. The result turned out to be one the favorite and most special photographs I have ever taken. People do not believe it when I say it's my mother. She's a fox! Ha ha!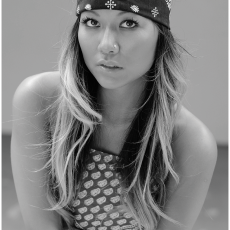 What do you like to do when you're not behind the camera?
Travel! In fact, this December my family and I are doing a 14 day motorcycle tour of Peru and Machu Picchu. So if you send me an email around Christmas and I don't answer right away it's because I will more than likely be navigating a BMW motorbike around a heard of alpacas in the Andes!
What words do you have for readers who might be a little nervous about picking up the phone and scheduling a shoot?
I say just do it. It's cliché but I don't care. I hear so often women telling me they will do a shoot as soon they "lose the weight", or as soon as their "hair grows out" or when "life is less hectic." Don't look back on a life filled with regrets. I always say, "Life is for living." You will never be as lovely as you are in this moment, so let's celebrate that.
Learn More:
Lauren Dahn, Photographer
www.laurendahn.com www.theaudaciaprofiles.com
541.219.1429