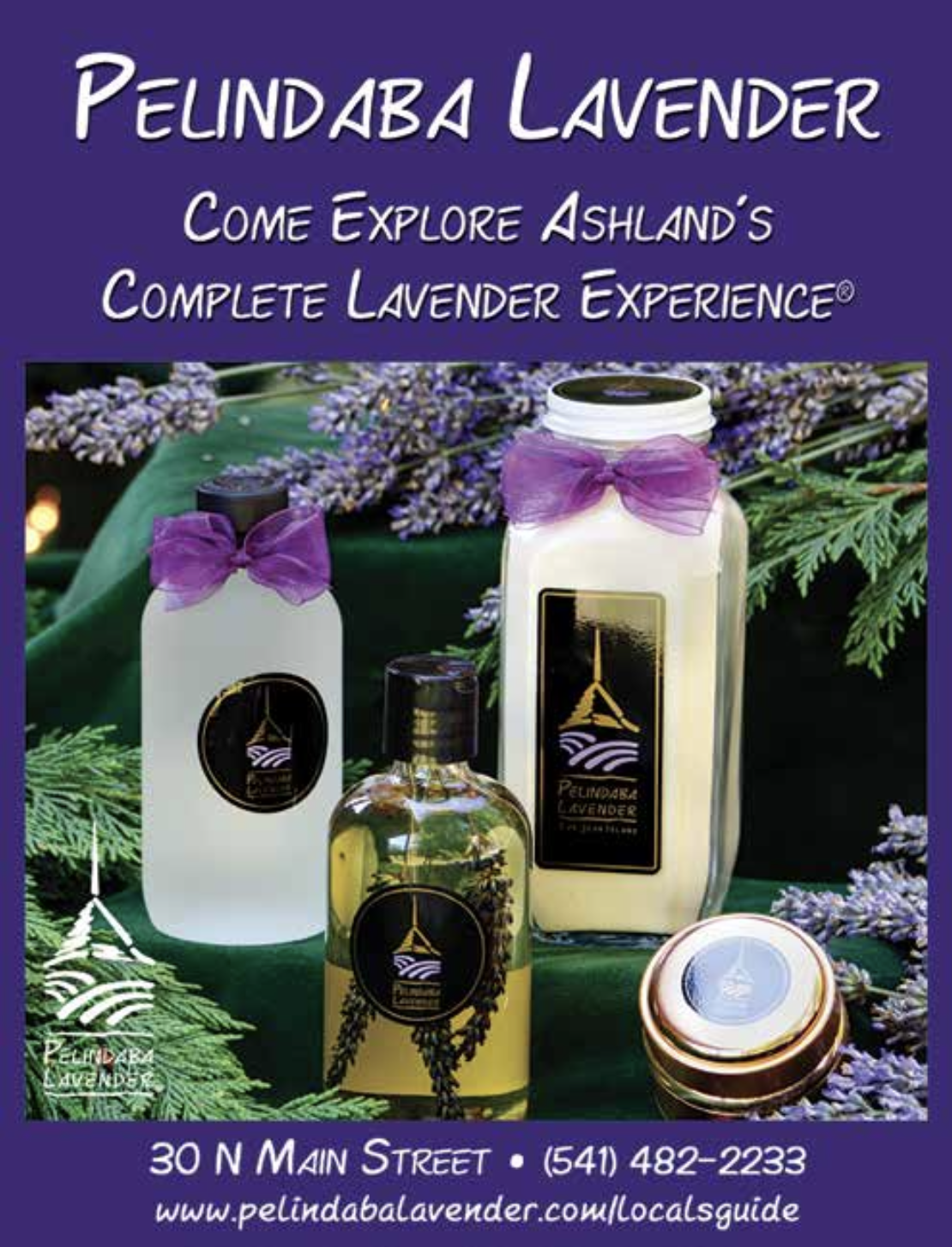 Fall is my favorite season in Ashland but it also means the holidays are right around the corner. I enjoy sharing my love of lavender and love seeing others do the same through a gift. Let's find the perfect gift for all the special people on your list this holiday season.
For wellness and relaxation… Treat a loved one to a luxurious lavender soak with a variety of bathing options from Lavender Bath Salts and Bubble Bath to Lavender Deluxe Sugar Scrub and Foot Soak. Or give the gift of supple, well moisturized skin with our ever-popular lotion and Lavender Therapeutic Salve, my personal favorite. Relaxation may be what's needed most for some on your list. Good thing lavender is a natural stress reducer and anxiety reliever! A Lavender Neck Pillow, heavy with rice and fragrance, makes a calming, restorative gift.
For cooking and eating… Edible gifts are always popular. The chefs and foodies on your list might enjoy our sweet chutneys and sauces or our savory herbs and spices to complement their adventuring in the kitchen. My favorite is the Lavender Gourmet Pepper or the Lavender Seasoning Gift Sampler if you can't decide! Gifts that are readily enjoyed like lavender cookies paired with a lavender beverage — your choice of organic tea, lemonade or coffee — are good to have on hand for when a small gift is unexpectedly needed.
For chocolate…There's likely a chocolate lover on your list! The ultimate lavender chocolate gift has to include Lavender Bittersweet Chocolate Sauce, perfect over ice cream or to dip pretzels in, our delicious Lavender Chocolate Chip Cookies and the Lavender Gourmet Hot Chocolate Mix.
For a fragrant home and peaceful sleep… If there is someone on your list who appreciates practicality, a selection of our chemical-free household care products are just the thing for the natural home. I often gift our Organic Lavender Hydrosol and get a thrill later when they express how much they love using it all over their home! Fragrant gifts to enhance the tranquility of "home" are rarely a miss in our stressful times. Organic Lavender Essential Oil, a diffuser, Lavender Essential Oil Candles and lavender mists are just the thing to bring aromatherapy to a loved one's living space and to encourage restful sleep.
For the stockings… Special small treats might include an Organic Lavender Sachet, a bar of Lavender Soap, or a Lavender Wand for a touch of whimsy. For everyday usefulness a bottle of Lavender Hand Sanitizer or a pocket-sized Lavender Lip Balm. I also recommend a Gourmet Lavender Chocolate bar – white, milk or dark.
For Gift Giving Made Easy… Sometimes things just need to be quick and easy. This is when we step in and curate a lovely collection of our farm-made products and wrap them up in beautiful packages that are ready to gift. All you have to do is write a gift note. Another quick and easy option is a gift certificate so that the lucky recipient can choose exactly what they would like in our Ashland store at their leisure.
With such a bountiful line of lavender-based products handcrafted with love at our farm, gift giving is easy at Pelindaba Lavender. There is likely something for just about everyone on your list who appreciates small batch, artisan goods free from harmful ingredients and that promote healthy living in a healthy environment.
If you would like more lavender gift ideas, we've got them! We are open daily 11am-5pm and look forward to offering assistance to make your gift extra special. Happy gifting!