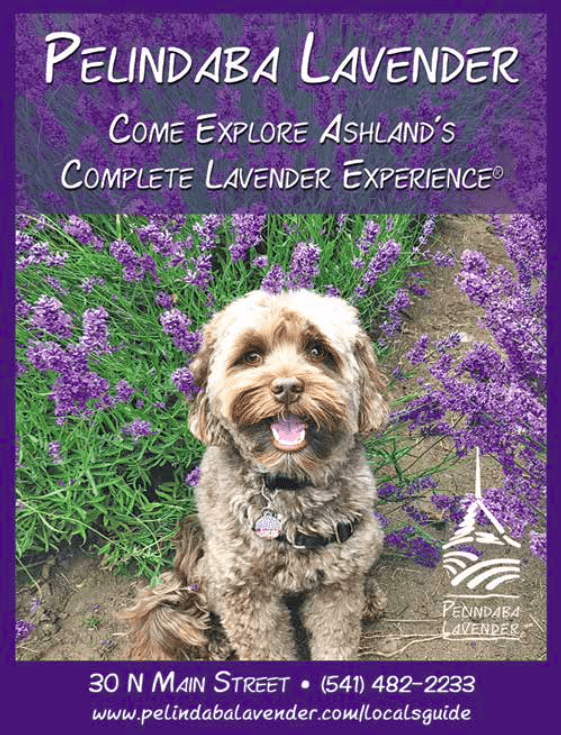 Imagine… the day begins with your dogs running and sitting in front of your Ultrasonic Aromatherapy Diffuser to watch you first add water followed by drops of Pelindaba Lavender Organic Lavender Essential Oil and then turn it on. Lavender aroma fills the air and everyone takes a deep breath. Now you are calm, centered, and ready to seize the day! This morning ritual is performed at the home of Daniel Perry Walkup, owner of BookStayHop, with his dogs Mila and Osita. Like Daniel, lavender is a critical part of my pet care routine for my miniature labradoodle Juneau. Together with the help of a few of Juneau's friends, we've assembled a few favorite practices you too can use to take advantage of lavender's highly effective all-natural cleaning, soothing and insect-repelling properties. 
Cleaning – To begin, Juneau is regularly bathed in Pelindaba's Lavender Pet Shampoo to discourage fleas while enhancing the shine and smoothness of her coat. Just like Angela Aldatz and her dog Star from The Chanticleer Inn, I reach for the all-natural Organic Lavender Hydrosol for many all-natural cleaning needs. Produced during the steam distillation of lavender essential oil, this floral water contains all the same properties and attributes of lavender essential oil, but in a less concentrated form which makes it highly versatile.  For my dog Juneau, I use the earthy-scented Organic Lavender Hydrosol as a deodorizing spray in between baths, add a little to her water bowl to promote fresh breath, and use it to disinfect her toys and crate. 
Skin Soothing – No matter the season, moisturizing pet paws and noses or treating skin irritation is essential. Two products I love to use are Pelindaba's Lavender Therapeutic Salve for deep moisture, and the Lavender Treatment Stick for light, easy application. Both leverage the natural antiseptic and powerful topical anesthetic properties of lavender essential oil. For Juneau, we often enjoy lavender "spa paw treatments" at night and pair Lavender Therapeutic Salve with socks for effective relief of paw irritation and dryness. I apply Pelindaba's Lavender Treatment Stick to quickly soothe her hot spots, itches, irritations, or an occasional dry nose. Just recently I noticed a spot inside Juneau's ear that she had itched raw. I grabbed a Lavender Treatment Stick (they're all over my home!) and rubbed it over the spot. The itch subsided and two days later the spot was gone. This versatile balm is also a favorite product of Susan Lemon from Abigail's Bed & Breakfast Inn where you can find her pup Jack. 
All Natural Insect Repellent – With spring comes warmer weather, fresh blooms and spring showers… and flea season. I spray myself and Juneau with Pelindaba's Lavender Insect Repellent before our walks and have found the pleasant aroma and natural insect repelling attributes of lavender indispensable to our outdoor activities as it helps to ward off fleas, mosquitoes, black flies, gnats and more. I appreciate how this product contains zero harmful chemicals, petroleum products, DEET or artificial fragrances (and, yes, it really works — it's one of the most reviewed products on our website!). And lastly, to help keep fleas and ticks at bay, I apply our farm-distilled Organic Lavender Essential Oil between her shoulder blades.
Follow your nose to our purple storefront where Juneau and I look forward to sharing The Complete Lavender Experience® with you and your pets. Don't forget to bring your friendly, leashed dogs along to enjoy complimentary Lavender Gourmet Dog Cookies.