Interviews
Leslie Kirkland – Enchanted Florist: A dream come true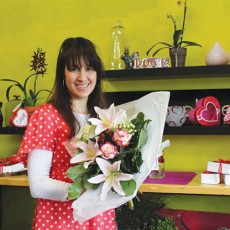 Leslie Kirkland knew she wanted to open her own flower shop at a very young age.  Like many childhood dreams, she figured she would have to wait a long time before making it a reality.  As an art major at SOU in the mid-nineties, she was able to convince her husband to take a risk and use their financial aid money to buy roses to sell for Valentine's Day.  He thought she was crazy, of course, but they doubled their money immediately and he hasn't doubted her since.  They opened their first floral shop on A Street not long afterwards and the rest, as they say is history.  Two children and three shop locations later, they have settled into a new shop back in their old neighborhood on Oak Street behind the Armory and are staying put.  Leslie and I spoke recently about the importance of supporting local businesses and the true artistry that she applies to each and every floral design that leaves her shop.
Leslie, you moved into your new shop just a week before Valentine's Day, the biggest flower holiday of the year!  You must have been busy! How do you like your new location?
We are loving our new space, even though it was a little challenging to move right before a huge holiday.  Everyone came together and we had another successful holiday. This space has a combination of all the good things we liked about our previous locations.  This shop is in close proximity to downtown and the railroad district, giving us great drive by and walk by traffic. It also has excellent parking.  We listened to our customers, and feel that we have finally found our home!
Locals may remember that you introduced drinking chocolate to the Rogue Valley in your Main Street location.  I hear it will be coming back to make an appearance at the new shop!
Definitely! It is back by popular demand.  We are the only place to offer drinking chocolate from Portland to the Bay Area.  We will be carrying some new flavors as well as our most popular spicy Aztec blend. We will be able to make it by the cup so that our customers can have their favorite flavors whenever they want, as well being able to purchase drinking chocolate to take home.
How did you get started featuring chocolate at the flower shop originally?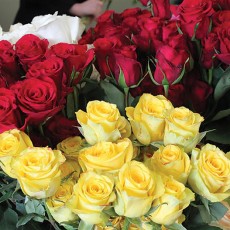 Chocolate goes hand in hand with flowers.  My husband, Brandon, became interested in fine chocolate back when we started out on A Street.  He loves to feature new bars, truffles and concoctions found locally and around the world. Some of our current artisan chocolates include: Domori (Italy), Amedei (Tuscany), Dolfin ( Belgium), Bonnat (France), and Micheal Cluziel (France). These are just a sample of our customer's favorite award winning bars.  In addition to these extraordinary bars, we also carry locally made Zorba's raw chocolates and Micheal Mischer sea salt caramels. Brandon has taught many chocolate tasting classes and had done pairings for special events.
In this day and age it seems that most everything can be purchased easily online.  Flowers are no exception.  How has Enchanted Florist worked to keep up in the technological age?
Brandon is a web developer, who specializes in florist websites with over 50 florists in the US and Canada. He has been a big asset to our business, behind the scenes creating a beautiful, easy to use website. It is user friendly, and offers a wide variety of floral arrangements as well as chocolate and gift baskets. Being the nerd he is Brandon is always trying new and innovative ways to use technology. He was the first florist to use a webcam to show customers flowers as we arrange them, the first florist to sign up on Facebook and loves to use Twitter to tweet out special chocolate and floral information.
Your art background sure shines through in your incredibly beautiful floral designs.  Where do you get your inspiration?
I came from an artistic family. My mother works with dried and silk florals and my father is an artist. From a very young age I loved art, and flowers soon became my medium of choice.  Brandon and I traveled to Europe after we got married where we were inspired by the chic European flower shops. My customers are non-stop sources of inspiration for me, creating for them is what I love to do.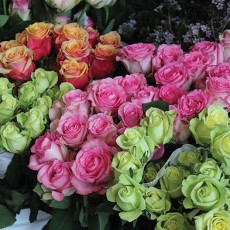 Do you have any help in the shop?
My part time employee Jenny is a huge asset to me.  She is a great designer as well as offering great, friendly customer service.  We also have friends and family to help out during holidays and busy times. Amelie, my ten year old daughter loves to help when she can, she loves to arrange flowers and put them in the cooler to see if they will sell. Brandon does most of the marketing, website, and networking.  And then there is my son Indie age 7, who likes to sample the chocolates.
You guys have been business owners here in Ashland for a while now, is there anything in particular that has helped you succeed?
First and foremost, our wonderful, loyal customers have been instrumental in helping us achieve our dream. We count ourselves truly blessed to be business owners in Ashland.  From the Chamber of Commerce to all the businesses we serve, they have all been so supportive over the years.
Buying local when it comes to food has become quite a trend.  How available are flowers from local growers throughout the seasons?
It has started being a trend for flowers as well.  When we can, we try to buy most products from local growers.  Out of season, many of our flowers come from farms in California, that are Veriflora Certified(sustainability grown).  We love our local farmers, they have so much variety and the flowers are of the highest quality. When the flower trucks pull up to our shop filled with beautiful, freshly picked flowers it always puts a smile on our faces.  Our brides have even been starting to request all locally grown flowers for their weddings.  Ashland Greenhouses has been a great source for our hanging baskets and poinsettias during the holidays.  We also try to buy as much of our other items in the shop locally when we can, such as greeting cards from various local artists, and chocolates from Zorba's.
What else can customers expect to find in your shop these days?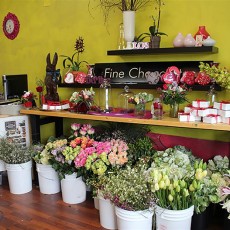 Our new, cozy little shop is filled with unique and creative floral arrangements, pre-made bouquets at great prices, as well as a variety of flowers sold by the stem.  In addition we have many unique plants, including succulent gardens, air plants, terrariums, staghorn ferns and orchids. We carry a variety of greeting cards, wreaths and small gifts.  And let's not forget the chocolate!
What is the best way for someone to order flowers for delivery?
Our website is open 24/7 for customers to place orders at their convenience or they can phone in during business hours to talk to one of the designers.  Orders can be placed out of the area, in any part of the country using our wire service network. We have a great incentive for locals who want to place orders online, just put in the code: LOCAL at the time of check out and receive 10% off.  Many people like to come in and place orders in person, which is helpful when ordering for funerals or special events so we can look over photos and discuss more in depth.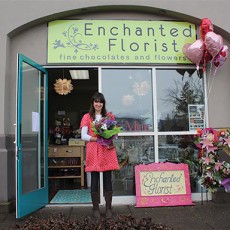 I would imagine that as a small, family-owned business selling a product that is dependent upon Mother Nature you have some great stories to tell.  Anything you'd like to share?
Yes, there have been many stories. We always joke that we should write a book about them; from delivering flowers knee-deep in snow in the mountains to creating wedding florals in 114 degree heat; we have been through it all. One story that really stands out is right after 9/11.  We had a large wedding scheduled in Lithia Park the weekend that followed the great tragedy. All of our flowers were to be flown in as usual.  But because many airports were shut down, we were not able to get them.  We were on our way to the San Francisco flower market to try to pick some up there on our own, when our grower was able to put them on greyhound and get them to us just in the nick of time.  The wedding turned out beautifully and we were thankful that the only ones who were stressed was us.
Can we expect a Grand Opening event to celebrate the new shop anytime soon?
We will be open this next first Friday, March 7th. Come visit our new location and sample some drinking chocolate.  Also check our Facebook page for upcoming chocolate tasting events.
Learn More:
Enchanted Florist
250 Oak St. (next to the Ashland Armory)
(541) 488-9173
www.chicfloral.com
or find us on Facebook!