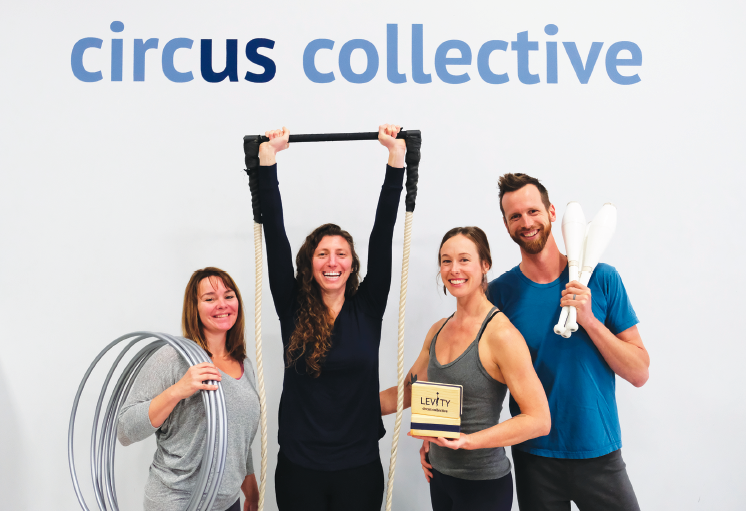 Interviews
Levity Circus Collective Classes and Performance For Adults & Children
Introducing Levity Circus Collective, a community of circus artists committed to providing a safe and inspiring space for students young and old to learn circus arts right here in Ashland, Oregon. Their students enjoy expert instruction paired with infectious enthusiasm. After learning and training comes performance where circus artists enjoy the rewards of their hard work. Levity's light filled 3000 square foot studio is a one of a kind learning and performance space. In today's interview I speak with the Levity Circus Collective, Barbra Kenyon, Ty Monroe, Maureen Monroe and Harmony Resounds.
Hello Barbra, Ty, Maureen, and Harmony. Congratulations on the creation of Levity and welcome to LocalsGuide!
Thanks, we are excited to be here and share our work with the Rogue Valley. Creating the Levity Circus Collective has truly been a labor of love for the four of us. We come from diverse backgrounds and have found a common vision for our new training and theater space. With gratitude and excitement we open our doors for the community to experience the dream of circus.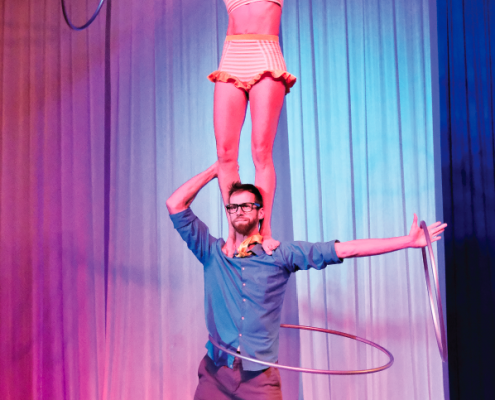 Can you each briefly introduce yourselves and share with us a little bit about your background and inspiration for creating Levity here in Ashland?
Barbra: My background is in mental health counseling, and as such I believe a healthy community can be an incredibly stabilizing and inspiring force in people's lives. I have noticed over time that people who practice circus arts naturally create vibrant thriving communities together. I am so excited to be part of that experience and offer it to others. My circus journey began ten years ago with a silk class. I have been performing for nearly as long, and have been instructing for around five years. I love sharing aerial and I recently completed a forty hour teacher certification class and am constantly striving to increase my abilities as an instructor.

Ty: I was studying engineering at Western Washington University when I discovered dance and soon changed majors.  After graduating I found myself drawn to circus and decided to go back to school at the Canadian National Circus School in Montréal, where I spent the next four years totally immersed in circus. I always knew I wanted to bring what I learned back home to the Northwest where circus isn't as established as it is in Québec and Europe. I met my wonderful wife Maureen while on tour in Ashland, moved here, got married, and started Levity with these great women.

Maureen: I have always been an athlete: runner, swimmer, and rock climber. Transitioning from climbing to aerial was my way of taking flight. Aerial has given my athletic endeavors a sense of freedom and artistry, which is balanced by my other career as a classical pilates instructor. I also have two daughters, one of whom is a budding circus artist. Circus is really at the crux of creativity and discipline for me, which has made it an incredibly rewarding part of my life for the last six years. I am grateful to have a circus home right here in Ashland with my husband Ty and two of my close friends.

Harmony: After seeing an amazing act with dance, a blow dryer, and aerial silks I was inspired. I wanted to do that. I soon began practicing aerial arts and then performing with Levity in 2016.  What calls to me in circus arts is a way to express my creativity and connect more deeply with myself. I love moving my body and sharing my passion with others. As a part of Levity I seek to create a collaborative supportive space where both beginners and excellent movers can play, let go, and grow.
I am impressed! Can you tell us a little bit about the vision you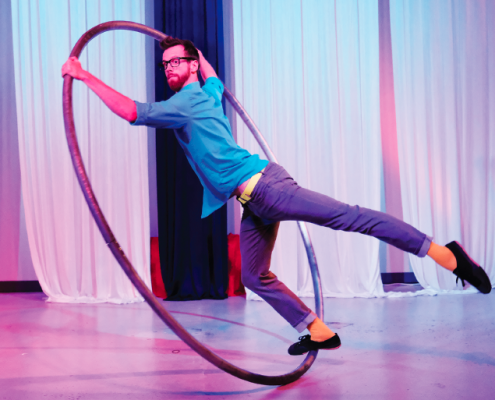 seek to achieve here in Ashland?
To be the epicenter of insane circus love exploding in all directions!
Barbra can you give us an overview of what Levity Circus Collective provides our community?
In brief, training, opportunities to perform, and a unique venue for other groups and activities. At the Levity Circus Collective there is room for everyone's dream! Our instructors are experienced and expertly trained in a variety of disciplines and can accommodate beginners all the way to artists preparing for professional circus companies.  We offer a range of classes including silks, aerial rope, trapeze, flexibility, juggling, hooping, cyr wheel, and physical comedy. Our schedule includes weekly youth and adult classes plus plenty of open training times. If our classes don't fit your schedule, or you want individual attention, we provide private lessons in all these disciplines.

In addition to teaching, our instructors perform as a professional circus company that has been entertaining throughout the Rogue Valley for the last five years.  By collaborating with musicians, dancers, clowns, aerialists, and other circus artists we create spectacular festivals, holiday shows, and student showcases. WE ARE FOR HIRE! If you are looking for anything from a five minute act to a full length show and everything in between we can accomodate.  We have performed at the Ashland Armory, county fairs, fundraisers, weddings, private events, and each First Friday at the Black Sheep Pub. Keep an eye out for us this June on the Green Show stage at the Oregon Shakespeare Festival.

We are so excited to open our venue to the community!  It is a beautiful space with a sprung dance floor, theater lighting, and sound system. As a rental, our space can accommodate classes, workshops, productions, and birthdays. Call us for details, or drop by and take a peek at our gorgeous studio.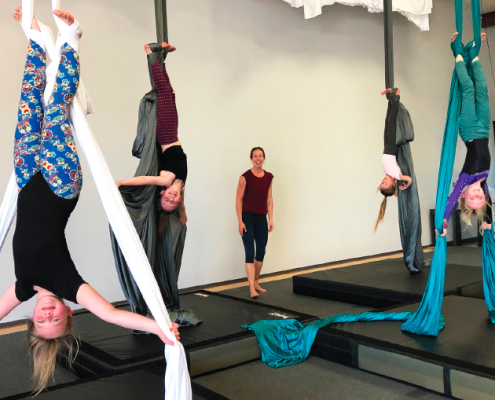 Mauren, in your experience, what creates a great learning environment and what have you all sought to create for your students at Levity?
I really love to walk into a space and feel welcome and inspired to move. In order to create that environment it is important to have a safe encouraging community with qualified enthusiastic teachers. Our instructors teach through progressions so each student safely develops the fundamentals before moving on to harder tricks. I find it advantageous for students to have an opportunity to perform the skills they've worked hard to master in class. Each year we produce optional student showcases for youth and adults. Levity's comfortable atmosphere supports learning and creativity, which lead to exhilarating performance experiences.
Harmony, can you give us an overview of the introductory classes that you are currently offering, and who can participate?
All abilities and body types are welcome to take an introductory aerial class. Classes start with a warm-up and cover basic silks techniques: climbing, going upside down, and creating fun poses. A beginning class for each age group is offered every week:

– Youth seven to nine – Tuesdays from 3 – 4

– Youth ten to twelve –  Mondays at 3:30 pm.

– Teens – Thursdays 4:15 – 5:15 pm.

– Adults – Wednesdays 5:30 – 6:30 pm &              Saturdays 9:30 – 11 am.

– Flexibility is open to all teens and adults on Tuesdays 5:30-7pm.

– Check our calendar for series classes in other disciplines.

Rates:  Drop-in $12 per hour or you can purchase a $100 punch card and save 20%.
Can you tell us what you have happening at Levity this summer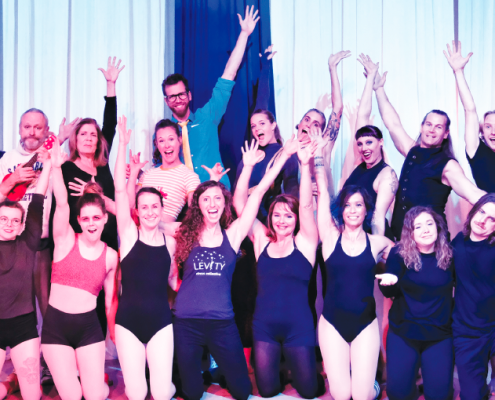 for kids?
We are excited to offer three fun filled camps for youth ages 6-15 this summer. Contact Ty at 360-878-0331 to sign up!

– July 16-18 Aerial & Tumble camp in collaboration with FlipSide, ages 7-15.

– July 22-26 Under the Big Top circus camp, ages 6-12.

– August 13-16 Taking Flight aerial circus camp, ages 6-12.
Harmony, what kinds of comments do you hear from your students?
Students of all ages are enthralled by the magic and fun of aerials. Here is what our students have to say about Levity in their own words:

"Not only is everyone friendly, everyone inspires creativity and kindness no matter what level you are in the circus arts. I am very glad to be part of this circus family and learn from teachers who encourage safe practice and exploration." – Madelyn

"They celebrate your achievements with you and help give you the extra strength and courage to reach your goals." – Tiffany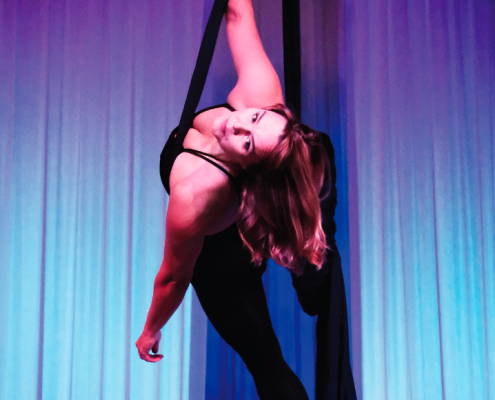 Maureen, what are some of the biggest fears and concerns individuals have in first starting out with you, and how do you overcome those?
Like Harmony, I also teach aerial. I frequently hear prospective students express that they will come to classes once they are stronger. I believe that we all start at our own beginning, and I will meet you where you are. You will gain strength as you practice and naturally progress into a stronger body. The process can be immensely gratifying and rewarding, but it is not without the challenging days and sore muscles.   I understand that circus arts can be intimidating, but it is important to approach the work with an open mind and a playful attitude. Commit to three classes and I bet you will be hooked!   
Ty I'm curious to hear more about the space you all have created and how it works to support your classes and performances?
We have created a 3000 square foot space that is clean, bright and open. The simplicity of it helps clear the brain and let the imagination take over. Most theater spaces are painted black, which is one of the reasons folks fall asleep in dark theaters. We went the other direction and installed white curtains and a warm wood floor, which makes it feel more like a living space. Physiologically more light entering the eyes makes for more alertness.

Come see for yourself at one of our upcoming performances.

– Levity student showcase on June 1st at 3pm.

– ALOFT contemporary circus from Chicago presents Brave Space at Levity on June 21st.
You all are always learning new and amazing skills. What is something you could teach me?
I like teaching a two person juggling pattern called "5 ball ultimates". "Ultimates" sounds intimidating but it's actually easier than juggling 3 balls on your own, and it's more fun because you have a partner to help pick up all the balls you drop.
What is the Cyr Wheel and how does it work?
Cyr wheel is a metal ring with a diameter that's larger than a person. With practice you can cartwheel and do all kinds of acrobatic maneuvers inside the ring while it spins. It's really mesmerizing to watch, and fun to do. I liken it to a self-powered roller coaster. It's definitely dizzying.
Who are some of the people and groups you've collaborated with?
Last September we hosted the Lunacy Fest in collaboration with the Flying Actor's Studio, A-Muse Zoo, Rise Aerial Dance, and many others. We are grateful to the Flying Actor's Studio for loaning us the beautiful sprung floor we have in our studio. We have also presented the A-WOL Dance Collective from Portland, the Vagina Monologues, and the Oregon Fringe Festival. Flipside Gymnastics has been a collaborator since our inception and we're pleased to offer a kids Summer Camp in partnership with them August 16-18.  All of these connections are what make community, so if you have an idea for our collective don't hesitate to throw it out there and see what happens.
I can really hear a deep passion that you all share for this work. In a few sentences can you  describe more of what you have discovered and then seek to share with others?
Ty: Circus is by design one of the most diverse art forms. It celebrates the unusual and creative. I was too tall and lanky to ever be a gymnast, but I can put my long arms to use juggling.

Maureen: Circus is my favorite outlet for creative expression where I combine strength with grace, and skills with imagination. It's an honor to share this creative expression with others.
Awesome! So what are the first steps our readers can take if they want to learn more?
Check out our website at LevityCircusCollective.com. We are also on Instagram @levitycircuscollective and on FaceBook. Or best of all, come by during a class and see for yourself.
Thanks for taking the time to speak with us today. Are there any last inspirational thoughts or words to share with us?
You don't have to run away to join the circus!
Learn More:
Levity Circus Collective
280 E Hersey St #15
LevityCircusCollective.com
For class information call Harmony: 541-301-9685
For performances and booking call Maureen: 503-709-1230
Photos by: Kristan Kelly