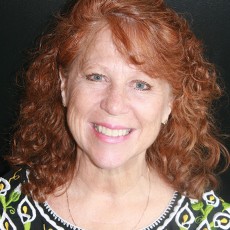 Lois Jorgensen is one of the lucky ones.  She found her vocation as a hair stylist nearly 38 years ago and swears she has never had a bad day at work.  She found her niche easily working in Ashland right out of beauty school all those years ago and can hardly believe that this April marks 25 years as the owner of Loose Ends salon on the south end of Siskiyou Boulevard.  I spoke with Lois recently about the unusual success Loose Ends has experienced for such a long time and how lucky she feels to spend her days in front of the mirror making people's day, one haircut at a time.
Thanks for taking the time to speak with us Lois.  Twenty five years!  That's a long time to own the same business.  How do you do it?
We are fair in our pricing and have an amazing way of treating others.  Minimum wage has really changed, yet our prices have gone up very slowly.  We are only ten dollars more now per haircut than we were 25 years ago.  We have a great environment and we have ample parking.  Some salons have hardly any.  We are honest, hardworking and friendly people with supportive families which make us happy hairdressers!  I think that's why people keep coming back.  We all remember when we have walked into a business or salon and felt like you were a number.  You won't feel that at LOOSE ENDS, ever!
Over the years, I imagine you've seen things change in salons throughout Ashland; anything interesting to report?
Our techniques have changed, just like the styles.  Even hair coloring is different today! There are some classic styles that will never leave us: the Bob, the Wedge cuts, and so many others that have come and gone.  When I go to seminars and hair shows now I just see repeats of styles I learned at my favorite Paul Mitchell shows in the 70s. There are a lot more salons now in town and the station rent has doubled for hairdressers.  Stylists come and go and change salons for one reason or another.  We have remained constant for years now with our current staff.  Gina has been with me for nearly 25 years!  That just doesn't happen.  She knows my clients and I know hers!!!
I understand Loose Ends has quite a history.  How did you originally end up there?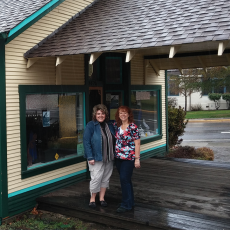 Well, I began on Oak Street at a salon in 1979. We had a great team there but many of us wanted to get our own place.  Shelly Forest (my mentor) and a few others left to open Loose Ends on the corner of Siskiyou and Tolman Creek Road where Kokopelli's is now.  It was a fun place and looked like a trading post.  We were the "hair traders!"  It was the 80s, what can I say?
Then my partners wanted to get their own places and buy a building.  At that point, Shelly left to build a place and Shady got his own place too.  I remained there and found people on my own in 1989. I kept the shop going with four new girls; one was Gina.  She is still with me today!  Years later I felt as they did and wanted my own building as well. I moved across the street to 2400 Siskiyou.  I eventually bought that building and have been there ever since.  When Shelly passed away I went to her salon.  She had requested that I have her equipment or anything I wanted in her salon. I use those items still today. Loose ends was built on that type of friendship and loyalty.  We have always passed that on to our clients.
And now you've got a solid team at the salon.  Tell us about Gina and Jamie.
As I mentioned before, Gina has been with me nearly 25 years.  I consider her family; and I call her my manager.  She has helped keep Loose Ends going; not sure I could have done it without her.   Jamie is new to Loose Ends and came from another salon over a year ago.  She brings her hair and nail and waxing expertise to add to what Gina and I have always believed in; a friendly, fun and professional atmosphere. You can't find our uniqueness anywhere; plus we do great things with hair!!
You've mentioned a mentor who really taught you a lot in the early days.  Tell us about Shelley and some of the things she taught you.
I have mentioned Shelly already and those of you who knew her will understand why I thought of her as my mentor.  She was a professional, a friend and valued her work.  She was an artist. She taught me to always make others feel important in my chair; as if they were there for the first time. That has stayed with me.  One of my favorite places to take my kids was hiking and long walks or exploring old mines up at Shelly's.  This business has been good to me; it has allowed me to have a flexible schedule so I could be at my kid's games and activities when they were growing up.  They all have fond memories of hanging out here; and learning to answer phones and make appointments.
Your clients report feeling very comfortable at Loose Ends.  Tell us about the environment you've created there.
I have created, with the help of many through the years, a wonderful place to come and relax.  We let you bring your bad hair days to us.
I understand that Loose Ends is a "full service" salon.  What services do you offer?
We offer all hair services, natural nails and facial waxing.
It's not often that someone finds a profession that suits them so well and keeps them so happy for so long.  What do you love about what you do?
What do I love about doing hair? EVERYTHING!!  And the people that come with it!!  It's my passion and hobby and I get paid to do what I love!  Who gets to do that in today's world?  In 1989 when our 4th child was born my husband decided to go back to school.  I continued to work and support him and my clients and co-workers did the same for me.  Statistics show that 70% of people that go to work every day don't like what they do.  I am blessed to do what I love to do every day!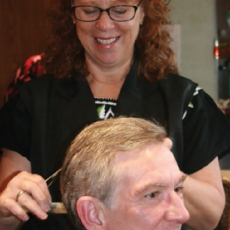 You must become very close to some of your clients.
My clients have been loyal through the years.  When they age and pass on their families call us to let us know of their passing.  One woman just called me recently and said, "My mom was so happy when she came to your shop. It was the highlight of her week!"  If their rides don't show up or their family can't bring them we have been known to go pick up a client or two …you may come into Loose Ends as a client, but you will leave a friend.
In the beginning, you were juggling your career with raising children as well as foster children!  Your life must look a bit different now.
Of course I have more free time now.  My children are grown with families of their own.  I call them a lot for answers now, even for this article!  I asked them what they remembered most about the shop.  It helped jog my memory. They are most important to me next to my marriage of 34 years and my work came next to them.  They were helpful and understanding then and now.  It was a juggling act for sure with my own kids and the foster kids that came along.  We made it work!  Now in the evenings I have picked up some old loves of mine:  journaling, writing, and visiting grandchildren and much needed vacations.  But I'm at the shop Monday through Friday!!
What do you love about living in and owning a small business in Ashland?
I love this town.  It's been a great ride and the small town feel has kept me here.  My husband runs a small business here too Bear Creek Electric and we feel very connected to this community.  And we love seeing former teachers and coaches that have helped us put great human beings out into the world.
The big 25th anniversary is coming very soon.  What have you got planned?
Yes we are planning a BIG anniversary week at the shop!  Beginning April 1st we will have refreshments that whole week and 10% off all services.  But DON'T wait until then!  Come now and mention this ad and I will give you 10% now…but also come see us that 1st week of April to say congrats or come by if you're an old customer.  We would love to see you again.  If you are not a customer yet call us today and let us treat you RIGHT.  Last of all we want to say come in, come back!!  We do babies to seniors and everyone in between, we always have.  We are open Monday through Friday and Saturday by appointment.  We are closed on Sundays.  Our hours are 9am to 5pm or later by appointment.  You have tried the rest now try the best in quality.  We are a friendly, fun place to go for all your bad hair days; we cater to your needs.
Anything else you'd like to share with our readers, Lois?
We do babies to seniors and everyone in between, we always have.  We are open Monday through Friday and Saturday by appointment.  We are closed on Sundays.  Our hours are 9am to 5pm or later by appointment.  You have tried the rest now try the best in quality.  We are a friendly, fun place to go for all your bad hair days; we cater to your needs.
Learn More:
Loose Ends Hair Salon
2400 Siskiyou Blvd.
(541) 482-0424
or find us on Facebook!