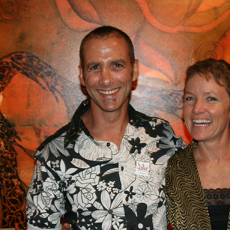 When Brenda Johnson and Mitchell Walzer began their relationship, they knew they had found something very special, as lovers ought to. The rich experience they had together inspired them to want to share it with the world by creating a business where love, relationships, sex, and spirituality could be explored and promoted in a comfortable and empowering way.
More than just a retail shop for discerning lovers, Love Revolution is a community hub for those interested in learning more about intimacy and relationships of all forms and flavors. In addition to instructional and erotic books, lingerie, art, gifts–both sexy and luxurious, Love Revolution seems to have created a gorgeous erotic boutique with something for everyone.
They also host classes and workshops throughout the year, with an impressive variety of related topics. We had the opportunity to talk with Mitchell and Brenda recently and were excited to hear about the positive impact Love Revolution is having on the Rogue Valley.
Thanks for spending some time with us today. How are things going in the new store?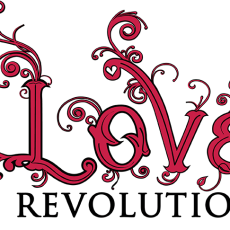 Our new location on Main Street is considerably better. It allows us to accomplish so much more; having our showroom double as a classroom is just one example. We're more accessible to the public now; including wheelchair accessible, plus our neighbors such as Village Shoes, Avant Garb and NW Raw are quite awesome.
How did you know that the Rogue Valley was ready for such a unique business?
The fact is that we didn't know. Our business is entirely different from any we've seen, so there was no way to know except to jump in and work really hard at it.

Sex-positive pioneers including Good Vibrations in San Francisco started the movement towards open, healthy, informed sexuality, but we have yet to find a shop that integrates that with sacred sexuality, education and art into one shop.

Here in Ashland we're rich in health practitioners, but sexual health was not apparent in a public venue. Our vision was unusual, but it felt like people were really ready and needing to have a healthy resource where they could explore things in a safe and honoring environment.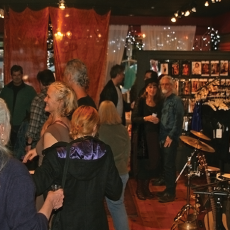 You both have a real desire to shift some of the negative perceptions that people have about intimacy and sexuality.
We're moving toward an understanding that sex is innocent and intimacy is wonderful. This is about opening up to loving ourselves and feeling the freedom within. Pleasure isn't dirty and it never was – this revolution is about changing the manipulation of sex as power over to sex as a pathway to the spirit.

To do that we have to separate sexuality from the wounds we collectively carry around it. That's why we host classes and promote self-love. Many of us have old wounds that we want to heal and so normalizing the notion that our bodies can feel pleasure and that pleasure is good starts that process of healing.

To have a business that can promote more joy and pleasure feels like a worthwhile thing to invest in, not to mention something that is inspired from the heart. We're not radical — we're just compassionate people that are interested in healing ourselves and having a positive impact in the world.
What kind of response are you getting when people come into the shop for the first time?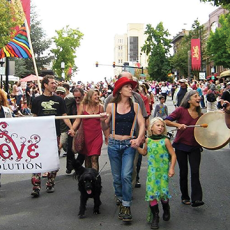 People are usually pretty amazed that there's a store in Ashland for sexual health – and they are often surprised that it's really nice and it doesn't make them feel like they're doing something wrong.

We designed a whole sensory experience, so the first comment is usually how good it smells. As conversations deepen there have been actual tears of gratitude as people feel safe to talk about certain issues for the first time.
And your classes have become quite popular! Tell us about them.
We have hosted over 100 different classes since the store opened in 2011. These are generally 2-hour presentations on topics like relationship skills, Tantra, menopause, prostate health, sexual techniques and sexual vitality. Think of it as continuing education for your health and pleasure.

We do our best to make classes affordable and accessible to people of all experience levels and interests. It's liberating (and fun!) to learn in a shared space with our own community rather than online or in isolation.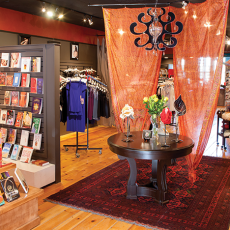 Tell us about your other events.
This Friday, July 3, we're having our 48th First Friday Art Walk party, which is always popular. It's a very festive environment – lots of people, live music, free drinks and often free chair massages. We feature sensual and erotic art that other galleries can't or don't choose to exhibit, so it's nice to give artists a chance to get their work out in the public.

This Saturday we'll be in the 4th of July Parade for the first time, woo hoo! We invite everyone to march with us and show your support of love and healthy sexual expression.

Our largest event is our annual Exotic Erotic Ball. This year it was at the Historic Armory and it turned out to be a pretty epic party. It's easy to find out about the offerings by looking on our website.

We support other organizations' events as well. We have raised funds for survivors of sexual assault, hosted a Planned Parenthood event and the new bisexuality group AmBi. Brenda has had several speaking engagements at SOU and has given presentations at various functions. We also donate cash and merchandise for many community fundraisers.
It is clear that you both have a very gentle and accepting approach to topics which can be sensitive and very personal. How do you create such a safe space for new customers?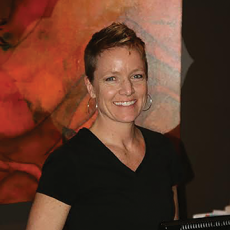 We feel a lot of compassion for people and the issues they are dealing with. We have experienced many of the same things – they say you teach what you need to learn, which is accurate in our case, so we come from the position of understanding and open mindedness. We also support each person's lifestyle and way of expressing themselves without judgment–we don't "yuck" your "yum"! We're just here to be of service and help people feel good as long as what they are exploring doesn't hurt anyone else. Safe and mutually consenting is the name of the game.

We understand that it can be difficult to look so squarely at one's sexuality when it has been tucked away in shadow or shame, so we do our best to create a comfortable, accepting space in which to explore these topics and to help people feel open enough to get the information they need. We have a lot of sexual health information at our fingertips and love to be able to pass it on, so this is a great place to be curious and ask questions. We never profess to know all the answers, but we are pretty good at meeting folks where they're at and leading them down the path they need.
What was the process like for you in the beginning? Did you have much resistance in pitching your business plan?
Frankly, the hardest part was finding someone to rent to us. It took quite some time to find someone willing to take a chance as few people have seen a model of the kind of sexuality boutique we were planning; the landlords were judging the business plan by the adult shops they've seen from the highway or in the media, which is understandable. It was discouraging and also an eye-opener as to just how edgy this was going to be for some people.
Once we finally secured our space we heard about some resistance, but not much. A neighboring storeowner told us she didn't want our kind and that we'd ruin the whole block. Obviously that didn't happen, but again, we understand the fear.

The City of Ashland was great–very helpful and saw this as a retail shop like any other in town, but lenders and insurance companies were tricky, and we were blacklisted by many agencies because we were grouped with old-paradigm models of sexuality. We often wondered if we were trying to open a gun shop if there would have been resistance. Just another curiosity about this culture.

We don't want to purposely push buttons. We respect where people are at and also want to present some options–whether it's a different approach to lovemaking, tools or resources to help show up authentically, or just a way to feel more self love. There's way too much pain around the issue of sexuality to let it keep sliding into unconsciousness.
Tell us more about what makes Love Revolution different from other stores that sell sex toys.

We are extremely careful about offering only body-safe sex toys and lubricants, and we also avoid products that have exploitative packaging or are insulting in any way. Every item we carry is vetted for functionality and quality in its class. We also go out of our way to find locally made and unique items from independent crafters.

Another distinguishing quality is that we appreciate everyone's uniqueness. No matter what personal identifier you side with as far as gender, lifestyle or sexual orientation, all are welcome and treated with the care and respect we all deserve.

We also respect people's privacy and never disclose personal information outside of our store. Our confidentiality policy is followed to the extreme and is upheld with very conscious care.

Lastly, Love Rev is not a place to "hook up", but relationships have indeed blossomed from couples who met at our events, which is pretty awesome.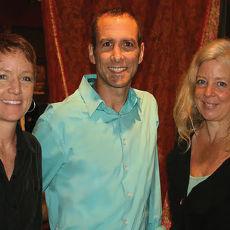 Is there something for sale at Love Revolution that would surprise readers?
Because most people walk in with the common vision of what a "sex shop" sells, some are surprised to see such a full library of books, including sacred sexuality as well as a family section where you'll find books on how to teach your kids about sex. Also, healing tools like jade eggs, organic body care, and luxurious sheepskin rugs aren't expected.

The technology that is going into rechargeable vibrators is pretty impressive these days. We've heard many times how this section feels like an Apple store. There are a lot of floor models available for customers to check out.
What else would you like readers to know about Love Revolution?
This store is unlike any other and I think people owe it to themselves to see what it's like. Please stop in and say hello to Brenda, Mitchell and our wonderful staff member Kim Keller. We even have a new puppy that is eager to greet you!
Learn More:
www.LoveRevolutionShop.com
Love Revolution
383 East Main St., Ashland
541-201-2060
info@loveashland.com