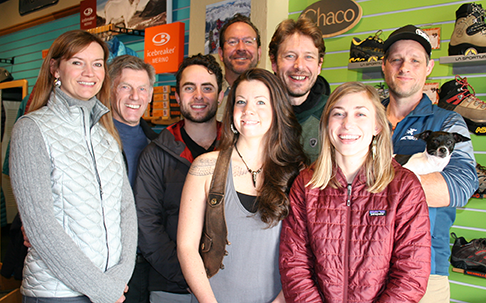 Located just north of Medford, Lower Table Rock rises over 700ft above the surrounding valley. A short hike leads to a rather flat plateau with amazing views of the valley on clear days. Because of its steep rise above the surrounding valley, Table Rock has a very diverse ecosystem with species from many different zones. Included in this is the Dwarf Wooly Meadowfoam, a plant endemic to Table Rock. This is the best time of the year to see Lower Table Rock's wildflowers in full bloom.
The trail meanders up the north side of Lower Table Rock. It is relatively mellow with a few steeper sections. Once on top, a large flat area presents itself. Because of it's rather impermeable andesite, vernal pools form during the spring and summer surrounded by a grassy meadow. There are a couple trail options once on top that can be fun to explore. While exploration here is fun, please stay on the trails. Because of it's diverse ecosystem, traipsing off trail can cause a lot of damage here! And come prepared for all types of weather. It is not uncommon to walk up in glorious sunshine, and run down in a torrential thunderstorm with impressively high winds. Skill Level: Easy/Moderate. Distance/Elevation: 1.75 miles one-way, 770ft elevation gain. Topo Map: Sams Valley. Trailhead Lat/Long: 42° 28′ 7.19″ N x 122° 56′ 43.88″ W. Trailhead elevation: 1250ft. Plateau Elevation: approx 2020ft.
Directions: From Ashland head NNW on Highway 99. Following the signs to I-5, turn right onto Valley View Road and merge onto I-5 North. At exit 33, turn right on Pine Street, then left onto Hamrick Road. Follow this around as the road turns into Vilas Road. Turn left onto Table Rock Road. Follow this for about 7 miles over the Rouge River and around a sharp right turn. Turn left onto Wheeler Road. The Trailhead will be on the left less than a mile down Wheeler Road.
Recommended Equipment: Day Pack, 2 liters of water per person, windbreaker, a packable puffy coat of fleece, down, synthetic, sunscreen, sunglasses, sun hat, collapsible hiking poles (optional, but helpful!), energy snacks, lunch.