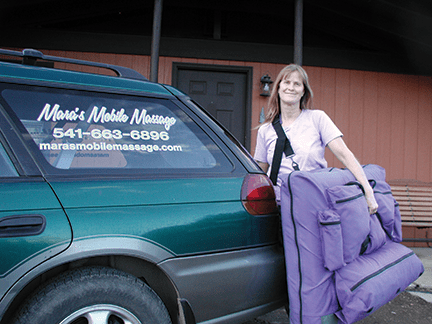 Interviews
Mara Momsen – Mobile Massage Therapist – Heart-Centered, Intuitive Massage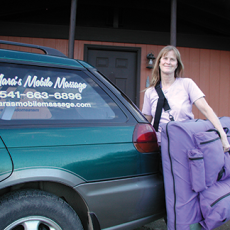 Mara Momsen experienced a uniquely textured background in her journey of becoming a massage therapist. Fascinated by the human body from a very early age, Mara learned to tap into her inner knowingness as she honed her skills and studied health modalities such as holistic nutrition, life coaching, hypnotherapy, emergency medicine, yoga and even quantum biofeedback.
It was throughout these years of exploration that Mara found her true gift, healing through the power of touch, and began her pursuit of becoming the massage therapist she is today. Mara offers clients a unique blend of energy medicine and intuitive listening with her massage. She provides these services in her office or the privacy of the client's own home.  We are excited to welcome Mara to the Rogue Valley and learn more about her story of success.
Welcome to Southern Oregon Mara! Thanks so much for taking the time to speak with us today!
Thanks for having me. I'm excited to introduce myself to the community.
What brought you here?
Fate or divine intervention. I was living in eastern Oregon finishing my associate's degree in mind-body wellness.  I felt that obtaining my Oregon massage license would round out my skill set nicely. Out of the blue I was offered a position helping to manage an organic farm here in the valley. I was aware that the Ashland Institute of massage (AIM) was nearby so I took the position at the farm, moved to the Rogue Valley and attended AIM.
Your past experience is truly unique. Tell us about some of your education and training.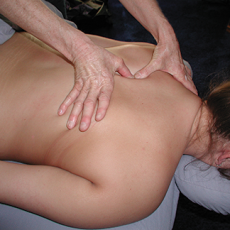 My fascination with the human body and health began when I was a teenager training to be a competitive bodybuilder. After witnessing a near fatal accident I was drawn I to learn more about the body. I became an emergency medical technician and worked on an ambulance for a couple of years. Not satisfied with my role, I found myself being drawn in the direction of the healing arts. I worked as a physical therapist aid for a while but it wasn't quite what I was looking for. When the opportunity to attend massage school appeared, I was like a moth to a flame.

I graduated from the Massage School of Santa Monica in 1986. This is where I obtained much of my advanced training in the following areas: headache and low back pain relief, reflexology, pregnancy massage, facial massage, trigger point therapy, and advanced neuromuscular re-education. I recently graduated from the Ashland Institute of Massage in order to obtain my Oregon massage license. At AIM I deepened my knowledge of kinesiology and learned new myofascial techniques. 

During my fifteen-year hiatus I was a dog walker and goat shepherd. This helped me hone my intuition, observation and nonverbal communication skills. In 2013 I graduated from the Southwest Institute of the Healing Arts with an Associate's degree in Mind-Body Transformational Psychology. The main focus of study at SWIHA was holistic nutrition, hypnotherapy and life coaching. I am a certified yoga instructor and have additional certifications in advanced Quantum Biofeedback, Matrix Energetics, and Reconnective Healing.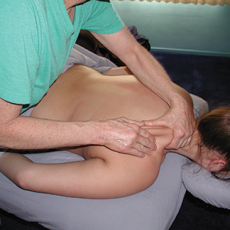 And intuition plays a very important role in your work.
Yes, there is scientific proof that electromagnetic signals produced by your heart are registered in the brain waves of people around you. The heart's electromagnetic field is believed to act as a central synchronizing signal within the body, an important carrier of information and a key mediator of energetic interactions between people. (Information from the Heart Math Institute).  As I tune into my client, I receive information about what their body needs. The information I receive helps guide the session. I call this "following the energy." I find this to be a very useful skill especially when unwinding old pain patterns.
I understand that you come by this skill naturally! 
I was in my 20s when a client told me, "I've only had one massage that was better than yours. It was from a blind man in Taiwan." That was the moment I knew I had a special gift. I happen to be blessed with just the right genetic combination. On my mother's side my grandfather was a massage therapist and chiropractor. And on my father's side my great-grandmother was known as a fey, which is a Scottish term for clairvoyance, or the ability to see beyond the range of ordinary perception. In my case I do not see energy, but I am able to sense it. What I have learned over the years is to trust 100% in what I perceive.
You have said that massage therapy is quite possibly the best preventative health care maintenance a person can use on a regular basis.  Tell us more.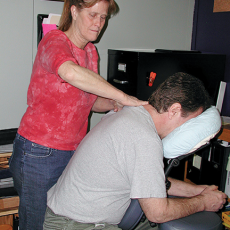 Approximately 80% of all disease is stress related. Unfortunately our physical bodies have not evolved as quickly as modern society. What I mean by this is we are wired to go into fight or flight mode for survival purposes. Our body does not know the difference between a work deadline and being chased by a bear. The problem lies in the fact that many of us have on-going stress, which continually creates imbalances in our body's systems. When we are under stress for prolonged periods of time this takes take its toll on the body and mind.

Massage therapy can provide many health benefits. It lowers blood pressure, calms the nervous system, increases circulation, allows the removal of metabolic waste from the cells, increases the immune system, relaxes the digestive tract, improves peristalsis for waste removal, relieves muscle tension and more. Some results can be better sleep, less depression or anxiety, clearer mind; overall calmer state of being and the list goes on. Getting a massage is like hitting a reset button. It allows the body's systems to sync up and work together more efficiently. This aids in stress reduction and leads to better health.  This is why massage has been one of the oldest forms of preventative health maintenance dating back over 5,000 years.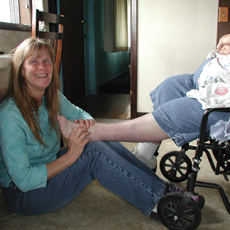 You offer a unique service in that you are able to bring your services directly to your clients. How does this work?
It surprises me how many people ask if I bring a table with me, and the answer is yes. I bring everything needed for a relaxing and/or therapeutic massage.  I also provide chair massage for parties in the home, the office, or outdoor settings. Mini reflexology sessions at parties are a big hit too.

Being mobile enables people who may not have the ability to get massage due to immobility, lack of transportation, recent trauma, or privacy issues.  This is very much needed in the community. Many people don't want to drive when they are in the state of deep relaxation massage provides. My mobile services are geared to help make my clients feel as comfortable as possible.

Having your massage at home keeps you out of the fight or flight mode driving may put you in. This allows you to reap the maximum benefit out of your session. Not having to drive allows the effects of the massage to sink deeper. This is especially important if you are recovering from an illness, trauma, are in hospice, are pregnant, or just utilizing massage for preventative health maintenance.
What does a typical session look like with you Mara?
I don't think there is a typical session. Every person is so different in what they need. However there are typical objectives that all therapists utilize; such as learning what type of massage the client wants and determining the goal of the session. When working with pain problems checking in to evaluate progress is imperative, especially if the client is recovering from an injury.

Other than that my sessions go back to reading the energy and accessing intuition. A relaxing Swedish style massage is pretty straightforward. When dealing with therapeutic issues I allow my hands, not my head, to do most of the assessment. I don't have to think about what I am doing, my hands gravitate to the affected areas and I meet the tissue at its level. What I mean by this is choosing the right modality, applying just the right amount of pressure and knowing when to release that pressure to allow the tissues to respond. That being said that is where the gifts I received from my ancestors come into play.
I've heard you mention the use of a quantum biofeedback machine. What the heck is that?
Quantum biofeedback tests a person's energetic responses to 10,000 items. It then provides a read-out via a computer program assigning number values to those items. The program then separates the information into many categories enabling me to discover where there might be imbalances. This is a very brief description of what the QXCI does.

What's important is that by owning and using this device it opened the doors for me to begin learning about quantum physics and the subtle energy realms. Examples of subtle energy in reference to humans are known as the aura, chi, prana, and life force energy. 

Our physical senses are quite limited. We receive 10,000 bits of information per second. We are conscious of about 2,000 of those bits. These are in reference to the body, time and the environment. Just imagine what information those other 8,000 bits might contain. I believe current science is just in its infancy in regards to how we might use subtle energy for healing.
What is the best part about your job Mara?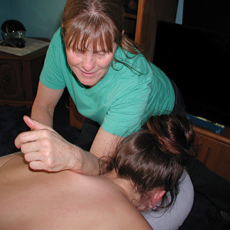 The best thing about my job is when I am able to help alleviate someone's pain, seeing that special look on someone's face who is totally relaxed, or hearing the words, "That was the best massage I've ever had." When I work it feels like a moving meditation. I'm connected to source and energy flows through me. I think I get as much out of the massage as my clients do. Giving a massage brings me a feeling of joy and well being that is hard to describe.
If you could teach readers one thing right now about the power of the human body, what would it be?
I believe we all have the ability to heal our selves. There is an innate intelligence that permeates this entire universe and keeps things in order. I find it amazing that one strand of DNA from a cell stretches out to six feet long. If you take all the DNA from everyone on the planet and lay it end to end it would reach to the sun and back one hundred and twenty times. And yet if you take all that DNA and scrunch it up it would be the size of a grain of rice.

We have sixty thousand miles of blood vesicles in our body and our hearts can pump as much as 2,000 gallons of blood per day. These are just a couple of examples of how magnificent our bodies are. The innate intelligence that keeps our body's systems working like a fine tuned Ferrari can be tapped into and utilized for healing.

When we engage in a conscious dialog with our cells they respond. There is a fairly new science called epigenetics. It is proven that our genes respond to environment. Bruce Lipton discovered when you take cells that are cancerous and put them in an unhealthy environment they decline. If you take those same cells and put them in a healthy environment they heal. In the human it is not only the physical environment that affects our health it is our mental and emotional environment.

They have also discovered that our genes do not exist in a fixed state they are malleable. A single gene has the ability to express itself in 30,000 different ways. This leads us back to epigenetics. What environment are you providing for the one hundred trillion cells in your body?
What do your clients have to say about your work?
I am lucky to have the best clients ever. One client from eastern Oregon comes to Roseburg on business. He drives the extra distance to Medford just so I can work on him.
Testimonials:
I had a snowmobile accident 18 years ago and was in pain until I met Mara. She got rid off my pain and now I live pain free. I am very grateful.
Ron, La Grande, OR
For many years I have obsessed over finding the perfect masseuse. I have visited countries where the monasteries are dedicated to massage and explored different modalities in most every location I have been. Finally, I ran into Mara.  She has had professional training, but I believe she has a gift, as well.  As Mara left my area a few years ago, I have continued my search.  No one has come close to the intuitive touch that she has. If you are lucky enough to have a massage from Mara, you will experience the ultimate massage, whether it is relaxation or therapy you are looking for.
Phil H., La Grande, OR
After having a stroke my wife has been in a wheelchair. With Mara's help she has increased her strength, flexibility and mobility. This makes caring for her much easier.
Larry
I was in pain for two and a half years after my hip replacement. I was skeptical about massage therapy. To my surprise the pain went away after five sessions. I remain pain free and get massages for health maintenance now.
Ed P.
Mara gives the most thorough, relaxing and effective massage I've ever had. She has a true gift.
Kristie Daigle, Sylmar, CA
Is there anything you are working on for the future?
I will be taking continuing education classes and plan to attend a cupping seminar in the spring. I am in the process of brushing up on my holistic nutrition and hypnotherapy. In the fall I would like to launch a program combining hypnotherapy and holistic nutrition focusing on weight management.  As I continue to grow as a therapist and educator it deepens my connection to my community and my clientele.
What is the best way for readers to make an appointment with you?
There are two ways to contact me, by telephone 541-663-6896 or by leaving a message on my contact page at: marasmobilemassage.com/contact

Special offer: Mention this interview and get an additional 20 minutes added to your 60 minute massage or 30 minutes to your 90 minute massage!
Learn More:
Mara Momsen
541-663-6896