Introducing Mark Enlow of Parkhurst Wine Cellars. A classically trained chef, wine expert and experienced vintner, Mark has rooted his love for the finer things in life right here in the Rogue Valley. In today's interview I speak with Mark about the opening of the new Parkhurst Cellars tasting room and we discuss his ever-expanding variety of award-winning hyperlocal and distinctive wines.
Mark congratulations on the opening of the Parkhurst Tasting Room and welcome to Locals Guide!
Thanks, Shields. I'm excited to get the word out.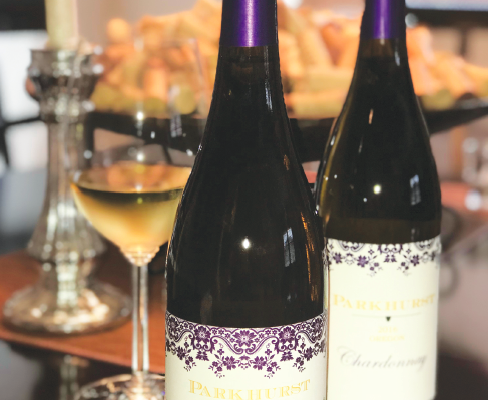 Mark, to begin with, you have really found something magical here in Rogue Valley. Would you mind talking to us a little bit about what you discovered?
I was managing a good size winery in the San Francisco Bay area and hired a woman named Angie who was from the Rogue Valley. She was very well informed about this wine growing region that I had never heard of.

We became good friends and Angie brought me to Medford, her hometown, and began to introduce me to the wineries here. Honestly, I went in with a jaded attitude. I had been in the wine business for over 30 years and had my choice of world-class wines. But there was something different about the Rogue Valley. The quality of the wine that I was tasting at virtually every winery was so good. The wines were expressive. True. Honest versions of what I was already very familiar with but enjoyed in a more relaxed, down-to-Earth atmosphere. I had become tired of the Napa "amusement park" feel of the wineries and I began to fall in love with the Rogue Valley.
Mark, what then inspired you to take your next steps?
I remember sitting on the patio of a winery—an outstanding local Pinot Noir producer. Enjoying the nuanced expressions of each wine, I said to myself, "I can do this here." It was the first time in three decades where I actually wanted to do for myself what I had been doing for others for years. To bring a new brand to the market that reflected the vast variety of wines and micro-climates that can be grown here in the Rogue Valley.

I remember looking at Angie and saying that each month from here on out, I was going to do something positive to start exploring the region and get into business here. Making wine and establishing a winery brand is a long process. There are so many details about winemaking, vineyard selections, wines to include in the portfolio to start, and the goal to bring these wines to a larger audience and how. Before we crushed our first grapes, all of these questions had to be answered and laid out like a road map leading up to and past the brand launch.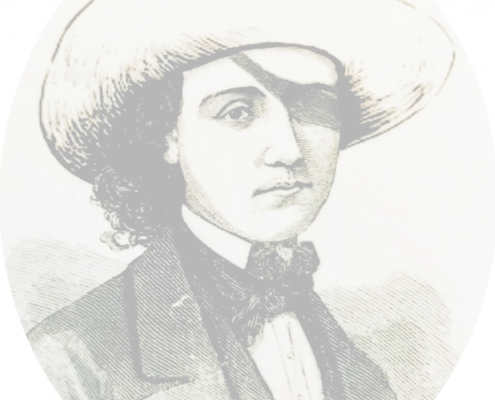 You have based the Parkhurst brand and identity on an interesting historical character from Southern Oregon.
We based our brand name on a character from the wild west who was very courageous and brave, for that era. One-eyed Charley Parkhurst was a wagon whip on the California Oregon stage line. Charley commanded a six-horse team better than most and was recognized for that. Through Charlie's life as a wagon-whip it took great courage to carry people and valuable goods between California and Oregon. It certainly was no easy task. We appreciated the story of how Charley bravely faced the elements and did what was necessary to get the job done and in the face of tremendous geographical and sociological hurdles.

How Charley's story ends really completes our desire to use a historical name in a very contemporary way. You see when Charley passed away, it was discovered that Charley was actually Charlotte Parkhurst. She was a woman living in a man's world and succeeding at it. Her choice to do so was borne out of necessity. It was just what she had to do. I found all of that inspirational.
Parkhurst was born and you very quickly set to work receiving two prestigious awards within your first year.
Yes, I think we've been very fortunate in our launch. We set attainable goals as to what we wanted to craft and where we wanted it to fit in the local competitive landscape. We did a lot of research…I love research in the wine business…it usually means visiting a lot of tasting rooms and trying a lot of product! Doing so allowed us to hone our vision of the wines. We then selected a great winemaker, Chris Graves, to express what we saw and felt.

We received our permit to do business just days before the Oregon Wine Experience last year in August. We entered four wines that year and received a Gold medal for our Rogue Valley Pinot Noir and a Silver medal for our Chardonnay. We've since received numerous Gold and Silver medals for all of the wines. Most notably at the San Francisco Wine Competition. It's the largest competition in the world and we medaled with Golds and Silvers.
Mark, what are your goals as you continue to grow the Parkhurst wine portfolio?
Because our mantra is to feature unique vineyard sources for each wine, it is important that each bottling has a distinctive personality and voice. It means that every wine has to overdeliver and go beyond expectations. It's that simple, but at the same time, challenging. That goes for me personally and for our friends and customers. I see that the only way to express the vineyard correctly is from the inside, out. From the feedback that we are already receiving, the wines are showing a signature or hallmark in their texture, finesse and finish. That makes them unique.
Mark, why do I detect that this is not easily achieved?
In my cooking career, I've had a lot of friends ask how some specific dish is prepared. And generally, in the culinary arts field the answer is, "simple." But that's not to say it's easy. Simple preparations are more than likely the best ones because the ingredients are allowed to shine both individually and collectively. I feel that the way Chris Graves and I approach the winemaking part of Parkhurst is very much the same. These are simple steps, simple adjustments in approach. We want to showcase the wine's natural connection to the earth and elements that it came from.
Becoming a part of the Southern Oregon winery community has been a great experience for you. Please say more.
As I mentioned, I was struck by many things in the Rogue Valley and certainly the quality of producers here. I find that people in the industry as a whole have been very sincere, friendly and welcoming.

We're all here to do our best for the region and hopefully I can contribute to the rising tide that lifts all boats.
In the course of your careers as a classically trained chef, wine vendor, and wine producer, you have had exposure to many great mentors. What are some of the most important lessons you have learned?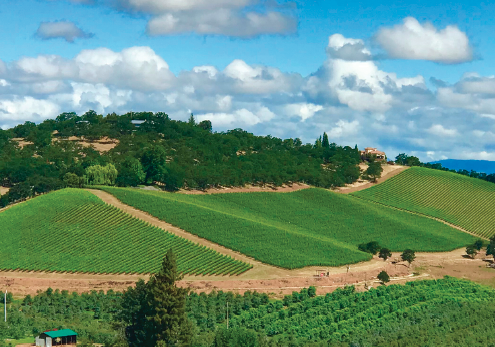 As it relates to wine production, I was fortunate enough to work with a wonderful winemaker in Napa named Jon Engelskirger. He really impressed upon me the need to pay attention to small details and to make those small changes and choices during the process. The small choices—a 1% difference in 10 different areas of the winegrowing or production cycle—can result in a wine that is 10% better than the previous vintage. That may be enough to take a silver medal wine to a gold medal. Or an 88-point wine to 92 points. Cumulatively, that's a significant change. And for the consumer, having the wine they loved this vintage only get better each following year keeps them interested and engaged in the brand.

In the culinary arts field, the most significant part in the story is preparation. Your mise en place, having everything in place, is vital for a successful cook, chef and restauranteur. Those disciplines together have meant the most to me.
What are your goals for Parkhurst as it continues to grow?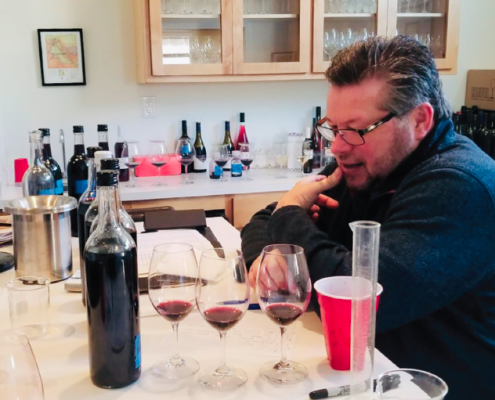 We want to be a vital part of the winemaking community in the Rogue Valley. It's very important to us that our success contributes to the culture and growth of the community that I now call home.
Mark, as part of your interview feature here today you are introducing the grand opening of your new tasting room.
Yes. We are looking forward to opening the tasting room for Parkhurst in the near future. The feeling that we're working toward is "Comfortable Eclectic Elegance." We want our guests to experience the wines as they are introduced in a number of different ways while at the tasting room. The settings and vignettes that we feature will reflect the wines' personality as they mature. We may not have the same settings as the years or even months go by. I think having an environment that is somewhat fluid, evolving, growing and changing with the wines or seasons will create a memorable experience.
Mark, you are continually receiving feedback on the quality of your wines from around the community. How do you know who to listen to and then how to apply that feedback?
Honestly the feedback has all been positive. The response to the brand and the wines tells us we are moving in the right direction. I'm happy to listen to that.
Mark, what do you look for in choosing great wines?
I personally want a wine that is memorable and tells me something about itself, its origins. I want to remember the trip I was on or the tasting room experience or the people that I shared it with.
Mark, where did you learn to pay attention to detail and nuance in your life?
Probably from my family first and my faith second. My family exposed me to so much. I have been fortunate to have parents who believed in education through travel and exposure to so much of the good in this world–art, music, food, wine, design and the people behind those pursuits and expressions. Through it all there is function and beauty in design. As humans, we are designed as amazing creatures and there is no greater beauty than the human form. We see it in art all the time. And of course, God is in the details.

NOTE: As we go to press, Parkhurst Wine Cellars' Talent tasting room is still in review at the County. Please check their Facebook page (https://www.facebook.com/RogueValleyExclusive/) and website (www.ParkhurstWine.com) for notification of the grand opening. And look for them at pop-up tastings in the area in the meantime.
Learn More:
Parkhurst Wine Cellars
806 A South Pacific Hwy. Talent
www.ParkhurstWine.com
541-324-4851