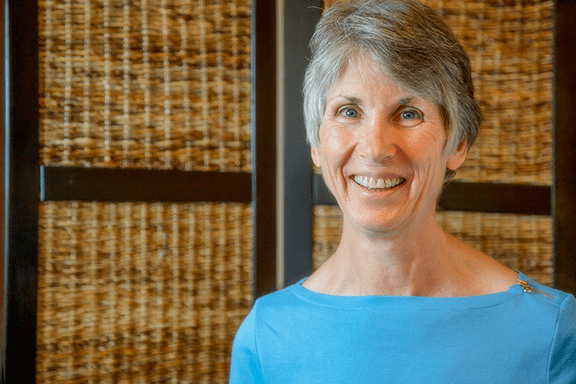 Interviews
Mary Ehlers, LMT – Myofascial Release Massage Therapy – Your Way!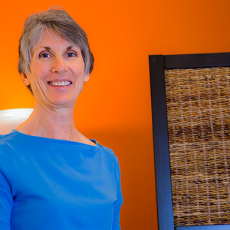 What are you looking for in massage therapy?  Relief from shoulder, hip, lower back or neck aches and pains?  Increased range of motion?  Ease of movement?  Freedom from restrictions that limit your activities?  Deep relaxation?  You may ask for deep tissue work or a lighter touch. You may need concentrated work in one or two areas, or a balancing overall massage. Mary Ehlers has found that myofascial release techniques get to the core of both chronic and one-time problems, and at the same time, provide deep relaxation.
I spoke with Mary to learn more about this specific, therapeutic technique and to understand the power of her healing touch.
What is myofascial release?  Tell us more about this technique, Mary.
Myofascial release is a form of massage therapy, which uses scientific and time-honored methods to release the built-up tension in all the soft tissues in the body – muscles, tendons, ligaments, and fascia.  I work very deep or relatively light, but even with the light work, the effects can be deep.  It employs methods from a number of other bodywork systems, including cranialsacral therapy, structural integration, and neuromuscular therapy.

 "Myo" refers to muscles, and "fascial" refers to the thin tissue, which wraps every muscle cell, every muscle, and every organ.  Fascia is extremely important as it connects every muscle to other muscles and organs, creating an interconnecting system throughout the whole body.  That is part of the reason an injury in one part of the body can make another part feel traumatized also.  Likewise, exercise or bodywork in one area can positively affect other areas.

Let me describe a couple of methods I use often.  One is to press slowly and deeply into the tendon, which connects muscle to bone until the muscle relaxes.  This can take as long as 2-3 minutes.  Very often the client will say, "Oh, yeah, that's the spot."  This works because there are groups of cells within a tendon, called Golgi tendon bodies, which react to sustained, heavy pressure by telling the muscle to relax.

Another method I employ often is using long, slow strokes over a particular muscle, such as the muscle on either side of the spine or the quad muscles in the thigh.  There are spindle cells within the muscle, which react to pressure and tell the muscle to relax.  The gliding stroke can be deep or light, to the client's comfort.
 What is unique about what you do?
I love the creative aspect of my work.  For me, every client is different and every massage is different.  Each time the client comes in we take time for the client to tell me what their issues are at that time and what kind of massage they would like to have.  I have had clients who usually want a very deep, therapeutic massage, and they'll come in and tell me that on that particular day, they would really like a very comforting, lighter massage.  Others who usually want a full body massage will come in with neck and shoulder issues and ask me to spend the whole time on that one area.  Being creative in planning a massage as I go allows me to be flexible and offer a massage that is "just right."

I have added myofascial work and deep tissue massage to my repertoire this last year, and I am finding I am able to work much more intelligently and productively.  I can go straight to a problem area and do the effective work it needs, which is good for the client and very satisfying for me.

I allow plenty of time for each appointment.  I tend to run overtime on my massages, plus I really enjoy a little chat time.  This way, the whole experience doesn't feel rushed for the client or me.

I hope it comes through in my massage, that I love what I'm doing.  I really like working one-on-one with people, and it's wonderful to have clients who are happy with anticipation when they come in and happy with their massage when they leave.  Helping people feel better gives me a great deal of satisfaction.
Do you have a typical client?
Not really.  I have clients of different ages, with different issues.  However, it does kind of break down into two groups.  One group comes for relief from a specific problem, usually pain or range of motion limitations, either chronic or acute.  This might be due to an injury, their line of work, or excessive stress.  The other group is those people who come at regular intervals, once a month or once every couple of weeks, because they have found it makes them feel better and allows them to function at a higher level, both physically and mentally.
Tell us about your journey to become a massage therapist here in Ashland.
Massage was part of my growing up.  There was nothing professional about it.  My mom and dad gave each other "rub-downs" and we all gave each other hand and head massages.  When dad got home from work, he would often ask me to walk on his back, until I was too big to do that any more.   I remember my sister and I gave each other back rubs, where we counted to a particular number to make sure we each got the same amount of time before we traded.

My first career was 10 years as a special education teacher.  I have great respect for teachers because of that experience, because it is a very hard job, and for me it was way too stressful.  I learned massage therapy at a Seattle school run by a Swedish woman who really knew how to teach Swedish massage.  I got licensed in Washington, but still couldn't make the break from teaching.

Later on I was able to leave teaching but entered a totally different field, working in nurseries growing annuals and perennials.  This led to Ashland, where I started and operated a culinary herb farm, selling to the restaurants and grocery stores in Ashland.  I loved delivery day, walking into the restaurant kitchens to deliver those gorgeous herbs and getting to talk with the chefs – a very creative bunch of folks.   One day, one of the chefs gave me a big fish head and taught me how to make bouillabaisse.  It was the best soup I've ever made!

Finally I decided to go back to massage school to get my Oregon license.  By the way, Oregon has very high standards for massage therapists, both in the initial education and in the continuing education.   I attended RCC, which has an excellent program, and then opened my business in Medford, close to where I lived at the time.  I worked there for about 5 years.

I have been working in Ashland now for about 2 years, and I love my clients.  I have met so many good and interesting people here, and it makes me happy to go to work to meet a new person or see one of my regulars.
How can people get in touch with you to learn more and to make an appointment?
Phone is best.  Please call me at 541-499-1199.
Testimonials:
"Mary Ehlers enjoys solving three-dimensional problems; perfect for a massage therapist. She can navigate the intricacies of muscles, tendons, and fascia and zero in on problem spots. And the best part is — I feel wonderful during and after a session in her hands."
-Anne DiSalvo
"I schedule regular massage appointments with Mary because of the feeling of relaxation that I always go away with.  But even more than that, I believe regular massage is an important part of my health and wellbeing as I age.  She eases the aches and pains that I develop allowing me to continue to participate in activities that I enjoy."
– M. L.
"I cannot recommend Mary Ehlers enough! Recently she worked on an area in my neck and shoulders that has been plaguing me for years. Carefully, taking her time and using a variety of techniques she began to bring release to an area that I thought was hopeless. Mary is an intuitive, skilled, and thoughtful therapist who has a talent for listening and attending to the needs of her clients. She is a most professional and gifted therapist."
– Anonymous
Learn More:

Mary Ehlers, LMT

541-499-1199