Interviews
Medical Aesthetics & Holistic Anti-Aging – Part 2
Offering advanced medical aesthetics and holistic anti-aging, Illume Aesthetics not only supports the way you look on the outside, but also how you feel on the inside. With a new focus on Regenerative Medicine and Functional Rehabilitation, Medical Director and Owner Jennifer Bullock, FNP and her staff utilize the latest technologies in functional medicine and anti-aging to provide their clients with the highest level of service.
Illume works to enhance and compliment natural radiance through functional wellness therapies that go above and beyond traditional aesthetics practices. Illume's friendly staff are highly trained, holding advanced medical, injecting, and laser certifications.
In today's interview I follow up with medical director, Jennifer Bullock, FNP to hear more about their unique approach to anti-aging and aesthetics.
Hi Jennifer welcome back to our continued conversation on regenerative medicine and functional rehabilitation. 
Thank you. I am excited to continue the conversation, share what we are doing, and to further connect with our community.
In part one of your interview we discussed the unique services and position that Illume holds in our community. You had quite a response to that interview but I feel the conversation is far from over.
 I started Illume with a dream of providing the newest and best cutting edge anti-aging solutions available in the market place. Through the course of the last couple years I have attended several functional medicine conferences and met some extraordinary practitioners that are working with protocols and technologies that are set to change the course of how we practice medicine and how we age. Over the past two years I have become certified in several of these technologies. I was the first provider in Oregon to get certified by Dr. Charles Runnels to provide regenerative injections for sexual health and anti-aging. I am also the first and currently the only provider in Oregon to get certified in Neufit technology. Neufit is a functional rehabilitation device and methodology that is revolutionizing how we treat both acute and chronic pain and movement disorders.
I am one of the few anti-aging clinics in the US that currently approaches aging from a holistic, foundational approach. I think people are waking up to the necessity to address health, wellness, and aging from the inside out. Functional medicine is the practice of identifying and addressing the root cause of conditions in the body. Biohacking is the Art and Science of changing the environment inside and around us to optimize the body's maximum potential. The advances in technology and the expanding understanding of how our bodies work allow for a really elegant marrying of technology and a functional approach to aging that allows us to essentially "hack" the human aging process. In the coming year we are going to continue to grow and add some exciting new options that will give our clients access to some of the latest and greatest in the anti-aging biohacking realm.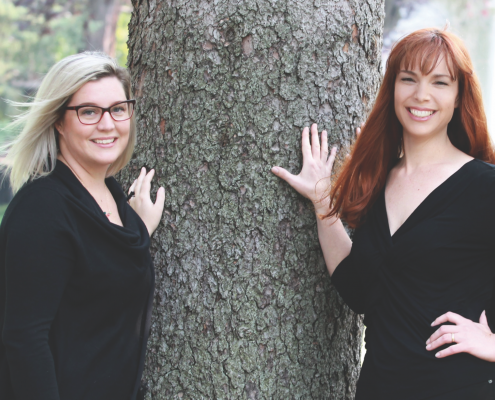 Jennifer, what have been some of the most frequently asked questions you received after the interview?
Some of the most frequently asked questions surround things like, "My doctor, chiropractor, urologist, orthopedist, physical therapist etc. has never heard of Neufit, (the O-shot), (the Vampire facelift), (SIBO treatment protocol), or any number of other things we treat or do here. I get providers asking similar questions.

The answer is that a lot of what we are doing is fairly new in this application but is based on 20-50 years of research and practiced in other realms of medicine such as wound care, sports medicine, and functional neurology. The peer-reviewed studies for these applications in the anti-aging or pain management realm are currently underway. That said all the devices and technology we use are FDA approved, based in science, and the results speak for themselves.

The other most common question is "Do you treat________" and then "when can I get in?"

I'm happy to report that we are able to provide solutions for such a variety of ailments that the answer is often, yes…
In working with, and getting to know your customers, what have been some of their top deciding factors when moving forward to work with Illume?
There is always a balance between finding the right approach to reach clients ideal outcome and respecting their time constraints or budgetary concerns.

Every person arrives in my consultation room with a desire to look and feel good. They have identified something that has changed over the years or a part of themselves they would like to enhance and they arrive seeking solutions. I think most people would prefer to avoid surgery if they can and they often recognize that how they look and feel isn't just about what can be done to them or for them. More and more people arrive wanting to know how I can help them and what they can do to maintain and maximize the investment. In addition to staying ahead of the curve, we try to offer a lot of complementary education about things like nutrition, supplementation, movement, and skincare. The more informed a person is about how to maximize anti-aging, the more there becomes a sense of personal responsibility and that becomes the basis of their experience here.
Wow… that's really inspiring to hear. 
I really am thrilled the word is getting out. It feels great to be able to do what I love and make a real impact in people's lives. Part of our goal this year is to bring in more qualified patients, who are looking for and understand the value of what we have offer, and are ready to take actions towards achieving a better life.
Jennifer, please tell us about Illume's unique "Lifestyle" approach to aesthetics.
Anti-aging and regenerative medicine in the aesthetics realm is more than simply addressing how we look on the outside. Although that is often the primary reason a lot of clients show up at Illume, we all know the pursuit of vitality is bigger than that. The way we feel in our bodies, the freedom in which we move, the ability to use our bodies without pain or restriction, how much energy we have for life AND what we see when we look in the mirror all contribute to how we perceive our aging. Over the last couple years I have had the opportunity to work with a lot of different clients. I started to see some really interesting themes in outcomes for some of my clients. For one, those who were active, eating healthy and managing stress levels were consistently getting better outcomes across the board. Second, I had a couple of clients that had a significant health crisis during the process and when we looked at their outcomes they just weren't as good. Our skin is the largest organ in the body and it mirrors your lifestyle and health. When you are stressed, ill, have poor sleep, or have nutritional deficits your skin will be the first place that shows up. I can treat those external things with laser or Botox but if everything remains the same you might return to pretreatment status within a couple months. I started to really focus on that whole system approach, expand my education in functional health, and develop programs designed to support the best outcomes. The results have been awesome.
Would you say the best results you are seeing in your practice are directly related to full health and wellness of the individual?
Absolutely. People can spend all the money in the world treating aging from the outside and still get suboptimal results. I believe if a person is going to spend a bunch of money on anti-aging treatments it makes sense to take care of the whole organism for optimal longevity of that investment.
You have had several new developments at Illume since we last spoke. Please tell us about a few.
Since our last interview we have had to scramble to expand our functional rehabilitation program. We have hired on a brand new Functional Rehabilitation Specialist, Cidney Robbins. We are providing a form of therapy called Neufit, which is a direct current neurostimulation that reprograms and re-educates the nervous system around chronic pain and movement disorders. We can treat everything from an acute injury, chronic pain, fibromyalgia pain, and even successfully treat some conditions like complex regional pain syndrome, or spinal cord injuries that traditionally we haven't have any great options for. In most cases we are able to provide permanent shifts in pain, function, and sensation and see shifts within 1-2 sessions.

The word is out on both a local and regional level. I have had inquiries from up and down the west coast. I have patients travel from as far as Alaska, Washington, and Southern California for treatment. Since we are one of the few providers in the world to have access to this technology and training, we are in pretty high demand. It has been exciting to get to work with such a variety of clients who are inspired enough to put their lives on hold and travel for care.

We also have a brand new provider on board who specializes in Memory and Cognition. We are thrilled to be working with Andrea Hutto who practices the Bredesen Protocol. She uses a technique which identifies and then systematically addresses the many complex causes of cognitive decline resulting in memory loss. The protocol reports a 90% success rate in treating and reversing the symptoms of memory loss and cognitive decline. It is pretty exciting to have access to a provider that can offer something as valuable as the return of cognition.
How do you see Illume continuing to grow and evolve in 2019?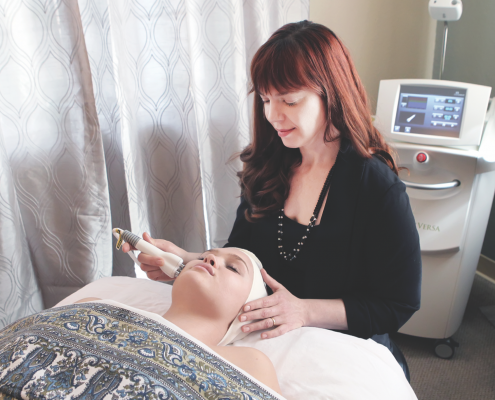 Our 2019 goal focuses on expansion. My husband and I sold our gym in January so he can come on board full time to assist in the operations and management of the facility. We plan to add several new providers and expand our offerings in the coming year. We will still continue to provide the absolute best in things like Botox, fillers, and laser aesthetics. In additional we are expanding to provide services such as medical weight loss, bio-identical hormone therapy, metabolic rehab, and a variety of other complementary and alternative therapies to help support our already expansive menu. We will be offering several exciting membership subscriptions that allows a member to mix and match services of their choice for a flat monthly rate. We have two new advanced aestheticians coming on board who hold certifications is dermaplaning, microneedling, microcurrent facials, full body ayurvedic spa treatments, waxing, and peels. We have lots of other exciting options on the horizon that we can't quite talk about yet, but look forward to sharing in the coming months!
You also have a new supplement line and are one of the only providers on the West Coast to carry this.

Yes, and we are ecstatic to be able to share this with the community. We have been working for over a year to obtain the appropriate certifications to bring in the supplement line from Prestige Labs. Dr. Trevor Kashey is a truly remarkable biochemist that is the brains behind Prestige Labs. His line has previously only been accessible to Olympic Athletes and celebrities. He is the guy responsible for the types of transformations that you see in celebrities like Kim Kardashian six weeks after the birth of a baby. Now we have access to his supplement line and nutrition protocols and are able to offer these services to our clients.
Illume has also been receiving a lot of referrals recently from practitioners around the valley. How can interested practitioners reach out and make a connection with you?
I am always open to answering questions or providing information and am available by email or phone. The work I do is often in conjunction with other providers who have hit a wall with certain patients. Often times I can see someone for a few sessions and it's enough to radically shift things.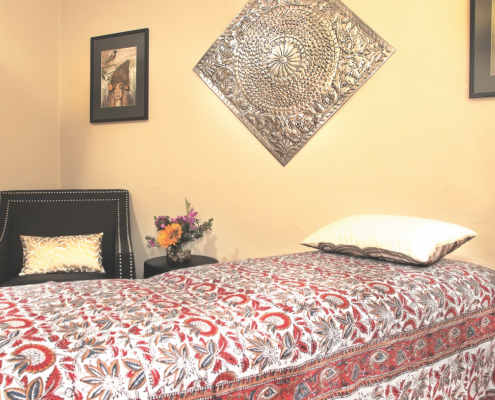 Can you please give us an overview of the services you currently provide at Illume?
We have what I like to call a hybrid spa and wellness center. We offer the traditional things like Botox and fillers, laser hair removal, IPL photo facials, body contouring, skin tightening, skin resurfacing, acne therapies, microneedling, plasma rich protein therapies, stem cell treatments, peels, microdermabrasion, waxing, and amazing facials. But we also offer functional and nutritional detoxification, treatments for sexual health including the O-shot and P-shot, health coaching, the Neufit rehab, and most recently our lifestyle programs that offer medically supervised solutions for things like weight loss, chronic pain, fibromyalgia, hormone imbalances, chronic fatigue etc.
Jennifer, what are your customers specifically looking for?
Different people are looking for different external outcomes but ultimately I think we all are looking for a provider we can trust. We all hope for a positive safe space where we feel like we are cared about, respected, and heard. I do my very best to provide that.
Can you share some recent success stories with us?
Yes! This is what a couple of my recent clients have to say:

It is with unlimited gratitude that I write about Jennifer Bullock and the life changing functional medicine program offered at Illume. After surviving a rare form of cancer that involved a major surgery and radiation treatments, I was struggling greatly and unable to fully recover. For two years I had endured all of the debilitating symptoms that are present with "cancer fatigue." Though I was an experienced health professional myself there seemed to be nothing available to return me to what had been a healthy, balanced and very fit individual. I had become a shell of my former self and frustration and hopelessness were taking over the "me" who had been a fun loving happy human being. Jen knew exactly how to help me and what was needed in the way of a comprehensive detoxification program combined with a nutrition based plan to target cellular nourishment/function and complete body reclamation. Aesthetic treatments to reform and rejuvenate my skin and facial features from dreary and gaunt to younger and brighter were a very welcome enhancement for returning value and self worth. Jen was completely available to professionally coach, encourage, and get me through three months of profound health transformation that resulted in an ageless resilience and full functioning healthy self. Thank you Jen and Illume for literally "saving my life". Maggie- Alaska

 I have been going to see Jen at Illume for the last two years for laser and micro needling. Jen and her staff are absolutely fabulous! I would like to age gracefully and I have confidence in Jen and her knowledge to do what's best for me and my skin type to make that happen. She is always learning something new and exciting to bring to her clients. Illume has everything anti-aging. Recently, I saw her for an arm injury and had great results within a couple of sessions. Her bedside manner is very attentive, kind, and caring. Kristin- Medford

 After experiencing a torn rotator cuff muscle, subsequent surgery and eight weeks with my arm in a sling, my range of motion was highly compromised.  Even after several months of physical therapy, I could only raise my arm to about half the level that I could before the injury and I still had a lot of pain. After 20 minutes of a treatment at Illume with the Neufit machine, I could extend my arm to its full range.  After a couple more treatments my pain, which had been relentless, diminished to almost nothing. I am so grateful to have experienced this amazing technology and highly recommend it to anyone in physical distress! Cisco- Ashland

I came in for a Plasma Rich Protein injection, the O-shot, to treat my stress incontinence. Not only was it the best thing I have ever decided to do, but I ended up signing up to do a body contouring package. I was paired with a provider who also does health coaching. Through the process I have been working on shifting some major lifestyle practices that have kept me from being successful in weight loss in the past. I had some pain from an accident that interfered with my ability to exercise. I did a couple sessions on the Neufit with Jen and now am pain free! I both look and feel great! It's refreshing to have a provider that can provide a solution for most anything related to aging. Julie-Medford
What do you enjoy most in watching these patient transformations?
I love feeling like what I am doing is making a difference in people's lives. Whether I'm doing an aesthetic procedure to address sun damage, Botox or filler to address wrinkles or volume loss, or I get to help someone move for the first time without pain, or get sensation back into their hand after a spinal cord injury, the shift in a person's spirit is very much the same. They light up, and there is a sense of that person moving both physically and energetically in the world so much differently. That's the part of the work I live for.
In regards to the lifestyle training programs, how exactly were these created and what do they entail?
I wanted to find a way to go deeper and to provide better service and more meaningful outcomes for my clients, but also for myself. I have done some really profound work throughout my medical career from working in end-of-life care, to trauma, to working in the operating room. I wanted to continue to feel a sense of contributing to something greater in this work as well. I felt like I was being called to do more than traditional medical aesthetics. The packages are often a combination of education, labs, detoxification when appropriate, supplements, hormone balancing, movement or lifestyle recommendations, a variety of ala carte services, and coaching as needed. These programs allow me the freedom to continue to grow what I have built but to also do a bit more.
When a client is enrolled in a lifestyle package, what are you doing to achieve and support your clients in this process?
A person can still come in for ala carte services, but for those wanting something a little more in-depth, the packages are a great approach. We provide an individualized plan that is designed to help each person meet his or her goals. All programs include a core curriculum that focuses on education, support, and when appropriate, accountability. Depending on the desired outcomes, we can do as much or as little as a person needs. For some that means doing blood work to evaluate overall health, nutritional deficiencies, inflammation levels, hormone levels or food allergies. For others it could include working with a health coach on functional weight loss, sleep hygiene and/or stress management. We can do things like nutritional detox and gut health protocols, or can put together all-inclusive packages that include the traditional laser services or Botox and filler memberships.
I am sure running a full time clinic must be very demanding… what do you enjoy doing most when you are not working?
Both my husband Ben and I have a tendency to dive into our businesses and create and work a LOT. This year for me is about finding more joy and balance in the work/life continuum. We have been talking about taking dance classes for 5 years and just started 6 months of lessons with the Ashland Parks and Rec program. We are having a ball together! Although we just sold our Crossfit facility we are both actively involved in our Crossfit Ashland community and enjoy working out several times a week. This summer we are praying for some smoke free months to enjoy camping, hiking, and paddleboarding.
Tell us more about your expansion into medical weight loss.
We have worked in the weight loss realm through our gym for years. My husband and I both really have a heart for those struggling with weight loss. We both have been significantly overweight in the past and through radical shifts in how we approach food, nutrition, and movement, have really found a place of significant health. There is such a stigma around obesity. When we see people who are overweight there is an unspoken assumption they are lazy, lack intelligence, or are flawed. That is rarely the case. For many people there are basic foundational principles about nutrition that are lacking, significant food allergies and gut health issues wreaking havoc on their system, or hormonal imbalances that are the culprit. We understand that there is no single solution but work with our clients to provide the solutions that meet their specific needs. Traditional medical weight loss involves things like dangerous surgeries or hormone injections and severe calorie deficit diets. Our approach is a bit different. We give you access to foundational nutrition education, blood panels, movement recommendations, physical rehab if needed, and supplements that are prescription grade, clean, and have previously only been available to celebrities and Olympic athletes. When a client is through with our program the goal is that they leave with everything they need to continue these changes and maintain results.
Thanks so much for taking the time to speak with us today. Are there any last thoughts or comments you would like to share with our readers?
Thank you! We love these opportunities to talk with you and share what we are up to! We are accepting new clients for our aesthetics practice, weight loss, and our Neufit. We do offer complimentary consultations and look forward to answering any questions!
Learn More:
Illume Aesthetics
993 Siskiyou Blvd Suite 1
www.illumeaesthetics.com
(541) 631-8387