Interviews
Megan Danforth – Rogue World Ensemble Reinvents the Village Experience through Song and Dance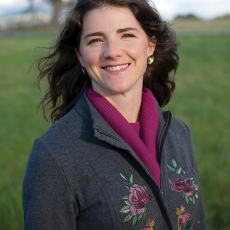 A few short years ago, Megan Danforth was chatting with her husband about how amazing it would be to have a group of people to sing world folk music with.  Not long after that she was rehearsing regularly with a small group of amateur singers at Peace House in what would soon become the Rogue World Ensemble, a 35-voice choral ensemble that specializes in world folk singing traditions.  Originally funded by Village Harmony, a non-profit umbrella organization in Vermont, Rogue World Ensemble was recently awarded its own 501(c)3 status by the state of Oregon and is being led by a strong and passionate Board of Directors.  I met with Megan, Founding President and Creative Director of Rogue World Ensemble recently to hear about the great news and to learn more about the future of this fantastic choral group.
The Rogue World Ensemble has recently stepped into a new realm with its non-profit status. This must be very exciting news!
Incredible news; what a process! And so validating of the importance of what we're doing.  Over the last year and a half we've brought together a remarkably talented, experienced and passionate board of directors and staff team to lay the solid groundwork upon which to grow a thriving world music organization in Ashland. We've come together around a shared awareness of the importance of choral music in our community, and especially of the celebration of the roots we share in folk singing traditions from around the world.  It's exciting to now give our supporters the opportunity to have greater participation in the unfolding of this vision through tax-deductible financial support.
Why do you believe music and singing, specifically, is so important?
Music is at the heart of vital communities. Without it a community would feel 'dead.'  Music brings a community together around events of celebration and provides our hearts solace in times of hardship. It's very easy to take for granted and therefore so important to remember and show our gratitude for the way it fosters our connection to one another and healing between one another.

Singing, in my opinion, is so very intimate and at times vulnerable, that it especially has the power to heal and connect us. It's a shame to see the struggle even in our own artistically supportive community to fund and cultivate children's choir programs because it's not just about learning musical skills it's about nurturing great citizens.  Being a part of a chorus is a unique experience. The soul feels 'connected' and a part of something greater than oneself. This is so important to teach our future leaders. If they can feel it in their body, it will be with them for life.
Your own beginnings in music began by watching your father as a solo singer/songwriter. How did that influence your own path in music?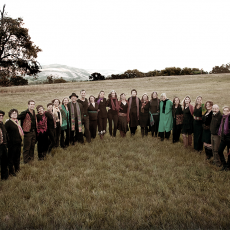 I was very fortunate to grow up in a family that was artistic and passionately driven in many ways. My mother was involved in theater and my father a multi-instrumentalist and songwriter. I grew up supported in the pursuit of creative endeavors, even through college in my choice to concentrate on Art History and Studio Art (even though such paths don't generally lead to well-paid careers)! Even though I had this upbringing, I didn't consider a path in music the right fit for me. I never experienced music as something our family "shared," it was something my father did, primarily alone. We loved it. We listened to a vast array of genres, but it wasn't until I experienced a world music choir in my late twenties that a fire inside me ignited. At this time I was also pursuing an MA in psychology. Only a few short years later I'd realize that creating a world music ensemble was the way that I could cultivate healing, joy, and connection in my community best. And what fun!
How about in your own family? Are your children showing any signs of musical interest?
Most definitely! I believe that humans are inherently musical beings, and if they're surrounded by music in any of its forms, they take to it. They'll start to gravitate naturally to rhythm instruments, or musical instruments, or they'll start singing or dancing unabashedly to the music that speaks to them. My oldest son is 9 and has taken fiddle and ukulele a bit, then switched to marimba and piano. He's got a natural rhythmic talent. I especially love his involvement in Jan Christenson's marimba troupe because it's communal, it's polyrhythmic, it really teaches fundamental musical skills in an ensemble setting, cultivating an ear for different parts happening simultaneously while maintaining one's own place within the whole. I love that!

Recently we saw the movie Frozen, which in my humble opinion is the best thing Disney has done since Lion King; real musical theater and not pointless animated laughs. The evening after watching this film, I encountered my son Orion with teary red eyes singing a snippet of one of the songs. I asked him what was wrong. Nothing, he said, I'm just moved by the music. I ran out and got that CD straight away! He's memorized nearly the whole soundtrack. If we follow their lead and don't push, kids flourish in a musical setting.
You founded the Rogue World Ensemble in 2009, which makes it a relatively young organization and yet you regularly sell out at your concert venues. Tell us about your experience of the appeal this kind of music has for our community here in southern Oregon.
We have been so well received by this community, and I am so grateful for that. Our concerts are multidimensional and carry a vision of something beyond the choir, and I think our friends and supporters are inspired by it. What I like to talk about is "reinventing the 'village' experience", an experience of community coming together through music, song, dance, and spirit (and maybe, in the future, food!) that is integrated into our lives. The music we sing would never have been taught from a printed page in the regions it hails from. Instead, the common person would have learned it by ear at any number of family or community gatherings throughout the year. What we're attempting to do in RWE is inspire the community to sing, dance, make music, and connect with one another through a palette of world music which honors the universal human experience. I think the music we sing carries an inherent accessibility, something that speaks to our human roots, and that hopefully inspires the hidden musician in all of us. I envision RWE bringing a larger and larger community together to experience its strength, vitality, creativity, connection, soulfulness, support, and love for one another through a variety of events throughout the year.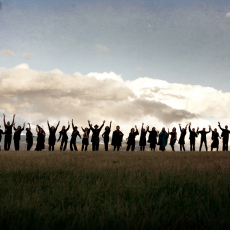 Your members must be quite talented. Are they all formally trained or professional musicians?
They are talented! They're in the midst of memorizing 18 songs in different languages as you read this; and dance moves to boot! And, no, most are them are not formally trained musicians. The vast majority are amateur singers who love world music and all its flavors, love the RWE choral family and are committed to making great beauty and experiencing great joy together. In fact, some of our best voices discovered their talents through participating in the choir, having only been "shower singers" all their lives. This fact, that we're a group of amateurs, inspires me and inspires others I believe. It demonstrates what we can do together. It demonstrates what's possible in you!

Our instrumentalists are professional musicians, and we are so lucky to have their fantastic accompaniment in our shows. Without them we would not be able to offer the same experience. I'm especially excited about the new addition of a folkdance troupe in this upcoming Love Songs concert. Jasna Pecaric, a primary organizer of our long-standing international folkdance community, is leading the effort to bring the folk dances to the stage with us.
Are you seeking new members of the Rogue World Ensemble?
In order to provide the concert experience we seek to offer, which includes movement on stage, we have to maintain a flexible choir size. For this reason, we like to keep our group to a limited number of participants. A few spaces always open up seasonally, though, so we conduct auditions (which are very low key, by the way) to accept new members throughout the year. We are seeking male voices primarily. Our women's sections are quite full, but we do maintain a waiting list. I would strongly encourage anyone who is interested in singing with RWE to audition. You can go to our website and click on 'Sing with RWE' to lead you down the right road to arranging your audition. And I repeat, "Men, WE NEED YOU!"
As you have grown over the past year or two, tell us about some of the partnerships and programs you have begun to develop.
I think collaboration is where it's at. We can do so much more together than apart.  Pat O'Scannell and Kevin Carr approached us last year about joining forces in helping launch their new endeavor called Roots Academy for Early and Traditional Music. Each of these spectacular people is such an accomplished musician and their partnership is incredible. They have come together with a passionate idea of offering a variety of classes, workshops, and concerts devoted to folk roots music in our valley.  Naturally, a relationship with Rogue World Ensemble is a perfect fit, as many of our singers are interested in deeper instruction and the specialized teachers RWE sponsors can offer workshops through Roots Academy.  This month they have put together a Scottish Festival, three concert evenings of ballads, border pipes, fiddles and the sound of timeless strathspeys and reels. For more info, contact Kevin at kcccarr@gmail.com.

I'm also in discussion currently with two well-loved local organizations, KS Wild and Rogue Valley Farm to School, about developing a farm-to-table meal event that would incorporate music in such a way as to deliver a "village-style" experience. When organizations work together like this, it creates a stronger community network and demonstrates our interconnectedness; the effort to raise awareness and protect our bio-region is deeply connected to the food we eat and the air we breathe, which directly affect how we experience our bodies, how we sing, how we make joyful noise in the world.

Another new program on the horizon is the launch of a children's world music chorus. As I've stewed over how to bring this to the community best I landed on an idea of gathering a number of children's world music educators together to discuss the creation of such a chorus, how to structure it, how to make it thrive. It's this kind of leadership that I hope to offer our community, essentially being a catalyst for bringing the right people together to make something spectacular happen. We need to listen to one another and move forward from our collective wisdom and experience.  The children's chorus is set to begin this fall, and we are looking for sponsors to get it off the ground.
Your Board of Directors and staff must be a hard-working bunch.  Tell us a little bit about the people you have gathered to support this thriving organization.
We are a board of 7 directors, and we all bring a spirit of love, honest communication, and relevant life experience to the effort of building a great organization. Our chairman is Stephen Gagne, whom many may know as the film director of the movie Thrive. He's a tech wizard, and thus also our Technical Director. He is also a passionate musician, and has had a long career in education. Robert Wildman is our treasurer. He's got a background in engineering and business management, which is a great asset. Naturally, he's also a great mandolin player! Harmony Haynie is our secretary. She has a wealth of experience in non-profit settings, education, and is a passionate community activist. She has been with RWE since its birth. Elizabeth Aitken is our 'board mentor' I would say. She has over 30 years experience in education, and board directorship. She is also on the board of the Peace Choir, and has had a lifetime of involvement in the arts.  Elizabeth Flanagan has been involved in folkdance circles for many years, and is also on the board of the Ashland Folk Music Club. She used to work for the Omega Institute out east, coordinating their weekend-long retreat events in places such as Boston or NYC. Our newest board member, Sheryl Fierro, has a rich career in non-profit fundraising. She and her husband maintained a successful business in Santa Barbara offering these services along with marketing management. We are thrilled to have her expertise on the board!
Rogue World Ensemble began as a fairly simple idea of yours; getting people together to sing in community.  Did you have any idea back then that it would grow to an organization of this size?
I didn't really.  At the time I was singing with a women's east European group but longed to sing all the music I love. My husband was also antsy to sing. We moved here from Vermont and both of us had been in a world music chorus together, which was a great experience. When my choral mentor suggested I start a chorus in Ashland I thought she was out of her mind! But I went for it, and as I did the flame of vision within me got brighter and brighter. I began to see all the possibilities, and I found that I was deeply passionate about them. At this point I have such a vast vision for this group that my challenge is to allow it to unfold in perfect time. I don't see why it couldn't become an outstanding arts organization here, a destination organization, with folk festivals, education programs, adult and children choruses, and a world class concert series.  That's where the community comes in.  We're just diving into development this year and the sky is the limit. We couldn't have a better team to guide our way.
What's next for Rogue World Ensemble, any concerts coming up?
You betcha! RWE performs a showcase concert at SOU Recital Hall on February 13th at 7pm. It is going to be a spectacular show. It's called Love Songs but that doesn't mean it's all chocolate and roses. In fact, as we all know, most love songs are wrought with disaster, torment, and tragedy! We are singing love songs in all their complexity, from tragic ballads to hauntingly beautiful chants, celebrating not only the love of lovers but also the love between parent and child, and human and Spirit. You can get tickets online at www.brownpapertickets.com or at RWE singer Elise Peters' store Heart and Hands downtown at 255 E. Main. Tickets are $15 in advance and $20 at the door.
It sure seems like we are fortunate to have such a unique choral group in our small valley.  Besides coming to a performance, how can the community best support your work?
I appreciate you saying that. I do believe we're very fortunate. RWE offers a very unique experience for singers, instrumentalists, dancers and concert-goers. Our mission is to celebrate, educate about, preserve and perform world folk music. Our vision is to nurture connection with ourselves, our community, and our world through offering quality choral performances, educational opportunities, and support of master teachers and musicians of international folk traditions. Those inspired by what we're doing can donate through our website at www.rogueworldensemble.org. If you'd like to support a particular program or area of growth, email me at rogueworldensemble@gmail.com. I'd love to meet with anyone who feels drawn to the important work we're doing, and I'm always open to new ideas. I am very grateful for the opportunity to share the RWE story with your readers. Thank you LocalsGuide! You, too, are doing great work in our community!
Learn More:
Rogue World Ensemble
www.rogueworldensemble.org