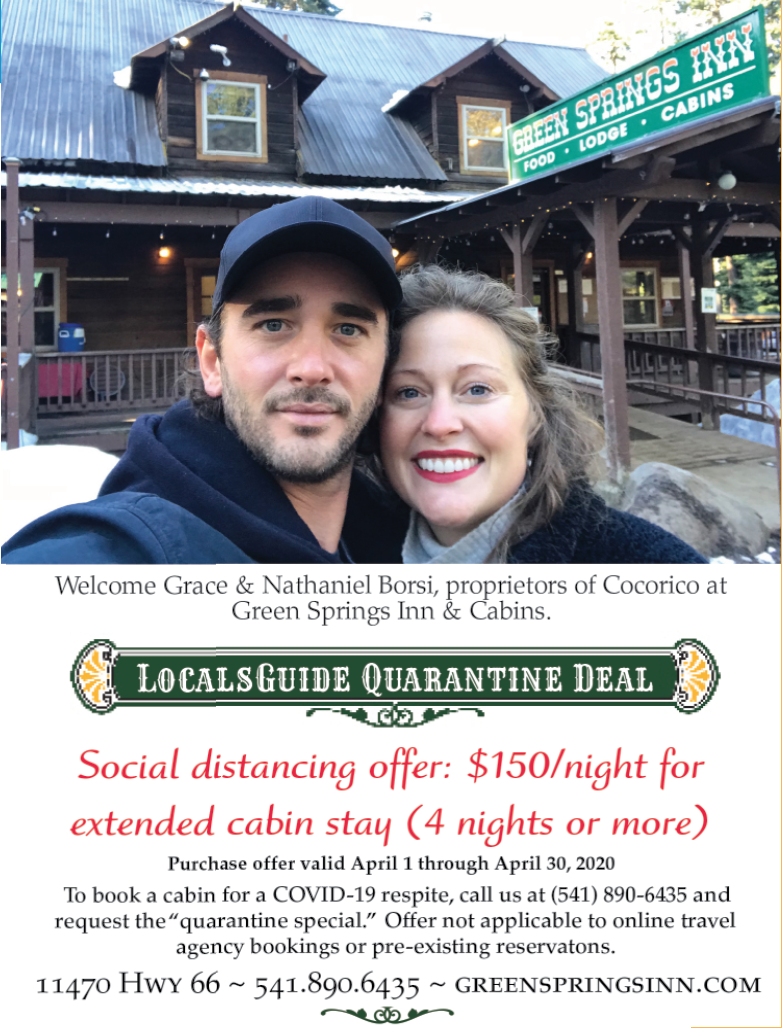 Do you have yen for raclette?
"Well," you might respond, "it's possible that I crave raclette, but what exactly IS raclette, anyhow?"
The answer is that raclette is a cheese made from the milk of high-elevation cows in Switzerland and the Haute-Alpes department of France, and also a cuisine based on melting that cheese and scraping it over small potatoes, cornichons or jambon cru (think prosciutto). In other words, we are talking about European mountain comfort food.
Does that sort of talk whet your appetite? If so, you are in luck. A strange but welcome cosmic convergence is bringing raclette to the Green Springs. More to the point, it is bringing Grace and Nathaniel Borsi to our community, along with Nathaniel's French Alpine culinary heritage and Grace's restaurant skills.
On April 1, the restaurant at Green Springs Inn & Cabins will open under a new name: Cocorico, which is French for "cock-a-doodle-doo" or "wake up and smell the raclette." Grace & Nathaniel plan to start with existing menus and staff, adding lots of their own sweat equity and, over time, new special dishes like certain French Alpine favorites.
Why did this couple choose the Green Spring to launch their culinary venture, not to mention the next phase of their lives? Certainly, they are well-traveled. Between them, you will find Bangkok, Aix-en-Provence, Ireland's Achill Island and other destinations in their curriculum vitae, all sandwiched around Seattle. (Grace and Nathaniel met at Seattle's renowned Lola, one of 12 restaurants closed on March 16 in response to the COVID-19 pandemic by celebrity chef Tom Douglas.) They could have settled down in Palm Springs, Sacramento, the Cote d'Azur or some other high dollar destination.
Nathaniel says the elevation attracted him. His hometown, Gap, is France's highest prefecture (i.e. state capital) sitting in a high valley at 735 meters above sea level, much like Ashland (except for the capital part). Grace says it was the natural beauty, which is, of course, the hook for many relationships. Personally, I think their decision may have been influenced by the number of expansive thinkers, aka crazy people, in our community — the sort of folks who might be tempted to scrape melted cheese over their cornichons and prosciutto.
In any case, we will welcome Grace and Nathaniel with a reception one of these days, after we are released from sequestration. (Did I forget to mention that most of the world is currently shut down? The perfect time to open a new business, right? Clearly these are our kind of people.)
Meanwhile, in case you have not heard, our cabins and rooms are available for remote self-quarantine. You can breathe fresh, virus-free air and order take-out. Ask for the raclette.