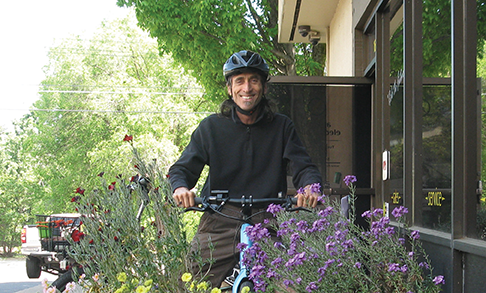 It was almost fourteen years ago that I converted my old Univega into an electric bike, and that event changed the arc of my life completely. The experience was nothing short of an epiphany for me. In my naive idealism I was sure that the ebike movement was about to explode here in the U.S. and I wanted to help that happen. So, in 2008, while so much of the economy was melting down, I started Ashland Electric Bikes. Bolstering my decision was a concept that I have embraced my entire adult life; in the best of times there will be those who fail, and in the worst of times there will be those who prosper. Do what you are passionate about, do it well and wisely, and success will follow regardless of what others around you are experiencing.
Little did I know that it would take 12+ years and a global pandemic fiasco before my grandest vision/version of this undertaking would come to full fruition. Now here we are, and in the midst of all the hardship, fear, and confusion, the bike shop is having its full unfettered day in the sun. People are embracing the reality that biking is a legitimate means of transportation and it's a fun way to stay (or get) healthy and enjoy the great outdoors, which in turn will help keep you safer in these challenging times. 
Business is booming and, even with the widespread shortage of bikes and accessories, we are fortunate to have ready access to most of our ebike models. In fact, we are packed to the hilt with our largest inventory ever! My heartfelt gratitude goes out to all who have supported us through it all and We look forward to meeting the new faces that are soon to join our family. I'll leave you with some earlier thoughts as they continue to be my deepest desires and intentions at this time:
So, as always, hope springs eternal. If we act wisely from an informed, heart-centered place, we will navigate this challenging moment in history and create a new normal that is superior to any time that has come before. Let's forge a new version of reality that truly honors the natural world, recognizes equality among all peoples, practices intelligent resource management, and supports healthy lifestyles that emphasize plenty of outdoor time and relaxation. If we can move forward in ways such as these then this "dangerous opportunity" will have been for purposeful good. I'm trusting that together we can!