Please tell us a little about yourself.
I was born in Los Angeles, but spent most of my childhood in Brigham City, Utah.  I was an early music junkie, going into an OCD trance, rocking and seated ear-level in front of my parents Stromberg-Carlson record player, devouring everything from Western classical music to early rock and surf tunes.

I fell in love with the image of a Vega 5-string banjo on the cover of a Kingston Trio album my parents gave me when I was six. From the age of eight, I played voraciously on anything I could find with strings.

I was an original member of The Violets in Portland Oregon, and did a stint as bass player for roots-pop gurus Gingersol. I play all things stringed, plus some club-foot piano, and I sing. After being a band member for so long, it was a chance listening to Jay Farrar on Son Volt's 'TRACE' that prompted me to buy an old Guild Dreadnought and start playing the Portland scene as a solo act.

I am in the process of transitioning from band member and sideman to solo instrumentalist. I've released five instrumental albums and three albums as a singer/songwriter. I've performed on countless albums as a sideman and a band member. If you'd like to see my work, please check out  https://www.chuckbramlet.com/discography/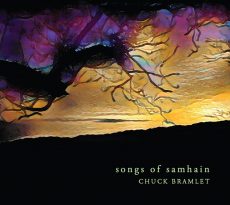 Who would you consider your primary musical influences?
Brian Eno's Ambient series from the 1970's, Nick Drake, Miles Davis, Bill Evans, Igor Stravinsky. As a guitarist, I love John Renbourn, John Fahey, and Gabor Szabo.
Your newest album is entitled "Songs of Samhain." What is Samhain?
Samhain is a Celtic festival celebrating the transition into autumn. Its literal translation actually is "end of summer." It's a time of harvest, of transitioning to the dark period of the year, and it's known to be a time when the membrane between this world and the other world is the most permeable. The dead, particularly beloved ancestors, are supposed to be able to return to this world at this time. I close the album with a string quartet called "Departures and Returns."

I decided to name the album "Songs of Samhain" for a number of reasons: This is my favorite time of year. I'm Welsh. I was composing, and the song "Hallows," which opens the album, just came out. I continued composing, and the mood of the opening song suggested other moods, and I was on a roll.
You are a guitarist. Is guitar music what appears on your albums?
I play guitar on almost every track, but as part of an ensemble. I also use composing software, triggering sound samples with the keyboard, but all the performances are me.
What is your background as a composer?
I've always composed, but composing took a serious turn for me in the 1990's while I was living in Portland. I was a bass player in a rock band. I started playing solo gigs with an acoustic guitar and developed a following separate from the band. I've recently transitioned from singer/songwriter to instrumental composer.
How would you describe your music?
Everything I love is reflected in my music: traditional folk, Indian, classical, and jazz.
Where can your music be purchased?
My music can be purchased primarily online: my website https://www.chuckbramlet.com/discography/ iTunes, Amazon, and CDbaby. I am also streaming on Spotify, Apple Music, Rhapsody, etc.
What do you love about living in Ashland?
I love the trees and the fact that I can ride my bike everywhere.
Learn more: