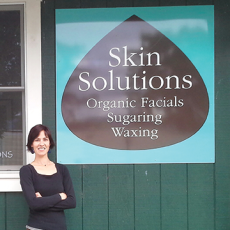 When Natalie Mitchell moved back to the Rogue Valley from the San Francisco Bay Area three years ago, she knew that in addition to returning to the Valley that she loved she would also be ushering in a unique service that until last year was not available in Southern Oregon. Offering the highly specialized and hard to find body sugaring hair removal process, Natalie's Talent-based Skin Solutions celebrated its one-year anniversary this spring. Less painful than waxing, body sugaring is gaining momentum in the skincare industry and has been utilized for centuries by cultures around the world as a gentle and more effective hair removal technique.
We spoke with Natalie recently to learn more about sugaring and the superior organic skin care services she provides at her "sugar-shop" located inside the Sky Salon at 106 Talent Ave in Talent, OR.
Natalie, can you give us a brief history of body sugaring?
The earliest references to hair removal came from the ancient civilizations of Mesopotamia, Egypt and Greece. Alexander The Great considered a hairless body to be the standard of beauty, youth and innocence.

The ancient Egyptians placed a high importance on aesthetics and cosmetics, and Egyptian hieroglyphics describe how slave girls serving the Pharaoh were expected to remove their body hair. They did so with a paste made of honey, they would spread the solution on to the skin and then apply a piece of muslin over it, wait for it to cool and then pull it off. Persian women used a traditional sugaring paste called "moum" in one motion they would spread the sugaring solution on to the hair that is to be removed and then flick it off. The sugaring solution is essentially the same, whether it is called sugaring paste or sugaring wax. It is the method used to apply and remove the hair that differs.
And the process that you use is quite unique.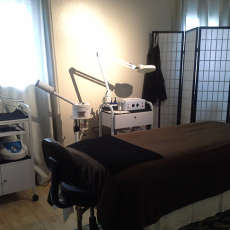 Skin Solutions offers the most effective technique. I will apply the sugar paste by hand molding against your hair growth pattern so that when the hair is removed in a quick flicking motion it's pulled out by the follicle in the direction of your hair growth. This drastically reduces the occurrence of hair breakage, painful ingrown hairs, and also allows me to remove smaller, harder to grab hairs. Using this sugaring technique the paste wraps around the hair making it pliable, while seeping into the hair follicle lubricating the hair to make the extraction more complete and gentle. Sugaring paste is simply made out of sugar, water, and lemon juice. It is edible and hypoallergenic. Also it is water-soluble and can be cleaned up easily with warm water.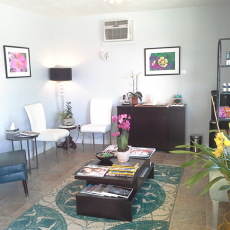 How did you end up seeking out the training required to learn this?
I moved from Kauai, HI and settled in Santa Barbara, CA to pursue a career in esthetics. While in school I learned about sugaring though it was not taught there. Surprisingly there were only a couple places offering the certification, and they required going to another state and paying thousands of dollars to get certified, so I put it on the back burner and immersed myself in my work, providing healthy organic skincare options at a busy spa. Later I moved to San Francisco. At that time there were only two spas offering sugaring so I applied for positions at both places and received a job offer at an organic spa in the North Bay that offered sugaring and they paid for me to get my certification. I feel it is important to put clear thought and intention into where you want to go, and the sky's the limit.
Can you tell readers why sugaring is superior to waxing?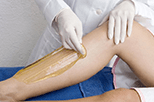 Sugar hair removal differs than waxing because the sugar paste is peeled off quickly, in the same direction as the hair growth. With waxing hair removal, the hair is removed in the opposite direction the hair grows. Working in the direction of hair growth pattern makes the discomfort much less than waxing, and results in less breakage of the hair, which also means less ingrown hairs and irritation. Generally my clients have a 70% reduction of ingrown hairs when switched to sugaring from waxing.
One of the great things about sugar is that cannot adhere to live skin cells. This means less discomfort for you and less trauma to your skin. It is gentle enough to go over the same area several times to extract stubborn hairs without causing skin damage or irritation. Sugaring is safe for all skin types and is gentle enough for even the most sensitive skin. These facts make a world of difference in comfort for the client. This is especially important for clients who have suffered in the past with waxing in sensitive areas.
Sugaring requires less than 1/8 inch of hair (or 4 – 7 days growth after shaving) for successful extraction. After a number of regular sugaring treatments the hair follicle begins to deplete and the hair grows in more refined each time. Because sugar can extract such short hair, it is possible to extract the hair in the early growth phase, which can lead to permanency.

A single glob of sugar paste can be used over and over on different parts of your body then discarded after your treatment. It is never used on any other person. Sugaring paste is hypoallergenic and non-comedogenic. Sugar naturally helps control cross contamination and bacteria cannot breed in the tub of sugar.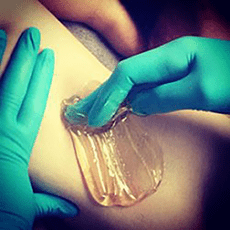 And the results are outstanding, clients are happy.
Here are a couple of testimonials:
"I'd been waiting for someone to open a sugaring place in the Rogue Valley, so I was excited to try Skin Solutions when they opened in little ol' Talent! I wasn't disappointed. Professional, extremely clean, and very kind, Natalie did a great job, and I've returned several times. I've tried the following: underarm, lower leg, bikini, and, yes, Brazilian. I'm not going to say it didn't hurt, (it's called having your hairs ripped out, folks) but it was quick and clean. I didn't have red bumps or aggravated skin afterwards, and she uses a great after-wax product that contains St. John's Wort, which is helpful for healing. Can't recommend her highly enough!" Eva
Brazilian Sugaring:
"I learned about sugaring when I met Natalie. I had struggled with ingrown hairs for years getting 10-20 bad ones after every wax. After completing the sugar I was not sure if it would help. 6 weeks later I can say I only had one ingrown, also much less pain during the service. I am so impressed I will never wax again – sugaring from here on out!" Ashley 
Utilizing products and methods that are natural and organic is of high value to you. Tell us more about why this is important to you.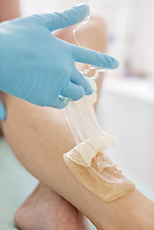 Through conventional make up, lotions, creams, and cleansers we inadvertently use hundreds of different ingredients on a daily basis; many of them toxic, the majority of which are absorbed through our skin into the bloodstream. This is especially important in skincare products because they are on your skin, our largest organ, 24 hours a day. The ingredients are either working for your skin and your overall health or against it. There isn't a lot of education for the consumer in this field unless you are very proactive in seeking the information. I believe that people deserve to have clean options, and that they should know why it is so important to choose them. I love to talk about ingredients and encourage my clients to bring in their products so we can look at them together.
The products that I choose to use in my facials and services are created here in the United States using sustainable practices, using wild crafted and organic ingredients, my wax and the sugar are both biodegradable and compostable, and I use biodegradable gloves in my services.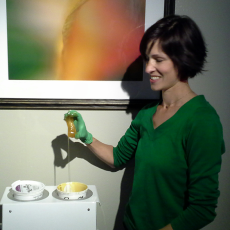 You even make some of your own products!
I do, I make a really lovely Organic Mascara that is great for even the most sensitive eyes. It wears very natural but can be layered for a night out, and it is very conditioning for the eyelashes.

I also have a line of Organic Sun Protection products. My sunscreens are non-comedogenic, lightweight and fast absorbing, and are created without parabens, harsh chemicals, filler ingredients, synthetic fragrances, preservatives or any other toxins. They are a clean alternative to mainstream chemical sunscreens that contain cancer-causing ingredients. Made from an antioxidant rich blend of organic ingredients, my intensive, protective formulas prevent free radical damage and fight the aging effects of sun exposure and pollution with organic green tea, avocado oil and other natural skin protectants. You can purchase my products at skinsolutionsnaturally.com or you can find me on Etsy at etsy/shop/skinsolutions
You believe that knowledge is power. How does that relate to the work that you do?
My clients have always appreciated the education and free advice I offer. Many of us get overwhelmed when were looking for a new skincare product or treatment, the ingredients are hard to pronounce, and we don't really know what they are treating or if their specific to our skin. I offer free advice and knowledge! Let me help you narrow your search to a few specific ingredients. Unlike many practitioners I am not concerned if you're buying my products or not, I just want you to use clean ingredients that will give you the results you desire.
You are a firm believer in sun protection. Can you tell us more about your thoughts on this?
Research shows that 90 percent of wrinkles are caused by the sun's UVA light and sun damage is the #1 cause of premature aging in women and men. The best sunscreens provide broad-spectrum (UVA and UVB-sunburn) protection. Look for either zinc or titanium minerals in your sunscreen. Using a sunscreen with an SPF of at least 15 daily protects your skin from harmful UVA and UVB rays, while using antioxidants will help prevent the damage caused by free radicals, as well as protect and nourish your skin by repairing cells, reducing pigment, and preventing the breakdown of collagen and elastin, which produce fine lines and wrinkles and accelerate visible signs of aging.
Tell us about some of the other services that you offer Natalie.
Skin Solutions is a holistic spa in a healing environment that promotes knowledge and beauty and specializes in organic skincare and hair removal. I offer organic facial treatments ranging from anti-aging and acne, to sensitive and rosacea skin types. Services include microdermabrasion, plant derived chemical peels, and high frequency, full body sugaring and waxing for men and women, and lash and brow tinting. I feature the ISUN Alive and Ageless skincare line, complemented with my own Skin Solutions Natural and Organic line of professional products.
Do you have any tips/advice for readers?
As we age, cell turnover slows down from about every 14 days to about 28 days and dead skin cells can build up and give us a give us a dull complexion. Exfoliating both the face and body weekly helps get rid of the top layers of dead skin cells that are mucking up the surface of your skin and causing your skin to not only look dull, but older. Exfoliation can help your skin appear younger and brighter, helping reduce the appearance of fine lines and wrinkles, and also allows moisturizers and serums to better penetrate the skin, giving you better results.
You have an enormous amount of information available on your Blog.
You can read my blog and visit my website at skinsolutionsnaturally.com
Learn More:
Skin Solutions
106 Talent Ave, Talent
541-613-1396
natalie@skinsolutionsnaturally.com