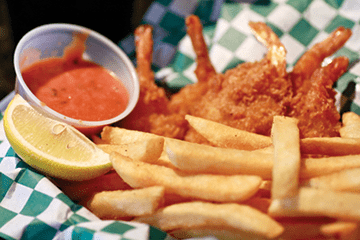 Paddy Brannan's Irish Pub and Eatery offers traditional Irish favorites like an Epic Reuben sandwich with corned beef, grilled sauerkraut, swiss cheese and a house dressing. My friend Dorothy ordered the Bangers and Mash. She found these hearty sausages mild and tasty, served with mashed potatoes, peas, and gravy. Our waiter and bartender, Paul Valyo, made us feel right at home and welcome. We started with a great local Riesling for Dorothy and the Tipsy Redhead (no alcohol style) with fresh watermelon juice, and a touch of fresh orange juice and lime for me; it hit the spot on a hot July evening. It is usually served with vodka and orange liqueur. One of Paul's concoctions, Laid Back Broker's Gin, is featured in the July issue of the Tasting Journal, a national contest with three finalists from the West Coast – he has put Ashland on the map. If you want German or local beers, or a fine cocktail at the bar, you'll get top quality here.
Rob and his wife Stephanie bought Paddy Brannan's in June 2013, and they have seriously spruced up the small space so it is much more woman-friendly. Now their customers are about 50/50. Happy Hour prices are from 4-6pm daily, with real specials for folks who work in the service industry on Monday nights. Check out their Facebook page for the live bands and karaoke (Tuesday nights), as they do change each week. This Pub is located at 23 South Second Street, next to Dan's Shoe Repair, and there is good free parking across the street.
They have a regular lunch crowd for their Irish sandwiches, served with your choice of one side dish. These include cole slaw, Dublin Dip (artichoke hearts, spinach, Dubliner cheese with sourdough bread), and Colcannon (mashed parsnip and potato with basil, kale and scallions). I tried the latter and the Dochara (beer braised cabbage with bits of bacon). I liked the Colcannon best for I love veggies with basil! My Wild Salmon dinner was grilled and tender, with a house ginger marinade, mashed potatoes, and house salad. I personally enjoy the flavor of herbs and onions on my fish and some garnish, but it would be fine for someone who prefers minimal flavors on their fish. The menu is clear which items can be gluten-free.
Our favorite was the chocolate cake for dessert. They use almond and coconut flour along with some wheat flour, but the chocolate sauce topped with vanilla ice cream was truly a delicious treat, highly recommended! A larger crowd shows up around nine at night when they have the live music. We had a quiet atmosphere, and the booths give privacy for easy conversation. It is likely much rowdier later in the evenings, with the music and a more active bar. All considered, a unique restaurant, specializing in Irish cuisine, and the staff is super friendly.