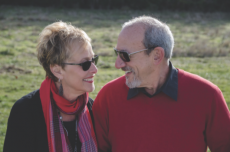 In 1980 Pastor Ron Timen and his wife, Jan, dedicated their lives to Yeshua . It was New Years Eve and they prayed a special prayer. "God, if You are real, please show us how to know You." Doors began to open and things began to fall in to place. Following the path of Yeshua over the next ten years, Ron and Jan were led from Ashland, to Tualatin to Canyonville and to Watsonville. In 1997 they returned to Ashland and set out to lead the church they met Jesus in. As in any spiritual community, they experienced ups and downs as the years passed. A major challenge they faced was in the church building itself. Insurmountable structural issues necessitated the demolition of the building.
I spoke with Pastor Ron Timen today to learn more about their life's work and commitment to the principles of Christ in our community.
Pastor Ron, thank you very much for your interest in doing an interview with us here at the LocalsGuide.
Thank you for contacting us Shields. We have advertised in the LocalsGuide and appreciate how much you inform our community about our local businesses. We are in the final phases of our building project and want to introduce ourselves to our new community of Talent.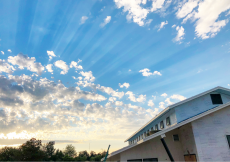 To begin with, I would enjoy hearing more about your own background and history here in Ashland.
My wife, Jan, and I have always had a desire to pursue spiritual meaning in life and consider life to be an adventure, which often takes unexpected twists and turns. We explored many, many different paths through reading, travel and experiences. Like so many of our generation, we were on a search for truth and hope in the midst of a rapidly changing culture. I was also heavily involved in the rock and roll scene as a drummer, opening for such bands as the James Gang, Dr. Hook and the Medicine Show, and others. After living in various cities and states during the early years of our marriage, we moved to the Rogue Valley in the mid-1970's to run the Jackson County Shelter and Evaluation Center. It was a great experience working with kids in need and helping to place them in healthier environments. After studying various spiritual approaches to life, we came to a new and unanticipated path. We prayed a special prayer one New Year's Eve and, shortly after that, Jan began to feel a strong pull to visit Christian churches. This was out of our box, as I grew up in the Jewish faith and Jan as a Catholic. We had been heavily involved in non-traditional, metaphysical spiritual practices and communities in Ashland. But we responded to what we felt we heard and tried to keep an open mind as we began to explore new territories on our journey. After visiting a few churches in Ashland, we ended up dedicating our lives to and chose to follow the path of Yeshua. We loved the life and family we found in the church, then called Christian Center, and became part of the staff. Over time I was ordained and continued to serve in many capacities there.
Pastor Ron, can you give us a brief overview and history of the church you have been a part of here in Ashland?
Our congregation actually was a part of the Baptist church in Ashland a long time ago. In 1922 a healing evangelist named Dr. Charles Price was invited to speak in Ashland for three nights of meetings. The three nights turned into over three weeks of meetings with over three thousand people gathered in the old Chautauqua building. Hundreds of healings were reported at those meetings, even being reported in the Daily Tidings. Some members of the Baptist group were drawn to the new Pentecostal message being preached and formed a new church. That was our birth. The church had a strong presence in Ashland for many years, even hosting a TV show there in the 1970's. We've had several name changes and building locations over the many decades we were in Ashland. After Jan and I came to lead the church we changed to our current name – Rivergate House of Prayer.
You now have created your own church. Please introduce us to your community.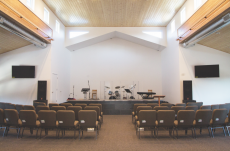 Thank you again, Shields, for this opportunity. Rivergate is a spiritual community of Jesus/Yeshua-followers on a journey of discovery. We are endeavoring to learn more about our Triune God. It is our desire to grow in passionate worship to the Lord and in compassionate service to people. We draw deeply and teach from our ancient Messianic roots, the example of the early Celtic Church and the mystical adventure that a Jesus follower has the privilege of living. We think the Bible still has relevance for today's culture and study it to make application to our lives. Our intent is to honor Yeshua's desire for His house to be a House of Prayer; therefore, we prioritize prayer and worship as core values. We believe that "Church" is more than just group of people gathering together as a spiritual community. We see it more as a family who have made a commitment to each other and will walk through life in supportive relationships.
Pastor Ron, I am very interested to learn more about the different dimensions of prayer? How do they work and what is involved in this process?
Well, Shields, we believe prayer is two-way conversation with our Creator. We talk, listen and then respond to what we hear. We believe God/Creator loves to hear from and speak to us. It's about His involvement with His people, loving to answer their concerns and requests and being a part of their everyday life. We have times where we come together for community prayers. We give thanks, make requests, worship, sit in silence and listen. The goal is to just encounter the Presence of the Spirit. One of our set apart times is called Lectio Divina. It's an ancient practice involving meditation of the Scriptures, journaling, sharing and praying about what we sensed we heard from the Lord. We view prayer as a creative spiritual practice.
At the Rivergate House of Prayer you are very committed to creating a culture of the arts. Please say more about this.
There is a verse in Scripture, Exodus 36:2, that says, "Moses called together Bezalel, Oholiab, and every skilled person whom the Eternal had gifted with special skills—everyone whose heart moved them to work—to help out and contribute to the construction work." We feel that the Creator is the best Artist ever! In earlier times, the Church was a major contributor to art and creativity. Go through most ancient churches in Europe and you will see some of the greatest masterpieces on display. We hope to create an environment that honors the arts and encourages people in their artistic endeavors. We have had easels set up during times of worship and had people paint as the Spirit inspired them.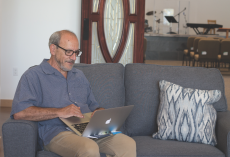 Will you talk about the words of encouragement that you speak and the prophetic nature of the church?
We believe that God still speaks to people today and desires to show His love and acceptance to them. Doorways of Perception is one vehicle we have of serving our community in this dimension. We have teams of people who are trained in hearing the Spirit of God and inner healing methods. We offer dream interpretation; body, soul, and spirit healing; mother/father blessings; and more. Our vision is to help awaken people to their destiny and purpose through spiritual encounters and Divine love. We have served in a booth at the 4th of July festivities in Lithia Park for seven years. We have also served at Pranafest, Mystic Garden and Peace Village among other venues. We offer a monthly Encounter night on the second Friday of the month, which will now be held at our new facility in Talent. You can contact DOP at: DoorwaysofPerception.org.
Pastor Ron, please tell us about the last couple years of pulling together your building project?
The past couple of years being without our own building have been an interesting and sometimes stressful season. We originally were working through the city of Ashland and thought it would be a matter of months till we had a new building. After working through the permit process in Ashland we found doors closing on that prospect. Jan and I were on a walk, praying about the next step, and came across a vacant lot in Talent. The process shifted gears. It takes a lot of time to go through the process of re-design, permits and new construction. In the meantime we have met in various locations in Ashland and Talent. Our community learned how to adapt to the changes that kept coming and remained flexible and committed to hanging together. They are super happy about where we find ourselves today!
Where is the building located and when is your grand opening?
We are located at 322 South Pacific Highway at the corner of Rapp Road. It is very visible. We are planning a grand opening on November 4th with a special speaker from Bethel Church in Redding and recognizing those who have been instrumental in this process.
Ron, your new space has rooms for children, families young and old to grow. Please talk more about the unique space you have created.
We believe in family and multi-generational gatherings. We also understand it is important to offer activities that will engage younger children. Our facility was originally designed with open space for people to mingle and have areas for fellowship. But we were impressed to enclose some of those areas to make spaces and classes for children of various ages. We also have a fully functioning kitchen and an enlarged lobby for people to meet, mingle and have conversations. We put a fireplace in the lobby so it will be a nice warm place in which to hang out. Our sanctuary is wider rather than longer so people can see each other rather than just the back of their heads.
Ron what are the core values of your church and how does it differentiate from other places of worship?
We place a high value on having a real "family" feeling through small group meetings and eating together. One of our first community events will be a harvest festival where we will have games and activities for kids and adults. We are trying to cultivate a culture of honor and respect for one another. We also want to be a place where people can come in and find healing for body, soul and spirit. One of the reasons we went the route of building a new building after the old was demolished was to leave a legacy for the next generation that will serve their needs.
Ron, you mentioned the worship can be more lively. Can you tell us about this?
Well, Shields, as I mentioned earlier, I am a rock and roll drummer! I have brought that passion into our worship. We have guitars, keyboards, and various percussion instruments as part of our worship teams. Sometimes our worship can get loud, sometimes it is acoustically driven. Always there an intimacy factor with God that motivates us.
What are some of your favorite songs recently?
I love music from so many genres. In the worship realm I love the music coming out of Bethel Church in Redding, Housefires, Hillsong and Rend Collective among others.   Lately I have been drawn to a song by Lauren Daigle called, "Peace Be Still". She sings with incredible passion. The message deals with issues of fear and the storms of life. The song really stirs up faith and hope in me when I hear it.
How has our culture changed and how has this changed what people are looking for in worship?
I think our culture is busier and more frantic than ever. Having a house of prayer can provide a place of contemplation, meditation, and peace for people. It can provide a place of peace and safety. For example, we have a Lectio Divina prayer hour at noon on Fridays. People can come in during their lunch hour and engage or just sit and soak in the peace.
What are the biggest challenges you see facing our culture today?
I think the divisiveness and seeming lack of respect for one another in our country is a big problem. The Scripture tells us that a house divided cannot stand. The big challenge is actually listening to the differing points of view, finding some place of common ground, and then working together to find creative solutions. Part of our times of corporate prayer is to ask the Lord to bring healing to our land – not just from the fires but from the anger that seems to be growing.
What are the goals for the church? Where do you want to go with what you are doing?
I would love for new friendships to be formed with those coming to visit us. I am hoping that we can become a valued part of the community and a place where people can be known, feel safe and sense how valuable they are. We want RHOP to expand in its celebration of the Lord and grow in grace to heal others and ourselves. We are always looking for more musicians, singers, sound techs and media savvy people. Artists are always welcomed. We will need more teachers as we grow as well as mentors and those who love to find creative ways to serve the community around us.
Pastor Ron, in conclusion, are there any last thoughts or comments you would like to share with our readers?
Thank you for this opportunity, Shields, and to those who have taken the time to read through this article. We hope some of you will come visit us. We meet on at 10 a.m. Sundays. People interested in Lectio Divina can join us on Fridays at noon. At this time we are actually still moving into our building but will be adding more times to gather during the week. Feel free to check our website or Facebook page to find out about other events. Our hope is that you will sense the Presence of the Creator and the love of God's people at our gatherings. Come and see!
Learn More:
Rivergate House of Prayer
322 So. Pacific Highway, Talent
RivergateHOP.org
(541)897-4475