Introducing Julie Harden, owner of Pelindaba Lavender in Ashland, Oregon. Located on Main Street across from the Plaza, Pelindaba Lavender is a unique retail environment featuring more than 200 products handmade from organically-certified lavender at their San Juan Island, WA farm. In today's interview, we learn about the amazing natural properties of lavender. If you already love lavender you will only love it more after this conversation. If you are curious and have smelled the fragrant store from blocks away, go on in. I promise, after this interview you will never see lavender the same. 
Hi Julie, thanks so much for speaking with me today. To begin with, will you please introduce yourself to us and how you came to own a lavender store in Ashland?
Shields, thank you for this opportunity. I'm originally from Orange County, California and came to Ashland by way of Chicago, San Francisco, and Seattle. For 14 years I led teams in the high tech industry, the last 8 of which at Amazon Web Services. I never imagined I'd be the statistic of being hired before 98% of all Amazonians worldwide! The intensity of Amazon took a toll and on a road trip through Idaho I decided to make major life changes. Two years ago when Pelindaba made available the opportunity to own an already beloved store in downtown Ashland, it was one I couldn't pass up. This community is passionate about everything we represent – natural, organic, and handmade products – and has been incredibly welcoming to my dog Juneau and I. 
Julie, what truly captured your heart with this magical plant?
My interest in lavender heighted throughout my time in the Pacific Northwest. It started with an impromptu visit to a small lavender farm in 2014 with my sister. Soon thereafter I discovered Pelindaba Lavender at a Seattle holiday show and the variety and quality of lavender products offered was just unequaled. I visited Friday Harbor, WA and Pelindaba Lavender Farm five years ago and after a tour from the owner-founder, Dr. Stephen Robins, I was amazed by the knowledge I walked away with about the plant and its many natural properties. I just thought it smelled good! Did you know there are roughly 40 species and over 400 varieties of lavender? And some aren't purple – flower color ranges from every shade of purple imaginable to white, green, blue, and pink. Stephen likes to say no one arrives in town asking for the nearest location of a lavender farm or store, but I do!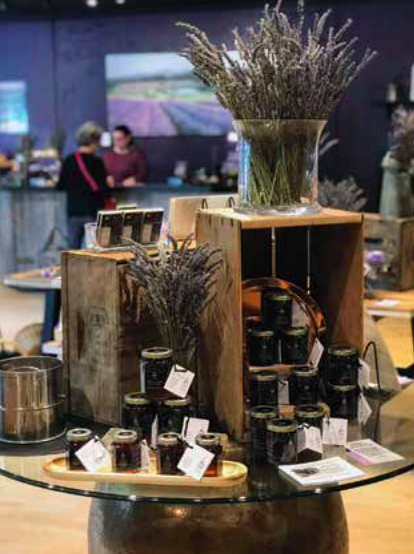 Pelindaba is an unusual word. Can you tell us what that means and more about the lavender farm where the products are made? 
Yes, the word "PELINDABA" is pronounced pel-in-DAH-ba and is a Zulu word that can be translated as "PLACE OF GREAT GATHERINGS." A name that incorporates the two key elements of the original concept — great gatherings of crops and great gatherings of people. Today, Pelindaba Lavender Farm is a stunning 25-acre home to more than 30,000 plants! On-site we cultivate our organically-certified lavender flowers, and use the ancient process of steam distillation to extract the pure essential oil. Our custom 500-gallon steam chamber is quite impressive! From these flowers and essential oils, we handcraft on-site a wide range of products. 
What's so special about handcrafted products?
I visited our farm's Production Center two years ago and only then did I comprehend what handcrafted truly meant! I saw small batches of ingredients measured and mixed by talented artisans. Jars and bottles were hand-filled, each labeled by hand, each and every tag cut, and every one of the tiny bows tied by hand. This attention to detail ensures that you receive the best of Pelindaba each time you bring one of our products home or give them as gifts. We strive to make gift giving easy starting with artisan crafted elegant packaging. Products are ready to gift in a beautiful black handled bag with purple tissue and bow, or a gift box, or we can prepare them for shipping from the store. Don't forget Mother's Day is May 9th this year! 
Where is your store located in Ashland?
Pelindaba Lavender is located across from the Plaza at 30 North Main Street in the heart of downtown Ashland. For the locals, our purple storefront was once home to an optometrist and is situated between the former, beloved Nimbus location and the Ashland Plaza Mall. Locals and visitors are usually driven inside by curiosity of a store exclusively focused on lavender, the inviting lavender smell that wafts outside, the curbside appeal of our window displays, or because they have heard about or already know about Pelindaba Lavender. 
Julie, I´d love for you to take us on a tour of your store.
Absolutely. As you enter from Main Street you have a unique stage-like perspective where you view the entire 1200+ square foot product gallery before you. Quickly your senses are immersed in an exclusively lavender world. With more than 200 products, the breadth of our lavender offerings can be staggering. To ease navigation, we display products by category with sections dedicated to culinary, personal care, therapeutic, household, and pet care products. We also integrate pieces from San Juan Island artisans like lavender-themed ceramics, a beautiful line of jewelry, and unique art prints and cards. A guest can be touching one of our lavender soaps, another smelling the Lavender Gourmet Coffee, another spritzing our Organic Lavender Healing Mist while their dog gets a taste of our Lavender Gourmet Dog Cookies. One of my favorite interactions was with a young boy wearing a Star Wars-themed shirt who shouted "this is the Lavender Empire!" 
I love how you have organized and decorated the store. It's quite stunning!
Thank you! We realize an all-lavender retail setting is a new experience for most. But this isn't your grandma's lavender store with just soaps and lotions or a mall store with synthetic fragrances. With the widest collection of farm-based lavender products we know of anywhere, Pelindaba Lavender is well positioned to serve our two key audiences – local residents and visitors – with unique lavender-based lifestyle products. 
Coming into your store is a very engaged experience. Please say more.
Imagine stepping inside our product gallery and finding your senses become immersed in lavender – the smell, the look, the taste, the feel. This is why we call it The Complete Lavender Experience®. Large pictures of the farm surround the room and help tell the Pelindaba story, instilling a strong sense of place. We have an educational mission where informational signage accompanies each section and individual product. This extends to complimentary printed resources like growing lavender tips, suggested uses for Lavender Essential Oil, and lavender recipe cards for our culinary lavender. 
Lavender for culinary purposes? Please tell us more.
Yes, what is truly distinctive about lavender in the kitchen is that it's one of the very few herbs that can be used across the entire food spectrum, from the savory to the sweet. Lavender is in the same family as rosemary so it lends itself very nicely to savory dishes where one would otherwise use rosemary. Equally delicious is pairing lavender's own subtle sweetness with chocolate-based or fruit or citrus inspired beverages and dishes, like Louie's Lavender Lemon Drop or a Lavender Mocha at Café 116, both of which feature our lavender. What's particularly fun is when customers bring me a sample of what they've created with lavender – I've enjoyed homemade marinades, roasted lavender almonds, and delicious baked lavender bread. 
I´d love for you to share a little more history behind lavender and its role in modern day society?
Sure. Lavender was known to be used in ancient civilizations, be it Egyptians, Romans, and Greeks. As such its usefulness has been on record for more than two millennia. The genus name Lavandula, derived from the Latin word lavare meaning "to wash," broadly stems from the ancient use of lavender in bathing. Besides its wonderful fragrance, centuries of documented experience along with modern science have established Lavender Essential Oil's many naturally-occurring properties. Lavender is increasingly being discovered by recent generations as an effective natural, non-toxic remedy for everyday life. Whether one is being creative in the kitchen, caring for their health and well-being, managing their home, caring for their pets, cultivating a garden, etc., lavender has a useful place.
Julie, Lavender Essential Oil has countless uses. Tell us about some of the most common and uncommon uses?
In fact lavender has been said to have more uses than any other plant known in the Western world! Prior to World War I, Lavender Essential Oil was widely known as a powerful topical anesthetic. Applied directly to the skin, Lavender Essential Oil can deliver dramatic relief from pain within a minute or two, which I can personally attest to thanks to cooking burns, bee stings, and slicing my finger while decorating for the holidays! While dampening the pain, the oil also delivers antiseptic properties to limit infection, thus allowing more rapid healing to occur. And with less infection and more rapid healing, scarring is greatly diminished. Not surprising then that Lavender Essential Oil is referred to as "a First Aid Kit in a bottle." You just learned of lavender's use as a superb culinary herb in both savory and sweet applications, but did you know lavender is also a potent insect repellant? The often forgotten use for lavender is as an organic disinfectant and solvent and its ability to cut through other oils. 
It will rapidly help remove grease, paint and glues from various surfaces – imagine stubborn price stickers or tree sap – and all the while with a much more pleasant and safer odor than other chemical solvents.
Julie, can you please talk more about the therapeutic qualities of Lavender?
Yes, Lavender Essential Oil's use in aromatherapy and as a natural sedative is probably the longest recognized therapeutic quality. If, like me, you struggle with insomnia or just can't seem to "turn your mind off" at night, I highly recommend applying 1-2 drops of Lavender Essential Oil above the upper lip as a safe and effective calming, relaxing and sleep-inducing agent. For headaches, anxiety and stress reduction, try rubbing a few drops into the temples, add a drop to the inside of your facial covering, or add a few drops to a bath. 
It is hard to believe you have so many amazing lavender products. Highlight some of your favorites. 
It's just as hard to only pick a few favorites! In my April LocalsGuide column I wrote about Pelindaba's Organic Lavender Hydrosol, the Lavender Therapeutic Salve, and the Lavender Insect Repellent as favorites for the spring. But the one product that has remained a long-time favorite for me and my family is our Lavender Treatment Stick. I call it the Lavender Wonder Stick as it employs all those therapeutic attributes in a convenient stick delivery system for easy application and portability. I have traveled the world with mine! Any abrasion, irritation, bug bite, muscle tension or spot where I need moisture or healing, I know our Lavender Treatment Stick will handle it. But don't miss the Gourmet Lavender Pepper – I use it on nearly everything! 
Ashlanders love lavender. What are some local favorites?
We have a special community of animal lovers and our farm-baked Lavender Gourmet Dog Cookies are a local favorite. Dogs pull their owners into our store all day long and we gladly offer them a sample. Dogs love the flavor and their people appreciate the wholesome, human-grade ingredients. Locals also love our refreshing Lavender Lemonade Mix which pairs beautifully with the popular Lavender Shortbread. I promise you can't just eat one! I find college students favor our Lavender Linen Water. Gently spritzing pillows and sheets brings aromatherapy to their living space and encourages restful sleep. 
Can you share with us some things customers are saying? 
"What a lovely store–it appeals to all senses, especially smell! Pelindaba Lavender has an amazing selection of lavender-based products for eating, cooking, health and healing, at all price points. The lotions are heavenly, and you have to try the lavender shortbread cookies!" – Robynne, Ashland, OR
"Wide selection from lotions to spices and cleaners, and pet items. Merchandising is very well done. They were great about educating me on items and letting me try some in COVID safe way. Great gift packages at a range of value. Great stop for me for holiday gifts." – WorkingMomTravelor, California
Julie, what are your store hours and what is the best way for locals to learn more about what you have to offer?
We are open daily 11am to 5pm, and continue to offer curbside pickup and free local delivery. Our website, pelindabalavender.com/ashland, is a best-in-class lavender resource. There you can browse our handmade products and read product reviews, learn more about our farm and watch the live Farm Cam, sign-up for our newsletter, and much more. Should you place an order from our website, remember to select "Ashland, OR store" at checkout to keep your dollars local. 
Julie, thanks so much for taking the time to speak with me today. Do you have any last thoughts or comments you would like to share with our readers?
Thank you, it's always a joy to talk about lavender! I hope we've inspired people to come for a visit and to share our story with friends and family. This year we are celebrating Pelindaba Lavender's 20th anniversary, and this July will mark the 3rd anniversary for our Ashland store so watch for specials and come help us continue to celebrate all things lavender!
Learn More:
Pelindaba Lavender Ashland
30 N. Main Street, Ashland
www.pelindabalavender.com/ashland
(541) 482-2233
ashland@pelindaba.com