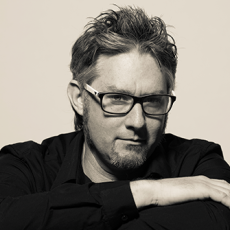 Sean Nipper is an artist and instead of using paint or pen, Sean uses a high-tech camera and computer to create his art and considers himself a visual storyteller.  Always drawn to theatre arts, Sean decided to leave the corporate world and follow his passion to the Academy of Art University in San Francisco.  He majored in Motion Picture Television with an emphasis on directing.  "I had so many stories in my head," reports Sean.  "I really had the opportunity to explore interesting ways to tell those stories using film as my medium in my years in film school."
Sean grew up in Ashland, and after 13 years living in the Bay Area, Sean has returned to Ashland and has brought his company Reel House Films with him.  Being closer to family and the excitement of welcoming his third child into the Ashland community has made the move an easy one.  Sean is excited to introduce his business to Ashland, using video as a strategic marketing tool.  I met with Sean recently to learn more about his business Reel House Films and the services he has to offer local business owners, helping them to tell their stories through film.
Ashland has a rich film and theatre culture.  How has it impacted your decision to bring your business here?
I met my fiancé in the Bay Area, and we decided that coming back to Ashland to raise our kids and be closer to family was the best decision for all of us. I was greatly influenced by the creative culture that is here in Ashland as I was growing up, and am still inspired by it today. There are so many amazing businesses in this community that have potential to reach greater volumes of clientele, and videos are one of the best ways for businesses to tell their story as well as show people what they are truly about. Reel House Films is all about helping businesses to tell their unique stories, in order to engage with potential clients from a cinematic perspective. Reel House Films is also a full-service production company and can be hired to produce short films, feature length narratives and documentaries. 
How might a local business owner utilize your services in creating video promotion for their business?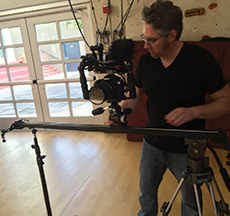 We offer a variety of video products including, but not limited to, business introduction, product promotion, television commercials, video business cards, corporate training videos, customer testimonials, explainer videos, visual time capsules, music videos, visual resume, real estate walk-through, reality show audition, and Kickstarter campaign videos. 
For example, I have a client who is a landscape artist. She creates beautiful gardens for her clients, and we produced a video for her business that demonstrated the process she takes on a summer garden clean up. Through video, we were able to reveal the before and after transformation in a compelling way. 
Informing clients either over the phone or by written words on your website is a great step in marketing your business, however, being able to show visual examples of your business and products allows for a greater impact.  The internet and social media have become some of the best ways to market your business. In fact, YouTube is the 2nd largest search engine used in the world, so it only makes sense to promote your business in this way. Your video will live forever on the internet, which creates infinite value for your business. 
You are very clear that you are a filmmaker and not a videographer, Sean.  Help us understand the difference.
I use that title because I love the creative process of producing a video, and not simply just filming my subjects. I want to help businesses show themselves in a unique, fun, engaging and different way than they have been seen before. Just showing up and shooting without a creative process I feel would be a disservice. Everyone has a story, and having stories told in a compelling way through a visual medium is what I offer.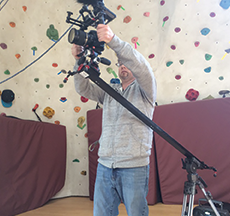 You believe that everyone that owns a business should have a video.  Why is this true?
According to ComScore, website visitors are 64% more likely to buy products and services on an online site after watching a video. In addition, visitors who view videos, stay on the site they are visiting an average of 2 minutes longer than those who don't have videos.  Videos are posted everywhere, YouTube, social media, and websites. People watch videos to learn huge amounts of information and to be entertained in a short amount of time. They watch videos while standing in line at the DMV, waiting to pick up kids at school, etc. 
Likewise, having your video placed in other platforms besides the internet, such as emails can have a huge impact. In 2010, an Implix email marketing survey found that including a video in an introductory email increased the click-through rate by 96%. That's twice as many people clicking though to your website when you include a video in your marketing emails. 
And why should they be hiring you and Reel House films, Sean?  Why can't they just pull out their iPhone and shoot one themselves?
When I am asked this question, my answer is always, yes, you can shoot your own video with an iPhone. However, some of the most common issues with shooting videos on smartphones can be the lack of professional and clear sounding audio, poor lighting, and instability or shakiness of the camera. The more professional your video is, the more credible your business appears, and the more value your potential clients will associate with your product.  Business owners are often intimidated by the process and content that is needed to make a compelling video, and our goal is to make an artistic, expertly created product. We do our best to make the process as stress-free and seamless as possible for our clients. 
With all of the time and energy you must put into each project your services must be quite extensive.  Do you have a variety of packages for small business owners?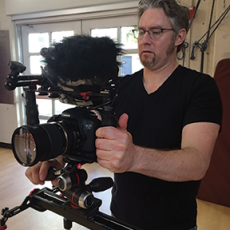 We absolutely do, and can accommodate any budget and project. Our production services are creative, professional and customizable. If your marketing efforts are currently not giving you the return you desire, video marketing can greatly increase your ROI.  According to Invodo, 51.9% of marketing professionals worldwide site video as the type of content with the best ROI.
Our current packages and project examples are on our website at www.reelhousefilms.com which you can visit to view our portfolio and options for your own project. You can also directly email us with details of your vision for a customized quote. 
What about business owners that are camera shy?  How do you work with clients such as these?
That is a great question, as it can be intimidating to be in front of the camera. The approach I like to take is that we are just having a 'well-lit conversation.'  I pride myself on helping people feel comfortable in front of the camera. As a director, I am trained to prompt questions and responses, to bring ease and help to guide the genuine and authentic personality of the people we film. I try to make it as fun and as natural as possible, and ensure that our clients feel good about what has been created.  
The videos we create are designed to show what is being talked about. So in essence, we use many different shots besides just the interview to reveal visually the story that is being told. Since the video is a visual story, many different shots are needed in order to bring the message to life. If someone is still uncomfortable being filmed for the videos we use interviews for, we have many other creative tools using motion graphics, explainer videos and voice-overs. The creative process includes customizing your video for your needs and desires.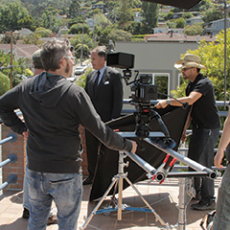 You grew up here in Ashland, but have returned recently.  What are the benefits to bringing your business here to Ashland?
Ashland was named #2 in Movie Maker Magazine's 2014 of best places to live and work as a filmmaker. There is SO much creative and unique energy in this town, and so many stories that need to be told.  Ashland is also a destination location for vacation (say that 5 times fast). With the tourism that Ashland draws, people investigate the best places to shop, do business and to stay during their visit. Reel House Films can help bring a fresh and more widespread reach to the visiting demographic. 

For example, when a vacationer is searching a bed and breakfast, having a video introducing the owners and staff allows people to become familiar with whom they will be staying. There is comfort and connection in learning about and seeing a business owner before you do business with them. 
Are you a solo-operation, Sean?  Who else do you have on your team at Reel House?
Many of our projects can be created in a more intimate setting not requiring the help of a crew, however, I do have a crew, and the budget and needs of the project will help determine how many crewmembers are needed to create a quality product.
I would imagine that the film industry changes rapidly with the constant development of new technology.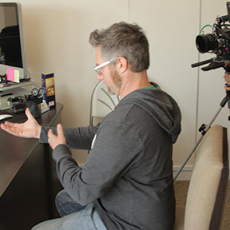 It certainly does, and it is also another aspect that draws me to this industry. I love technology and am always keeping my business and myself up to date with the latest improvements and trends. I am beginning to film projects in 4K. Currently we are shooting every project in high definition, and now with 4K capabilities, we are able to switch to ultra-high definition. This is important, because over the next 2-3 years television will be switching to 4K, and the longevity of the projects we create will be ensured. It also gives us some really exciting options for greater creativity in post-production where we can reframe existing shots to give different perspective. 
You're finishing up an exciting project.  Tell us about the documentary you are working on.
It's a film that profiles the work of a chiropractor of 38 years, Dr. Jay Komarek, revealing the power of chiropractic through the perspective of animals, specifically horses. I was introduced to Dr. Jay through my fiancé (she is also a chiropractor) and his story and work inspired me to create this film. 
Our hope is that after watching the film that people will have a better understanding of the power of chiropractic as a healing science, art and philosophy. Since animals are transparent, telling the story through the eyes and perspective of an animal, we get an unbiased look at what is possible through the chiropractic adjustment.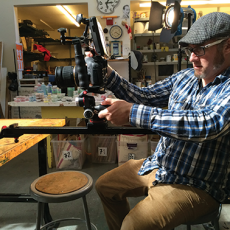 What a unique subject.  How did you get connected with this project?
I had the opportunity to receive care from Dr. Jay, and had a profound experience from the adjustment I received. I knew then that there was a story to be told, and after expressing my ideas about a film to Dr. Jay, he was honored and excited to allow me to be the creative force behind bringing this story to life on the big screen. His words to me were, "I have been waiting for the right time to do a film about Animal Chiropractic, and I am happy to say I have found the right person to do it!" 
What should people do next?  How can they learn more?
The best way for people to see projects we have completed is to visit our website at www.reelhousefilms.com, and click on 'Video Portfolio'. You may also click on 'Packages and Pricing' to get an idea of what we offer and how our projects can best suit the needs of your business. 
Is there anything else you'd like readers to know about Reel House Films?
I will be hosting the Ashland Chamber Greeters Meeting on January 16th from 8:15 – 9:30 am at The Joseph Linaschke Photo Studio located at 1085 Benson Way, Unit 2, in Ashland. Anyone is welcome to come, and I will be speaking more about Reel House Films and will be available to chat. I also offer complimentary 30 – minute consultations in person or on the phone to talk about your vision and find out what would best benefit the goals of your business through a video medium.  I want to thank the Ashland Community for such a warm welcome since I have returned, and I am excited to continue to build relationships and support business growth in this great town. 
Learn More:
Reel House Films
541-201-8911