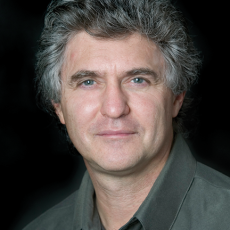 Rob Jaffe's years as a professional photographer come in handy these days in his work as a local, independent real estate agent here in the Valley. The stunning images that he takes of each listing he represents are often the key in demonstrating the value and inherent beauty of the unique homes and properties he sells for his clients.
Providing excellent customer service and attention to detail, Rob Jaffe brings years of professional experience as a real estate broker/owner. We sat down with Rob recently to learn more about the pride he takes in his excellent business.
Rob, thanks for talking with us today. Tell us a little about your background.
Real estate fascinates me. It's the most basic investment that you can make, where you actually get something of concrete value that can give you comfort, security, and potential profit down the road.
We moved to the area in '81, and bought a house in Ashland in '85. I was and still am a professional photographer. I've always believed in real estate as a solid, long-term investment. We've purchased several properties over the years and real estate has treated us well. I started my own independent real estate brokerage company, Robert Jaffe Real Estate, in 2007. My background as a homeowner, investor, and photographer has taught me many skills that are beneficial to my clients.
"This is actually our 15th move in our 38 years of marriage. So we know a little about buying and selling houses and we know a lot about realtors. Never have we had to sell and buy in such a difficult and unpredictable economy and in circumstances demanding very quick results. And never have we had someone do such a yeoman's job to such perfection in such a narrow window of time.
As the sale negotiations of our existing home in another state kept whittling down our existing budget and altering our plans in complex ways, you were consistently on the spot, watching the market and adjusting to our needs as they presented themselves. You very quickly found the perfect house for us, recognizing the way it would meet our needs both functionally and aesthetically far before I was willing to even look at it.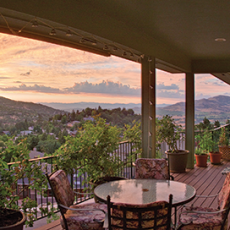 Your artistic eye, which serves you so well in photography, is a great asset in the field of real estate. It makes it possible for you to sort through a vast array of inventory and make the house search very efficient, and it also allows you to recognize potential and beauty in a way that inspires confidence in what you're offering. These factors were exponentially appreciated while we were going through an extremely stressful sale of our home in another state.
The fact that you were able to pull this together in a little less than the three weeks we had to find a house and close the deal is a direct reflection of your doggedness and hard work. Who'd have known one could move so many mountains via many, many telephone calls. But you did it! And you did it in a way that was experienced as seamless-no bumps along the road whatsoever. So, forgive our lengthy way of saying GREAT JOB! But to say it without elucidating on the factors involved wouldn't give you the true credit you deserve.  With so much gratitude,"
– Helen and Keith Crozier
Do you represent buyers as well as sellers?
Yes, I work with people who want to buy or sell a house or investment property. For a seller, I help them present their property in the best possible light, and to give expert pricing advice. The listing is posted on over 70 Real Estate websites such as Zillow, Trulia and realtor.com. I supply, for free, professional photography of your home or commercial property.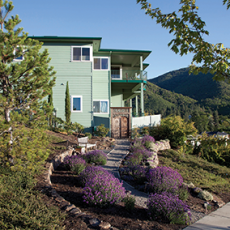 For a buyer I aid them in locating the right home and navigating the many hurdles involved in purchasing a home. I am always on the lookout for new possibilities. I check the new listings on a daily basis and can set up email alerts for my clients.
I've worked with singles, couples, families and investors, single professionals looking to have a home office, professional couples wanting an office building, couples looking for raw land, people who are on very tight buying and selling deadlines, people doing 1031 exchanges, as well as first time buyers and retirees looking to settle in Ashland after a busy life in a bigger city.
"Rob Jaffe did a wonderful job at selling our home. He worked with us on the price, and I really appreciated his confidence as well as his upbeat, positive attitude. Working with Rob was a success and a pleasure."
– Susan Schlosser
"Rob Jaffe showed unending patience in helping us find a house – a process that took several months and included looking at many different kinds of property. He went out of his way to look out for our concerns, often taking steps to check and double check issues of which we were unaware, but were essential to protecting our investment. We are very grateful to Rob for all he did for us."
– Sharon Bolles & Nando Raynolds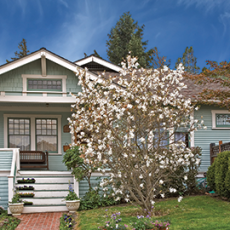 "Robert Jaffe helped me sell my home during the worst time of year, during the worst real-estate market in recent history, January '09. He listened to my needs and made helpful suggestions. He has a keen understanding of the Ashland market. He was not only essential pre-sale, but he was there for me through closing. I can heart-fully and confidently recommend him."
 – Susan Rouzie
"I can't thank you enough for being exactly the kind of realtor we needed to purchase this house. From our initial meeting with you, I knew you would be the kind of strong, active negotiator that we would need to be able to afford it. We are so grateful."
– Dennise Trager
What sets you apart from others in the field?
I have a very high success rate at completing transactions. I'm committed to all the details of the deal, and that both parties can emerge satisfied. I have some mediation training, and real estate negotiations often require a deft approach to obtain a good result. I can be assertive for my client when necessary. I'm in continuous contact with my clients, the other realtor, the mortgage broker, and the title company. If it's a short sale or REO (bank owned property) then there are banks involved also. There are many things to monitor.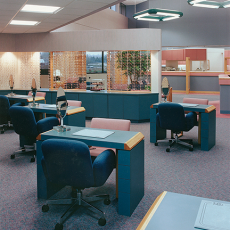 Things can slip through the cracks if not watched very carefully. I try to remain good-natured but diligent. Currently I've chosen to limit my client load to a maximum of five clients at a time. I handle all aspects of the transaction. This way, I am able to give my clients my undivided attention.
"My husband and I had the good fortune to work with Robert Jaffe in the purchase of our new home. Rob worked with myself primarily, as I had come to Ashland alone to look for a property while my husband held down the fort in Montana. I found Rob to be cheerful, observant of my taste, and energetic in his attempts to find a home for us. I felt I had his full attention, almost as though I was his only client, although I knew he was quite busy. He was personable, dependable, hardworking and trustworthy throughout the entire process, including securing a home loan. I would use his services again, and would not hesitate to recommend him to anyone who needs real estate in the area."
– Jolene and Jeff Monheim
"My wife and I engaged Robert for the purpose of buying a home in Ashland Oregon. We were in the process of selling a house in London England in order to purchase a property here in Ashland. Robert negotiated deftly between two very different systems of real estate transactions. The people who were selling the house we were buying here had to be constantly reassured and negotiated with in order to have enough trust in the arcane and opaque process that is the way English real estate transactions take place. We both thought he did a wonderful job here and very much appreciated his constant involvement and attention. We both thoroughly would recommend Robert to anyone thinking of finding someone to conduct the purchase of a home. He was constantly professional and one felt completely secure in that he would not miss anything.
Robert made the sometimes unnerving experience of buying a house into a worry free experience and worked hard to reassure us too, it was a pleasure working with him."
– Matthew and Claire Picton
Tell us about your photography, and how it coincides with your work as a realtor.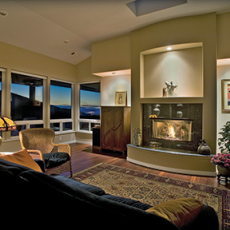 I am trained as an architectural photographer. I love capturing images of buildings, both interior and exterior. I've been a professional photographer for forty years. I've done a lot of architectural photography, for architects, builders, and property owners. Because of my training, I'm in a unique position to offer my clients an extremely valuable service. Images sell a house more than anything else. In a recent Zillow survey of 300 realtors, 90% of them sited photography of the property as the most important factor in getting potential buyers to view the home. I'm going to take the best pictures that you can possibly get of your property. My training allows me to incorporate some sophisticated techniques that present your property in the best light. I offer this as a free service to my clients.
Your sign is unique.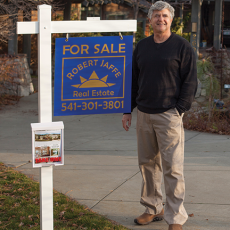 Thank you. It's a rising sun on a deep blue background. My wife designed it, and I think it's an important part of the marketing of your property. Ashland is the kind of town where people are often driving around, looking for houses to purchase. The sign attracts positive attention, and I'm regularly monitoring and stocking the flyer that describes your property. I design and print the flyer that potential buyers take with them. The pictures are beautiful, and are printed on high quality photo paper. I've sold homes through someone picking one up. People were eager to view the home on the inside.
What is the current state of the Ashland real estate market?
The market peaked in 2006 when the median (1/2 of the houses were higher, and ½ were lower) price of a home was $440,000. It took around 4-5 years to bottom in 2010-11 at $284,000. The inventory of houses for sale is at historic lows. At the end of January of this year, we only have 67 single-family houses for sale within the city limits. If you add condos and town houses, that number jumps to 84. If you add rural properties we're at 120. Historically we used to be in the 300-400 range. These numbers will increase as the season begins. It's a great time to sell a house. If you are a buyer, interest rates are still really low. It might be harder to find what you are looking for, but it's a good time to get out there. Feel free to call me to discuss the market. I follow it daily.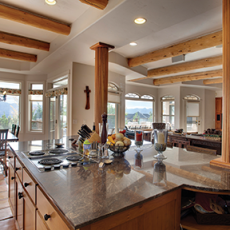 "We are writing to express our appreciation for both your tenacious effort and ultimate success in enabling us to purchase our home in wonderful Ashland. We couldn't be more pleased with its location, high up on a hill with a deck overlooking the mountains; it's great room, lovely landscape and many more features. We greatly appreciated you accommodating yourself to our trips from our home in Dallas, Texas to Ashland, and your preparation of lists of homes and your joining us in viewing the homes when we came to visit Ashland.
You were particularly helpful when we finally decided upon a home. You provided us access to people in your carefully selected network, including assistance with the mortgage, an attorney and a wonderfully attentive contractor and his team. Your availability by telephone was also of critical importance to us. A significant bonus was the opportunity to see your art-oriented photography, both in your home and in a gallery. In conclusion, we couldn't have asked for a 'smoother ride' in what could otherwise have been a troubling process."
 – Joel S. Feiner, M.D.
 – Gail Alexander, M.D.
Any final thoughts for us Rob?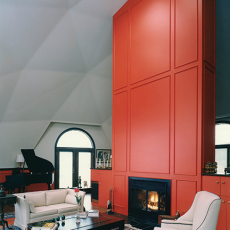 A real estate transaction is about the people! It's also about the details of the deal, and I want that to go as smoothly and successfully as possible for you. I usually give my clients one of my large fine art photographs as a home warming present. Please call me to set up an appointment. Thank you.
Learn More:
Robert Jaffe Real Estate
robertjafferealestate.com
541-482-3808
rob@rjre.net