Interviews
Rogue Jet Boat Adventures – Emily & Taylor Grimes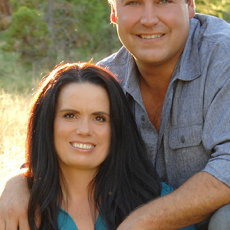 With a deep family history rooted in the settlements surrounding the Table Rocks and passion for Native American and Early Settler history of the area, Rogue Jet Boat Adventures offers Award winning jet boating, on arguably the most natural, untouched, and private sections the Upper Rogue River has to offer. Combine that with unforgettable scenery, magnificent estates, and celebrity retreats, and you have what most are describing as one of Oregon's top attractions!
Thanks Emily for speaking with us today. You must have lots of experience on the river.
 Both my husband and I were raised around the river and it has become a big part of who we are as individuals. My husband Taylor has been an avid fisherman and boater all his life and truly loves being on the Rogue. Jet boating was always a hobby and over the years we've enjoyed lots of ocean fishing and white water trips on Oregon and Idaho rivers with our personal jet boats. He has been a Coast Guard certified captain for many years now and our customers' safety in the last 5 years has been and will continue to be our #1 priority. Unlike the Middle Rogue near Grants Pass, the Upper Rogue is much shallower and very technical in nature, demanding spot-on performance 100 % of the time. The river can change daily which requires full focus and professional competence.
Your trips are small and personal. What kind of experience will readers have when they come to Rogue Jet Boat Adventures?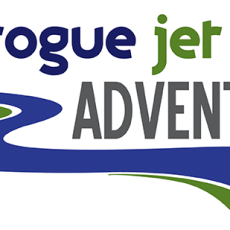 Unlike other jet boat excursion experiences you will never feel like "part of the herd" while taking one of our tours. We only take around 10 passengers at a time and so we have a much more exclusive and personal feel. This also enables people to book the entire boat for groups. Every seat is the best seat on our boats and we don't feel the need to get you drenched from head to toe, but we do however know how to put on a thrilling show! You see very little river traffic on this quiet river section during your tour but you WILL see wildlife, quiet Hollywood celebrity retreats, hidden river channels and islands, and learn about many important historical Native American sites. Top it off with the constant natural beauty of the Table Rock river area, some 360s, and you have one spectacular experience!
Your trips offer a very unique historical perspective. Tell us about how you have developed this.
I am proud to say that my kids are 7th generation Southern Oregonians with both sides of my family arriving in Oregon by wagon train in the mid 1800s. One of my grandmothers was the 3rdnd white child recorded being born in the Oregon territory in 1848, and was known to sew moccasins with the Rogue Indians. My dad's family homesteaded in between the Table Rocks and while on our Discovery Tour you pass by where 5 generations of my family lived. So the Table Rock area is very close to my heart and I love sharing its beauty and forgotten history with all our customers.

The Native American history is quite sad and tragic because of the pioneer settlers wanting this treasured land for themselves. I don't know what part my ancestors had in driving the indigenous peoples away but I feel it is part of my responsibility that they are not forgotten. In addition Taylor's mom was almost full Klamath Indian and so he has a vested interest in local Native American history. We knew quite a bit about the area to begin with but when we started doing research we found endless information. Now we have to hold back how much history we feature on our tours so it's a balanced experience.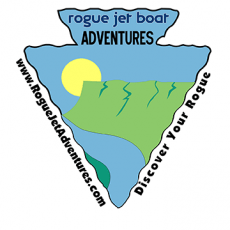 What points of interest will people see on your tour?
Well first of all, the section of river around the Table Rocks is just gorgeous. You can see the Table Rocks from all over the valley but they look quite different when you are passing underneath them. There are not many houses seen from the river and no commercial properties. The estates you do see are spectacular and we pass by many historical and present day celebrity estates. You will also see where the Rogue Indian War started- which ultimately led to the formation of our State, along with treaty signing locations, ancient fishing holes, Fort Lane and the Trail of Tears location, and Oregon's first water powered electricity station. We've had people end our tour in near tears and in disbelief that they have lived in the valley for decades and never knew what historical and cultural treasures lie out their backdoor.
Which section of the Rogue River do you cover?
All our river tours depart from Touvelle State Park out of Central Point and run between Rattlesnake Rapids (near Dodge Bridge) and the old Gold Rey Dam site (above Gold Hill). Our Discovery Tour is just under 30 river miles and lasts up to 2 ½ hours depending on river traffic. We keep you on the river at least 2 hours with a good 15 minutes additional for island exploration on foot. Our stop on Salmon Rock Island lets you look for replica arrowheads we have scattered about; an idea that our customers just love. After the tour you can enjoy a delicious Bento and beverage under the shade trees. Wine and Beer is also permitted on the boat. In addition we also offer the area's most unique Happier Hour (perfect for after work downtime with workmates or friends) and our Jet Boat Wine Tour. See our website at http://www.roguejetadventures.com for detailed information on all our tours.
You go above and beyond to provide customers with an excellent experience.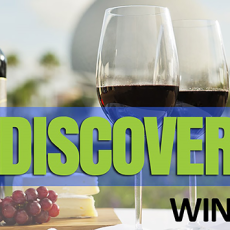 I really enjoy this part of our business and strive to make sure every need and concern is taken care of before the customer even knows they have one. We have pretty high standards and expectations when it comes to our own family's experiences and we expect even more out of how we provide an experience for others. Most have no idea what they are in for when they board our boat and think it will be the same old river cruise. The pure joy and contentment we see on their faces while debarking tells a different story.
How did other river users receive you when you started offering your tours?
Our initial launch five seasons ago did bring out people that obviously had concerns. We felt it was our job to help educate them based on "leading by example." As humans we tend to oppose something based on a personal concern or what we may perceive to be the truth. Once it was clear to people how the company was run, the objectives and goals of the company, and how we were reaching those goals, most concerns were dismissed. We practice good river etiquette and for those who may not know what that documented etiquette states, we help them understand. The Rogue River has been a multi-use river for generations and for all intent and purpose always will be. Many river user groups utilize the Rogue and we have found it much easier to be an unselfish river user.

Uniquely though, the section of river we navigate is very light on river traffic. Rattlesnake Rapids has historically kept most river users from drifting this section of river and with the lack of boat take-outs downstream from Touvelle State Park the traffic just isn't there. This has created a unique light river traffic situation in this magnificent area. More than ½ of our tours produce no more than 2 or 3 other river users. I've told people that on average we have more air traffic coming into the Medford Airport than we do on this section of river, and it's true!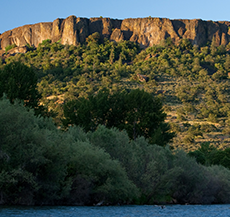 Other than being courteous and respectful when encountering other river users how do you show respect to the river itself?
We are in this for the long haul and have a personal interest in preserving the river's natural beauty; which includes frequent river cleanups, and believe it or not, 1000s of pounds of lead removed from the river bottoms left behind by fishermen every year. We have also recently partnered with the Travel Oregon Philanthropy Fund which we donate a percentage of each ticket to. The funds gathered statewide contribute to various preservation projects including a project with the Table Rocks' interpretive trail system.  All river users have a responsibility to preserve and protect the resource. We believe that economic growth in the Table Rock region is key to providing the funds necessary to accomplish this.
Who do you find typically enjoy your trips?
Our customers have proven to be from all backgrounds and ages with equal parts locals and tourists. Our trips are affordable and offer something for everyone. We recommend 3 years of age and up and near centurions get to go free! Our customer of the year for our 2014 season was a little 96 year-young lady who drove all the way from Texas by herself in her Buick!
What kind of partnerships have you fostered?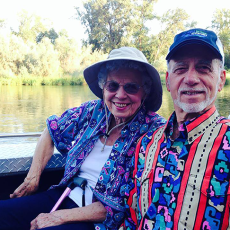 We have built very strong, trusting relationships with multiple government and local agencies including Oregon State Parks and Jackson County. We have been working under contract with Oregon State Parks and operate inside the Touvelle Park boundaries. Additionally we have worked very close with the Confederate Tribes of the Grande Ronde (the indigenous native people of the Table Rock area) for 5 years and just recently sat on the Table Rock interpretive project committee with the BLM and Nature Conservancy. We have also worked with the Southern Oregon Historical Society and its historians multiple times to ensure the message we give our customers is accurate. Our boats have also been used on bank restoration projects at Touvelle State Park and riparian restoration projects through the Fresh Water Trust.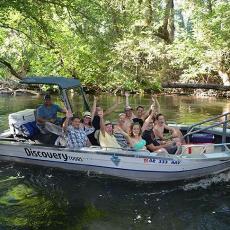 You must really love what you do Emily.
Well love is relative sometimes, but yes I am proud of what my husband and I have grown together and it's really awesome to see how our company gives our customers incomparable experiences and memories to hold on to. We have the best customers in the world and they come back again and again! We both really appreciate being in the outdoors and we have the best office ever! Starting this company from nothing was no cake walk and honestly both of us wanted to give up at times. But because we never wanted to give up at the same time, the company is still alive and kicking strong. I think we both still have that pioneer spirit working inside us! Having to move our location 4 times has not been an ideal situation for obvious reasons. Exhausting is a good definition, but we were determined to stick with our vision of providing Jackson County a five star attraction and something to be proud of. And they are!
Do you have a business in the off-season?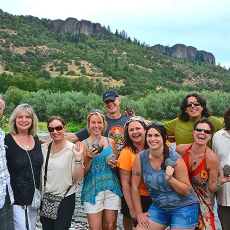 Taylor is a Realtor with John L. Scott of Medford and owns the RRP Group (Rogue Real Property Group) with a stellar team working behind him to ensure all transactions run smoothly during our tour season. Before we started Rogue Jet Boat Adventures Taylor co-founded a software company and very successfully managed satellite offices in 7 different countries. When he decided to sell his shares he vowed from then on he would go to work every day truly enjoying his environment and what he was doing. That's how Rogue Jet Boat Adventures was born!
Do you have any special deals that readers can take advantage of this summer?
 Mmmm…… how about a 10% discount for all LocalsGuide readers? We also run contests frequently on Facebook and on the radio so like us on Facebook and keep your eyes and ears open!
 Will we have enough water this year?
 Mother Nature is boss in this business and we have to go with the flow. Literally! Water is held back at Lost Creek dam during shortages to provide adequate water levels during the summer months. All indications point to business as normal with adequate water levels through September 10th. Just in case, book your trip early in the summer!
What kind of plans are you making for the future?
 With interest in our area magnified we will definitely see growth and change. The Table Rock area is perfect vineyard material and produces great wine. We are seeing more and more plantings around the Table Rocks including riverside vineyards, and our Wine Tours are in high demand. We are looking forward to designing a new boat for the 2016 season that will seat around 16 people and may even accommodate a wheelchair. We would also like to create an interpretive center featuring the Table Rock history and a hands on learning space for school age children. A riverside venue/ eatery serving local Table Rock meats and produce is also in the business plan.
Anything else you'd like readers to know Emily?
These are some pretty unpredictable and crazy times we are living in, and it has become increasingly difficult to live an enjoyable, balanced life. Technology is a blessing and a curse, often interfering with our ability to connect with our loved ones and surroundings. We provide all who are interested the opportunity to UNPLUG, RESET, and DISCOVER. So look us up and get ready to….. DISCOVER YOUR ROGUE!
Learn More:
Rogue Jet Boat Adventures
Located in Touvelle State Park, Central Point
http://www.roguejetadventures.com
541-414-4182