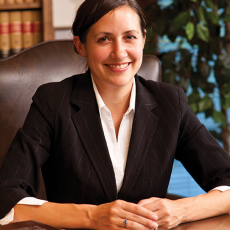 Most readers are likely familiar with Robert Good's monthly business column here in the LocalsGuide. Each month Bob tackles a new topic and sheds some light for readers on the complex world of legal services. While Bob has been practicing law in Jackson County for over 20 years, what many may not know is that attorney Sarah Vaile joined the practice as an Associate back in 2012 and is helping to provide excellent service to clients seeking assistance in navigating Estate Planning, Family Law and Small Business legal services.
Sarah brings a diversity of experience as well as a fresh look at the sometimes-troubling nature of law. She provides a clear path to clients and each day looks forward to solving legal problems and creating order out of chaos. We had the opportunity to talk with Sarah recently and learned more about the thriving practice of Robert W. Good, Attorney, LLC right here in Ashland.
Thanks so much for talking with us today, Sarah. Tell us a bit about the role you have taken on at Robert Good's law practice.
Thanks very much. I am an Associate Attorney with the law firm. For those who don't know, an "associate attorney" is someone who has a law degree, is a licensed attorney, and is engaged in the practice of law, but who does not hold an ownership interest in the firm. In other words, I'm not a partner. When I first started as an associate I handled only bits and pieces of Bob's cases, doing legal research on certain issues that would come up or writing briefs and other legal documents. Now I am handling cases from start to finish and am regularly meeting with clients. Bob primarily handles all of the family law matters, but I am managing a growing load of estate planning and administration cases and much of our small business caseload.
You have had quite an interesting career path in a relatively short time. Tell us more about how you landed here as an Associate at the law firm of Robert Good.
Honestly, this is the best job I've ever had, and I can say with certainty that it's just the right fit. But finding my place in the legal profession took some time and trying on different areas of the law. I graduated from Pace School of Law in White Plains, New York in 2007 and set my sights on living in Oregon. I passed the Oregon Bar and my first job was Law Clerk for the Klamath County Circuit Court. There I had the unique experience of researching and writing about a diversity of legal issues for all five judges. It was a great job but was only a one-year position. I then worked for Southern Oregon Public Defender in Medford. As an indigent criminal defense lawyer, I met with clients and went to court daily, and handled numerous jury trials. I gained tremendous respect for criminal defense attorneys but also learned it wasn't quite the right fit for me. The next few years was a mix of solo practice handling a diversity of civil and criminal cases, working as Staff Attorney for non-profit land use group Rogue Advocates and becoming a mother. When I resurfaced from maternity leave and reassessed my career aspirations, the idea of working for a small firm took root and that's when I contacted Bob Good.
What led you to studying law in the first place?
I'm from the Midwest and graduated from Indiana University with a double-major in English and Art History. I had minors in Art and Spanish. I had many interests but not a clear career path. I managed an arts and crafts center in Manchester, England, and cooked in restaurants in Minneapolis, Minnesota. Four years out of college, I still hadn't even contemplated the idea of being a lawyer. Then, strangely, it was as if everyone I interacted with – friends, my running partner, and co-workers – was either going to law school or was thinking about going. I come from a family of scientists, engineers, accountants, writers, teachers but not lawyers, so to them my new interest was odd. But I was captivated by it. I loved the idea of public interest law and advocating for the underserved. The ideal of service led me to the law, and also to Pace Law School in New York, a school known for its focus on public interest law.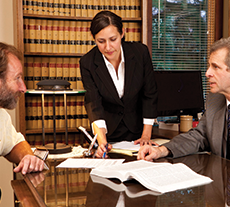 It's clear that you love what you do, Sarah.
I really do. I can say that with conviction. I'm so lucky to have a job where I'm not watching the clock. In fact it's the other way around: I'm constantly thinking at the end of the day, "Where did the time go? I didn't even get to start working on such and such case. . ." The work is just plain fascinating. As a lawyer, you are constantly learning. You learn so much in law school, but it's just concepts, it's so theoretical. Law school doesn't actually teach you how to practice law. That's a whole different ballgame, and something that can only be learned on the job. Practicing law is not just about applying legal concepts to the case at hand, but also navigating the judicial system, learning how to work well with clients, other lawyers, judges, and if you're in a small firm, running a business. Then there's the fact that the law is vast and it keeps on changing and growing. As society changes and evolves, so does the law. The intellectual stimulation is immense.
You have said that what you do is to solve problems.
Yes, the other reason why I love my job is that it's just so satisfying to help people solve problems. The legal world is a mucky quagmire for most people. It's scary, it doesn't make sense, and it's no wonder people go to great lengths to let us figure out their messes for them. Whether it's helping someone wade through the bureaucracy involved in creating a new business, or through the administrative nightmare of locating and transferring assets after a loved one's death, there's a beauty and a gut-level satisfaction in bringing order to chaos in people's lives. This is especially true during the most stressful times in people's lives.
A lot of people may not realize that you have joined the practice, Sarah. How's it going for you so far?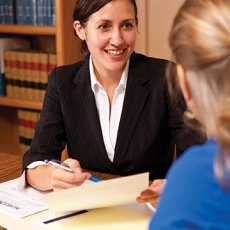 Like I said, I've never been happier in a job. A big part of my job satisfaction is that Bob's just a really great person to work for. It's likely an outgrowth of his former profession: Bob was a teacher first before he became a lawyer. I think former clients would say they wouldn't be surprised. He has great patience in helping people understand the law, and explains things in a way that makes complicated legal concepts seem very simple. This is good for his clients and also good for co-workers. I'd say I've learned more here at this practice in two-and-a-half years than some young attorneys learn in ten. Plus I've gotten to work on very interesting cases in which I'm happy to report we prevailed! In one case we helped the granddaughter make sure the family home stayed in the family. In another case we helped the nephew recover his share of his uncle's estate, which had wrongfully been taken by another family member. These cases share a common theme: Helping clients to ensure the wishes of their family members and friends are carried out after death.
And you have two small kids and a busy family life outside of your profession.
I have two boys, age six-months and three years. So it's not exactly like I can just put my feet up and relax after work. At home I'm busy solving problems and resolving disputes too: How to keep the preschooler quiet while I get the baby down for a nap? How to eat dinner while holding the baby while also making sure the three-year-old eats his dinner? How to convince the three-year-old that the baby taking his toys is not a wager of war . . . Plus, every morning when I set off for work I get that pang in my chest so familiar to working mothers, and wonder, "Is this really ok for them that I go off to work every day?" But, I know in my heart I am a better mother because I do this work. When my three-year-old asks me what I did all day I love that I can tell him I was helping people. I hope that as my boys grow up, they can feel proud that their mother is committed not only to them but also to their community.
After your mother's passing a few years ago, you discovered your desire to work in the realm of estate planning and administration.
My mom died just before Thanksgiving 2011. After her memorial on her birthday the following spring, I was talking with my dad about his experience dealing with my mom's estate. He had hired a law firm to help administer the probate. As a grieving widower, my dad didn't want to deal with the stark, awful reality of transferring his wife's assets, canceling her credit cards, filing her taxes. And he certainly didn't want to deal with understanding estate laws and filing fees and how to put a probate petition together. He was grateful to be able to hand off a lot of that work to the estate lawyers. He encouraged me to look into estate planning and administration, thinking this might be area of law that I would be good at, and would enjoy. When I returned to Oregon I took his advice and called around to some attorneys. One of those attorneys was Bob Good, who just happened to be looking for an associate. . . I hate that it took my mom's dying for me to discover my true calling, but I also think she'd be so happy to know she led me to find my niche.
Robert has assembled quite a fabulous team at the office. Can you tell us more about them?
Bob has always had great people working for him, with two long-time legal assistants Tammy Achurra, then Janet Renteria. Marie Bachelét has been our legal assistant since August 2013 and Chris Johnson has been the bookkeeper for many years. Marie is the one who's always busy answering the phones and greeting clients in the lobby. She's the friendly face of our office that not only takes care of all of our clients but also all of us. She is the scheduler, the reminder, the office manager, the one in charge of the calendar. She keeps us on track and makes sure nothing is falling through the cracks. As the title suggests, Chris keeps the law office books, and sends out the bills each month (sorry!). If clients ever have questions about their bill, Chris is the guy to talk to. And then the dogs . . . Rocket is the giant Golden Retriever and our in-house therapist and office greeter . . . Tia is the Yorkshire Terrier. She models utter and total relaxation by sleeping all of the time.
You've mentioned the benefits of working with a small and close-knit team of professionals. What can clients expect from their experience with your law office?
Someone looking for an attorney in the Rogue Valley has many options. From solo practitioners to big firms, our valley has it all. Big firms are great because they are big: The client has the benefit of knowing his attorney can access the wealth of knowledge of all of the other firm's attorneys. The greatest benefit of the solo practitioner on the other hand, is the comfort and familiarity with working one-on-one with a single attorney. Our small, two-attorney law firm is, we believe, the best of both worlds. Like the big firm, we take a team approach to cases, and clients can feel confident knowing they are being taken care of not just by one lawyer, but by an entire legal team dedicated to their case. Like the solo practitioner, we are also small and nimble enough that we all know all of our clients and are familiar with their cases. When a client calls the office, she will be met with someone on the other end of the phone who knows her by name and understands her case.
I understand that you offer a special rate for family law cases.
Lawyer fees seem high to clients but you'd be astounded to learn how much it actually costs to keep a law office running. Bar dues, professional liability insurance, legal publications and subscriptions, required continuing legal education courses, pens, paper . . . We simply have to charge the rates we do to stay in business. However, inherent in Bob's philosophy is that attorneys are here to serve the community. In keeping with that philosophy, we offer family law clients a reduced-fee consultation. If you are needing help with a custody, child support or divorce matter and you are new to the legal world (haven't had a lawyer, haven't filed the case) you can pay $100 for up to an hour of legal advice. This can be an incredibly well-spent $100 too: Some clients get all their questions answered in that initial consultation.
How can readers who are looking for legal services begin in developing a relationship with your office?
You can learn more about us by visiting our website at www.goodashlandlaw.com. There you'll find lots of information about our practice as well as links to our Locals Guide articles on a variety of legal topics. You can send us an email inquiry by using the contact form on our website. Email is checked daily and you will always receive a prompt response. Or you can just call our office at (541) 482-3763. You'll likely talk with Marie, who will ask some questions about your case and make an initial determination as to whether we can help you. If your legal issue is not one we are able to help you with, we will help direct you to an attorney who can.
Learn More:
Robert W. Good, Attorney, LLC
823 Siskiyou Blvd., Ashland
www.goodashlandlaw.com
(541) 482-3763