Prior to becoming a lawyer, Scott C. Bucy's professional career began in the Rocky Mountains, where he was a successful entrepreneur and business owner. In the late-1990s fresh out of college, Scott and his brother opened a small restaurant, consisting of only 8 table and 32 seats, in Vail, Colorado. With hard work, determination, and perseverance, Scott eventually owned and operated 7 more businesses located throughout the ski resorts of Colorado and on the front range in Boulder.

After the birth of his first daughter, Elianna, Scott decided to take his decade-plus business knowledge and combine it with a degree in law to assist other entrepreneurs. This allowed him to continue to follow his entrepreneurial spirit while providing greater freedom for time with his growing family. Scott attended graduate school at the University of Colorado in Boulder, where he studied Ecology and Molecular Biology, and earned a full academic scholarship to law school in Kansas.

After several years in Kansas and longing to return to the mountains, Scott and his wife, now with three beautiful little girls, permanently relocated to Ashland, Oregon where he joined the law firm of Robert Good.

I spoke with Scott Bucy today to learn more about his work and life here in Ashland, Oregon.
Scott, thanks so much for taking the time to speak with us today and welcome to Ashland!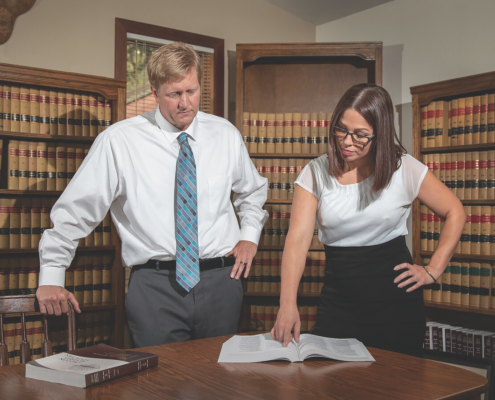 Thanks Shields… we are thrilled to be here… it has been a great first year for us and a smooth transition for my family. I am excited to have this opportunity to introduce myself and make connections in a place which is very similar to my old community in Vail Colorado; both small tight-knit communities with tourist-driven economies as their basis.
Scott, to begin with, you have been an entrepreneur all your life and made a mid-career move to get into law. Please tell us more about why you made this decision?
As long as I can remember, I have been a very business-driven person with a huge heart and genuine care for others. I always dreamed of working for myself and I was lucky enough to open my first business, at the age of 26, in the beautiful Colorado Rocky Mountains. My businesses succeeded, not only because of hard work and determination, but because of the human connections my brother and I had in the Vail Valley. Initially, one of my main goals was to be my own boss while continuing to build relationships with people in my community. I am, first and foremost a people person, so human interaction and giving back is critically important to me. Initially, the business world fulfilled this need, opening numerous windows of opportunity which allowed me to assist others either through sponsorship, fundraising or simply being there for an employee that needed assistance. Over time, my personal goals somewhat changed; it became less about pushing the businesses forward and more about being able to spend time with my growing family while maintaining an ability to give back to my community and still fulfill my business adventures.

In small-town ski resorts of Colorado, the local people work every day of the week from November until the slopes close in late April. You make hay when the sun is shining, as they say, and the sun shines in these communities while the ski slopes are open in the winter and during the short warm summer months of July and August. When I started my first business, I was young and single, so the long work hours worked for me. I could ski all day and work all night. After I met my wife and we had our first child, Ellie, the incredibly long late-night hours, with no days off for months at a time, did not allow me to spend time with my family. I soon realized, I was not able to be the father I wanted to be. After many sleepless nights discussing options with my wife, I decided to sell out and start a new career. My roots were deep in the businesses and the decision was difficult, but without taking chances in life, we will never know the opportunities that could arise. I was no longer happy working the late hours of the businesses due to my new family. At the time, I was not entirely sure what direction this new career path would take me, but I knew I loved science, business and human interactions. After attending graduate school at CU Boulder, I decided to attend law school and combine my love of business and science with the law, which is heavily vested in one's ability to communicate with people. This career allows me to continue to assist others yet maintain a somewhat normal family life compared to my past business life. The opportunity to be an attorney in such a fantastic town like Ashland, and such a majestic place like southern Oregon, is beyond anything I could have ever dreamed.
You went to law school on a full scholarship, worked in Kansas, and then decided to move to Ashland. Why did you and your wife choose Ashland?

As previously mentioned, our hearts have always been in the mountains. We both had Oregon connections and made numerous trips to Oregon to scout out different areas of the state. When we initially moved to Kansas, we knew it would not be forever. It took us some time to finalize our move, but we have not looked back. We love Colorado and the communities in the high country, but the winters are long and at times it snowed on the fourth of July. We were looking for a quaint little mountain town, preferably with a small university, four seasons, and one that would provide a great family atmosphere to raise our kids. Ashland is a dream town for all of us. It is a close community, with four seasons, great schools, a vibrant downtown and surrounded by everything we love to do in the mountains. Plus, the Pacific Ocean being so close is a huge bonus that cannot be forgotten. I recently joined the Ashland Rotary and I am the current co-PTO President of Walker Elementary School. My children have wonderful friends and we have gotten to know many of the incredible families within our community through our children. My wife is a teacher for the Family Nurturing Center, working with children of our community who need assistance, and she has found her job the most fulfilling to date. She has been a teacher for over 15 years. A simple stroll in downtown Ashland provides a glimpse into just how incredibly diverse and open the Ashland community is. We find this openness to all a very important component when raising our children. In addition, working with the Walker PTO has been eye opening. The amount our community is willing to given back is truly incredible.
That's great to hear. When we talked earlier you had mentioned that you were originally planning to open your own law firm but ended up meeting Bob Good, Attorney-at-Law. Please tell us about this.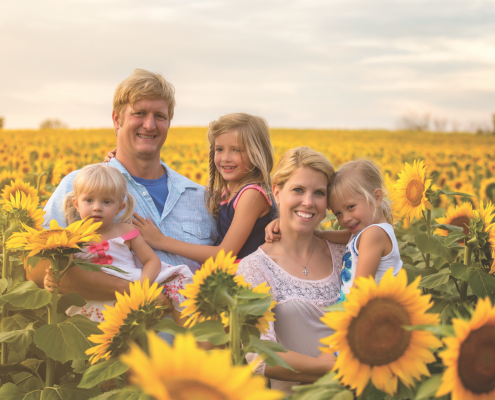 Yes, I have worked for myself for approaching two decades, so I initially did not see myself working with another. I met Ashland Municipal Court Judge Pam Turner, who is a fantastic person, when she swore me in to practice law in the state of Oregon. Pam was kind enough to invite me to a Thursday lunch Rotary meeting. A few days before we were supposed to meet for lunch, Pam had something come up and was unable to attend. Nonetheless, she set me up to go to the Rotary meeting as Bob Good's guest.

As mentioned, I am a people person, so I had been actively introducing myself to any and all people in Ashland for several months at this point. I had heard of Bob but had never actually met him. I knew he was one of the most respected attorneys in all southern Oregon and had been for close to three decades. Bob and I met at Rotary, had lunch, and immediately hit it off. Hopefully, I do not offend Bob by saying this (haha) but Bob and I are cut from a similar cloth. Bob is a man of his word, has a genuine care for people, and wants to do what he feels is in the best interest of his community. His legacy of 30 years serving the Ashland community speaks for itself. To be able to work with Bob has proven invaluable. The relationship Bob and I have has grown strong in a short period of time and will continue to grow as time goes on. We are both flexible but firmly back our clients and do what we feel is just. Being able to work side by side with Bob daily has been a privilege and an honor, and I look forward to what the future brings for both of us.
Please tell us more about how you see your own philosophies merging with those of Bob.
The basis of any sound advice is to be an active listener. A conscious awareness of another's verbal and physical clues gives valuable insight into numerous issues which might need to be explored further in order to give the best legal representation. Clients come to see me not only to solve current problems but to avoid future problems. The law in many areas is rigid but in other respects it can be very fluid so having a sound understanding of my client's views within the boundaries of the law is vital. Truly understanding my clients long-term/short-term goals, needs and wants, and the differences between them, begins with solid active listening. I try to use my life experience, with my past businesses and as a fellow human being, to ask questions and provide insight to my clients which helps them make logical and sound decisions while still considering their specific interests. Often seeing a different perspective, within the confines of the law, can provide guidance to client's which they might not have considered. My philosophy is to make decisions with your mind and not necessarily with emotions. Emotions should clearly be considered but final decisions need to be made with realistic logic. It is all about helping my clients understand their specific situation within the confines of the law, the client understanding their own comfort level and then allowing them to make their own decisions. I simply help counsel clients as they work through the process. There is a reason, after all, why attorneys are called counselors.

Bob has a gift when it comes to active listening. He has an unmatched ability to comprehend, retain, and respond to a client's cues which allows the client to see the entire picture when without Bob's insight this would not be possible. The clients then can make their own educated decisions.

Bob and I are both great listeners. We understand the emotional side of situations which allows us to logically humanize the law. Many people are intimidated by lawyers and court, so humanizing the experience can help to ease our client's minds if we do have to go to court. As a lawyer, building relationships based on trust, integrity, and knowledge is vital to solving the problems our clients face every day. We are both very approachable, and our clients feel comfortable talking to us. This leads to much better legal representation, whether it is office-based advice, mediation, or in the courtroom.

Scott, how are you making efforts to always see the best in every situation? Please talk about the idea of "Happy Law."

I will answer the last question first. Originally, I wanted to focus my practice on what I call "Happy Law;" that is: law where the clients are super excited to talk to their lawyer. Examples: a business lawyer assisting a fellow entrepreneur start a business they have dreamed of starting their entire life or an inventor speaking to an intellectual property lawyer about getting a patent and trademark on an invention they have been hiding in their mind for decades. These clients tend to enjoy spending time with their lawyer. These are "happy" times after all as opposed to dreading having to see your attorney.

Speaking to the other question, in working with Bob, I see that even in dark times we can help support the best. For example, I consider myself a very dedicated father and family man. I found that helping another parent with child custody issues or assisting clients with a trust which will benefit their loved ones further down the line can be just as rewarding. These clients need our assistance just as much, and sometimes more, than my original "Happy Law" client. I believe there is a rainbow after every storm if we look close enough. Taking this approach in difficult times allows me to always find the happy moment. I am realistic with my clients, but at the same time, I help them see the light at the end of the tunnel. This is an area of law, which I did not anticipate finding personal fulfillment, but I certainly have.
Many times you are faced with challenging situations which require a calm and collected response. How are these best handled for yourself and the client?
I like to take a breath and look before I leap. Being a business owner for close to two decades has probably helped me learn more than anything how to react in pressure-filled situations. Anyone that knows me well, knows that I am someone that remains calm and handles on the spot pressure smoothly. As previously mentioned, I am a firm believer that in times of pressure using your logical mind to make decisions will nearly always prevail over the spontaneous emotional decision. Everyone, at times, makes decisions with their emotions. It is my job to remain calm, actively listen to client concerns, analyze the situation, and determine the most logical options which will provide the most reasonable outcomes in the client's best interest. Once we have determined these options, if possible, I encourage my clients to sleep on it, then we can discuss the options further and make a final decision. Difficult business and family decisions need someone with the calm steady hand, as emotional reactions can muddy the waters. We must keep in perspective that often short-term gain can lead to long-term misery. Establishing our wants, necessary needs, and our end goals is critical. It is important to not lose focus of the end goal by taking an emotional shortcut. We all need little reminders to keep us moving along the right path. Being able to calmly empathize with my clients, while keeping their goals in focus, allows me to help them make the right decisions in challenging, pressure-filled times.
The art of compromise and adaptability are also key parts of your profession and don't always equate into a win/lose equation.
Every situation is different when it comes to compromise and adaptability. This is another reason why active listening and having the client trust in our abilities is critically important. A win in the courtroom does not always mean a win for the client as the financial and emotional costs of litigation can far outweigh judicial victory. Sometimes clients assume outcomes will occur when they are not realistic. There are some hard lines which people often do not want to hear. Compromise and adaptability involve give and take from both parties and are not one-sided ordeals. There is no right or wrong way to solve a dispute, so being adaptable and willing to compromise within reason is a necessary component of any negotiation. The key is "reasonable" compromise. The reality of law is most disputes are settled outside of court through active negotiation between the parties. Most cases which go to court are due to unreasonable expectations or lack of communication between the parties. I found that a solid approach is to work with my clients on a list of things which they are not willing to concede and things which they are willing to concede. At that point, I can approach the opposing party on solid footing and begin discussions of compromise while being adaptable within reason.
Scott, in your own business experience and background what types of mentors and advisors have you looked to have in your life to support you in your endeavors?
I have been very fortunate in my life to have an incredible number of solid mentors. From close family to other business owners to today with Bob, all have been active listeners with a high character, integrity, work ethic, and honesty. I am a salt-of-the-earth kind of person and I do not need the bells and whistles. Thus, my mentors have been cut from a similar mold. In addition, my life's mentors have always been ones to be willing to compromise within reason while keeping their eye on the big picture and long-term outcome. One of my longest mentors is my grandmother on my mother's side, Clara Ellender. She used to say, "you can get a lot more done in life with a teaspoon of sugar than a truck load of salt." I realize that salt is sometimes a necessary ingredient and I do not have a problem using it when needed; however, I live life on the sugar side of the fence.
Bob has earned a strong reputation for not only being a very strong mediator but also a fearless litigator. 
As previously discussed, most cases do not go to court but when they do it is often due to unreasonableness of a party or lack of communication between the parties. Bob and I are selective in when taking on new clients. We both ask our gut, can I wholeheartedly support this person before the judge should things go to court? Is my moral compass behind this person's wants, needs, and goals? If the answer is yes then it is easy to be a fearless litigator. Bob and I often discuss these issues. I personally feel if your heart and moral compass is without question behind your client's position, then being a fearless litigator is a natural fit. I love to compete for something I believe is just and right. At that point, I am fighting for something I truly believe is just. Issues tend to arise when attorneys do not morally support a client's position, but the attorney takes the case anyway. I would rather not go down this path in my career. I must support my client's position, or I will not take them as a client.  
Scott, can you please give us an overview of the scope of services that the firm is currently offering?

Currently the firm works in:
Business Law – including entity setup, licensing, lease negotiations, all contracts

Family Law – divorce, child custody, child support, spousal support

Guardianships and Adoptions

Estate Planning, Wills and Trust

Intellectual Property

Landlord/Tenant Issues
In addition to the family law and estate planning, you are also specializing in intellectual property law and business law. Can you please give some recent examples of work you have done for local business owners in our community?
I am not at liberty to discuss specifics about my clients without their approval, so I will not go into detail, but I have helped or am currently helping numerous local artists and business owners with copyrights/trademarks and accompanying contracts as well as business lease negotiations, business planning and sales, and entity set-ups for several large and small prosperous local businesses. Ashland is a small tight-knit community with tons of local business owners as well as a thriving artistic community which I have found is very similar to the community in Vail, Colorado where I lived for over 22 years. Being able to relate my past business ownership experience with local business owners and artists has been both enjoyable and productive for all. As mentioned Ashland is very similar to Vail in that regard and so I have been in the same position as many of the business owners in town.
Scott, in your experience as both an entrepreneur and business owner, what is some of the best real world legal advice you would offer your clients?
As a person who has owned numerous businesses, my best simple advice is to always have things in writing and know what you are signing. If you do not understand the contracts or paperwork speak to your attorney to ensure you understand it. If a contract is signed, the law assumes the person that signed it understood all liabilities associated with that contract. The business owner that states "well I did not understand that in the contract" is also the business owner that can be liable. I understand that sometimes the last thing a business owner wants to do is read legal jargon of a contract, but it is a huge component to your success or failure as a business owner. Take the time to get it in writing and when you do, read it and make sure you understand it. Contracts are made to be negotiated but once they are signed, the business owner is locked to that agreement with few exceptions.
What do you enjoy most about the work you do on a day to basis?
If it is not already obvious, I enjoy the human interaction and assisting people in need. There is nothing more satisfying than assisting someone to attain their goals and lending a helping hand to a person in need. I keep this element of life in my focus every minute. Ashland is such a magnificent community and I feel blessed every day to have the opportunity to be of service.  
What are some of the biggest challenges of your job?
It is ironic that for me one of the biggest challenges is also one of the biggest rewards. Without question the emotional component of being a lawyer is the biggest challenge. People will often come into my office either extremely excited for their new business venture or extremely desperate due to perhaps a child custody issue. Both have high emotions but both very different emotions. To go from a 9:00 super pumped business client to a 10:00 super upset family law client is a challenge without question. Further, many clients want instant results to difficult or long-existing problems which are just not possible. Over the course of a normal day, helping these diverse clients understand the issues and work towards a goal is very satisfying. Without challenges in life, life would be boring right?    
Outside of work, you and your wife are also very involved in the community. Please say more.
As discussed, I am currently the co-PTO President of Walker Elementary as well as a new member of the Thursday Rotary club. The title co-President sounds good, I suppose, but to be honest the other co-President has been keeping the ship afloat. She is amazing and has done a magnificent job. With the help of several Walker parents, we recently broke a record for our annual fundraiser (Walker Winter Faire) in terms of profit margin for the PTO. We are still deciding where to spend this money but have already issued several grants to teachers for things such computers, new books, and mobile yoga chairs for the children to get the wiggles out. In addition, with the newly passed Ashland School District grant for Walker and other schools within district, some of this money we raised might be applied to new technologies for Walker, as this is not part of the grant.

As for Rotary, it provides a wonderful opportunity to help the community. Being a new member, I am just now exploring my direction, but I am have worked in the Rotary community garden, which provides food for the homeless shelter and plan to look further into our family sponsoring an exchange student through Rotary. In addition, I will be actively participating with Rotary on the Walker Elementary School Committee where we help the elementary school with various projects such as Ashland Reads and the Walker Greenhouse Project.

My wife, along with a fellow friend and parent Lauren Lynn, have started a new Girls Scouts troop which is just getting under way. They have numerous activities which they are working on and are accepting girls from ages 5 – 9. We have volunteered our home for meetings and they both look forward to growing a new troop which will be serving the Ashland community for years to come.

There is little down time in my family. If we are not working or volunteering in other capacities, we enjoy skiing Mount Ashland and exploring the great outdoors. All of us are outdoor enthusiasts so any and all outdoor activity is welcome in our family, including hiking, camping, boating, skiing, sightseeing, and anything in between.
Scott, have you set any special goals for yourself for 2019?
My personal goals for 2019 are to continue leading a healthy, happy life and to strive to be the best father and lawyer I can be. On a more local level, I want to get to know the community even better than I currently do and increase my basis of friendships. We can never have enough friends in this world and I thoroughly enjoy time spent with vibrant and entertaining personalities.
Thanks so much for taking the time to speak with us today and wishing you the best for 2019!
Shields, I thank you very much for the opportunity. You have a great thing going with the LocalsGuide. Keep up the fantastic work you do for our community. Thanks again to everyone!
Learn More:
Scott C. Bucy
Robert W. Good, Attorney, LLC
823 Siskiyou Blvd, Ashland, OR
541-482-3763
www.goodashlandlaw.com