Interviews
Scott Knox, DVM Animal Medical Hospital – Compassion, Concern, Commitment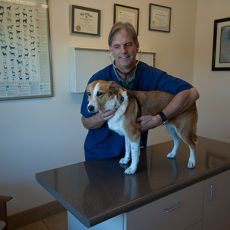 "Our perfect companions never have fewer than four feet." 
   -Sidonie-Gabrielle Colette
Where would we be without our pets?  Many of us value the companionship of our trusted dog or cat as much, or sometimes dare I say, more than our human companions.  They greet us excitedly at the gate or back door when we return after a long day out in the world and rely on us to provide loving care in return for their loyal friendship.  Thankfully there are experienced professionals like Dr. Scott Knox and his team at Animal Medical Hospital to provide assistance when it comes to caring for these dear creatures.
Animal Medical Hospital is a full service hospital offering medical, surgical, nutritional and behavioral services to pet owners throughout the Rogue Valley.  Their experienced team of doctors and technicians has been providing care for pets in the Valley for decades and their loyal owners can't say enough about the high quality of attentive service available to all who walk through the door.  I had the opportunity to speak with Dr. Knox recently to learn more about the business and what makes Animal Medical Hospital so unique.
Thanks for speaking with us today Dr. Knox.  How long has Animal Medical Hospital been providing care for pets in Ashland?
Dr. Van dijk established Animal Medical Hospital 1958.  I was enjoying practicing veterinary medicine in Central Oregon in 1986 when Dr. Van dijk invited me to join AMH. I jumped at the chance to come to this great town and join such a well-established, quality practice. Dr. Van dijk provided the full gamut of the best veterinary care available for almost 30 years and we have endeavored each day to build on his tradition.
You have quite an experienced staff on board with you as well.  Would you please introduce us to your team?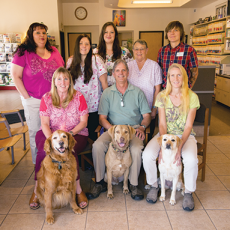 We do have an incredible amount of veterinary experience and knowledge here at AMH. Between myself, Dr. Ahlbrecht and Dr. Graeber, we have over 70 years of veterinary practice experience and learning!  Each of us is committed to lifelong learning. With three doctors, we are able to work together on difficult cases, sharing each of our knowledge and expertise. While we are each general practitioners, we have areas of special interest and training. For instance, I have extensive postgraduate training in general and orthopedic surgery. Dr. Ahlbrecht is a veterinary Chiropractor and Dr. Graeber has additional training in internal medicine. This collaboration and breadth of knowledge between the three of us gives our patients the best care possible.
What has changed in veterinary medicine over the years you have been practicing?
In both veterinary and human medicine it is widely accepted that 50% of our medical practice today will be changed or obsolete in 10 years. Advances in medicine happen at an incredible pace, so we each spend a great amount of time attending seminars, reading and studying to keep up with the changes. One of the very noticeable changes in preventative care has occurred in our use of vaccines. We now tailor vaccine use and schedules to each individual patient. Rather than a cookie cutter approach where every pet is getting the same vaccines, we talk to each owner about the lifestyle of their pet and discuss which vaccines are appropriate and how often they should be boostered. For instance, a strictly indoor kitty will have fewer vaccines and boosters than an outdoor barn kitty.
I understand you have some new equipment in the office as well.  Tell us about your new ultrasound machine.
We actually are updating all our equipment routinely, and this year we purchased a new ultrasound machine. Ultrasound technology is basically computer technology, so our new machine magnitudes more computing power over our previous model. This means that we can now accurately image small organs such as the pancreas, thyroid and adrenal glands. The ability to see these small organs can be extremely helpful in diseases such as pancreatitis or hormonal imbalances. Another benefit to this kind of equipment is the detail we now see in larger organs such as the liver and kidney. This translates directly into better, timely and more accurate care.
You offer free consultation to people who are considering becoming pet owners.  That's amazing!
I firmly believe prospective new pet owners should take the opportunity to come talk to us about the type or breed of pet they might be interested in owning. Too often, I see owners that have adopted or purchased a pet that is truly not appropriate for their personal lives. It may be the most popular breed of this year, but is just not suited to the owner's home life or temperament.  Dog and cat breeds, or types (if it is a mixed breed) do definitely have certain behavioral and physical characteristics that are important to know before one makes the commitment to the care and ownership of that pet. For example, some or cats dogs are not appropriate for older people, some need extensive exercise, some are happy to be couch potatoes, some have additional medical needs, etc. At Animal Medical Hospital, we are happy to share our extensive knowledge and experience of almost every breed or type of dog or cat. Come and pick our brain before you make the big leap, so you and your pet both end up happy in the relationship. We have truly "seen them all" over the years.
I understand that you offer traditional kennel boarding for dogs and cats as well.
We have offered boarding services for cats and dogs since the inception of AMH in '58. We have traditional boarding as well as boarding care for pets that have special needs whether medications or special physical activity needs. We really enjoy seeing these pets while they board with us. It is nice to see them and interact with them outside of an exam or hospitalized setting.
What kinds of tips do you have for dog & cat owners during the hottest months of the year?
Neither dogs nor cats have the ability to cool themselves as well as us humans, so one has to be very careful taking them out on these very hot days. Dogs can also burn their feet on the hot pavement and of course temperatures inside of a car even with the windows cracked can easily reach up to 200 degrees. There is very little shade in parking areas in the Rogue Valley, so temperatures inside a car quickly achieve life-threatening levels. It is best to leave one's pets at home in the cool house or shade of the back yard this time of year.

Another problem we have here in the Rogue Valley in the summer are foxtails or grass awns. These are the dried seeds that you might find annoyingly stuck in your socks if you walk in dried grass. These foxtails can stick in your dog or cat's feet, ears, eyes, nose and many other places. Because they are very sharp and barbed they can literally penetrate skin when caught under thick hair or between toes. Any area around the valley with dried grass will have these foxtails.  Again, the only way to avoid these painful problems is to avoid walking or exercising your pet in these areas.  If you are not sure what these look like we have some for display at AMH.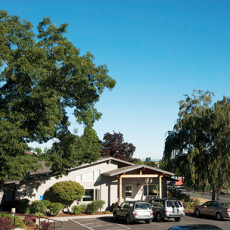 What are some of the biggest mistakes you see owners make in the care of their pets?
Often people wait too long to bring their pet in for medical attention. We would much rather see a patient and happily tell the owner that there is no problem, than see an animal with major difficult issues that would have been more easily handled sooner. It is truly best to take care of small problems before they become large ones. This is especially true of the aging kitty or pooch. Naturally, animals slow down as they age, but often there are treatable conditions that we can alleviate, providing a much happier, active and less painful lifestyle. We recommend at least yearly checkups and more frequently for the older pet. There are many great medications, treatments and supplements available that truly help the older pet live a more active and vital lifestyle.  One of my most rewarding office calls is to see a pet who the owner believes is "just getting old," and be able to turn back the clock with appropriate medication, diet or alternative medicine such as chiropractic treatment.
Your business is incredibly accommodating for those with busy schedules; you're even open on Saturdays!
We are all very busy in our lives, so we strive to accommodate our clientele by opening early at 7:30am and closing at 6:00pm on weekdays to give people time to pick up or drop off their pets before or after work. Likewise, I believe we are the only clinic in Ashland offering Saturday appointments.
What partnerships and associations does Animal Medical Hospital have in the community?
We work closely with the Jackson County Animal Shelter helping assess and treat injured and ill pets that enter the shelter. We also provide low cost spay neuter through SNYP and our own usual low spay, neuter fees. We support great organizations such as FOTAS and CATS.  We will be providing pro-bono spays and neuters to help out the wonderful CATS organization as they struggle through their financial difficulties.  As individual doctors we are all also engaged in various community activities. The Rogue Valley is a great place to live and we strive to give back to this wonderful community.
You've mentioned several times that every animal is different.   It seems that you and your staff do an excellent job treating each individual animal in a unique manner.  Tell us more about why this is so important to you.
Each pet is truly unique in spirit as well as function. No two cats or dogs are the same in their needs. We try to fulfill the medical needs of each pet as it functions and relates in its unique household.  This sometimes can be the biggest challenge of all.
You have a saying at Animal Medical hospital that, "Dogs are not little people and cats are not little dogs." Can you tell us more about this philosophy?
This is somewhat of an old veterinary proverb if you will, but is so true. Part of our job is educating our pet's owners as to the true nature of their pet's problems. Dogs, cats and humans are all mammals and dogs and cats live with us so closely, I think it is human nature to ascribe human conditions to our pet's ailment.  Dogs however have many differences from us physiologically and cats are metabolically and in other medical ways very different from people as well as dogs. Since our patients do not speak, we rely on the owner's interpretations of what is going on with their pet's health. This makes our job as veterinarians especially challenging, intellectually stimulating, and fun.
I love my dog, but am I really supposed to be brushing her teeth?  That seems crazy!  Is this a new trend?
We as veterinarians have long been promoting oral health for our dogs and cats.  Brushing as well as appropriate chewing and feeding is truly helpful in keeping our pet's mouths healthy. Good oral health is extremely important in the overall health and well being of our pets.  Proper oral health care could be an entire article for another day so please feel free to call us at AMH about how you might improve or maintain your pet's oral health.
Is there anything else that you would like readers to know about Animal Medical Hospital? 
Please call us with any questions about pet care or pet health. There are truly no dumb questions when it comes to dogs or cats. We are happy to answer your questions. While the internet is a wonderful resource, please give us a call if you are not sure if your dog or cat has a problem or are not sure what to do. A phone call will often be quicker than Googling.  Also, self-diagnosing your pet via the internet has the potential to lead you astray, cause your pet discomfort or pain and literally cost you money. By all means, use resources to educate yourself, but give us a quick call when you have a medical or other pet problem.
Learn More:
Animal Medical Hospital
1525 Highway 99 N, Ashland
(541) 482-2786
animalmedicalhospitalashland.com
info@animalmedicalhospitalashland.com