Interviews
Selene Aitken The Dance of Communication – Bringing Peace to the World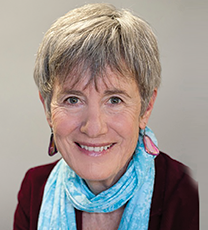 Selene has a long history as a peacemaker. Raised in Argentina while Peron and Evita ruled the country, she became acutely aware from a young age of the ways in which different cultures and socio-economic classes interact, communicate and often misunderstand and hurt each other.   A life-long traveler and student of languages and cultures, Selene has dedicated her life to learning, teaching and living methods of compassionate communication and conflict management that she believes have the power to change not just our interpersonal relationships but also the world.
Selene's professional practice, The Dance of Communication, offers classes, workshops and one-on-one sessions for healing relationships damaged by blame, misunderstandings. In addition, Selene has recently developed a new service, Restoring Kinship, specifically designed for families facing difficult relationships between parents and their adult children. Selene offers help and hope to families who struggle with issues of estrangement, dependence, conflicts and misunderstandings to seek reconciliation and inner peace. 
What services do you currently offer the community?
Many in the Rogue Valley where I've lived for 29 years, know me as a peace activist, a mediator, a teacher of Nonviolent Communication and as a classroom teacher. My aim is always to bring a little more peace in the world. My new service, Restoring Kinship, focuses on families with adult children and is another way to bring a little more peace to the world.  Kinship to me is an expression of trust and deep care that reflects the desire to be part of a safe, supportive family and community.
I love working with individuals preparing for what they anticipate will be challenging conversations and I enjoy working with a whole family seeking reconciliation and understanding. I also enjoy helping friends and couples as well as business partners and nonprofits that are in painful conflict or simply want to iron out some misunderstanding and communicate more effectively.  Workshops and classes are avenues I often use to teach skills and practices that help people maneuver both tender and tough conversations.
Folks can attend one of my free talks in November in Ashland to find out more about Restoring Kinship and how I work. They'll be at the Ashland Public Library on Thursday, November 13 from 10-12am and on Wednesday, November 19 from 6-8pm. For more information, check out my website: TheDanceofCommunication.com
I understand that your own personal experience with your adult sons and their challenges has led you to this work. What happened? And what kind of special training or mentorship have you had to support this work?
First I'll tell you that I became a mediator certified by the state of Oregon in 1993. I received certification as a trainer from the Center for Non-violent Communication in 2007. Now I'm learning about Interpersonal Neurobiology. These are some of the trainings that help me in my work.
My personal experience, the school of hard knocks, has been the most useful training and greatest motivator.  Before I continue, I want you to know that I have permission from my sons to talk about this.  While I was still distraught from the divorce in our family, I was unprepared to help my sons. They had turned into the proverbial troubled teenagers. They dropped out of school. Numerous times. They used drugs and alcohol in, for me, frightening amounts. They were unresponsive to my pleading and my threats. In other words, we were all "out of control."
As I dealt, quite ineffectively, with my sons and found very little help or support from the community, I promised myself if I made it through, I would be available to other parents with similar struggles.  When my sons became young adults, our difficulties continued with new nuances. One son didn't speak to me for two years. The other communicated infrequently and continued using substances at a level I found worrisome.
By this time, I had gained some tools, notably Nonviolent Communication (also known as Compassionate Communication.) I had also learned about mindfulness practice by sitting many, many hours in silent meditation and listening to meditation teachers. I had spent what felt like hundreds of hours in counseling therapy. With my new self-awareness, I started to notice what worked with my sons, and mostly what didn't work.
Another special training came to me through the program one of my sons was interned in for 18 months. The parents were offered the same workshops the kids were forced to go through and they were excellent trainings. I attended every weekend workshop and benefited tremendously even with the harsh "in-your-face" modality they used. For example, about an hour into a weekend we, parent participants, would hear something like "We don't want to hear about your kids. This is about You."  
By the way, I didn't see my son for all of his 16th year. It was excruciatingly painful for me. I believe his being in this program saved his life. I'm not sure he would agree.  Years later, I consolidated all of these hard-earned lessons and began researching some of the causes of problems that have cropped up in families the last 50 years. That brought me to my "Restoring Kinship" work.
And what is your family life like today?
Fingers crossed. Today, my sons and I enjoy pretty frequent, (not always as frequent as I would like) harmonious, and pretty honest communication.  I take it day by day and am thrilled when they confide in me and, of course, when they express love and care. 
Perhaps most important to me is that I can access my own inner resources and my established support system to help me navigate the moments when I think things should be different than they are, especially when my sons get irritated with me and distance themselves.  Both sons have developed good enough lives and they are men of integrity who enjoy their lives. I am proud and delighted to be their mother and to love them.
You've mentioned that mindfulness has been extremely beneficial to your personal life and professional practice as well. Can you help us understand what that is and why you find it so useful?
Almost twenty years ago, at the height of my family-falling-apart distress, I signed up for a ten-day silent meditation retreat. Honestly, it was a terrible experience. I suffered through every sitting session, every meal, every moment of supposed rest. However, what I came away with has served me ever since.  I learned I could handle any and all of my feelings: despair, rage, worry, even terror. From this base of trusting that there was nothing from inside I had to avoid or hide from. I started to build an ongoing practice of inner peace.
Thankfully, I stayed the full ten days of that dreadful retreat and attended many more to reinforce the practice of being present to the moment, without flinching or hiding. Now this practice allows me to listen deeply to others without being thrown off by their suffering. I've been present in this way to people telling me of their struggles in Syria (2010,) Colombia, El Salvador, Afghanistan (2007,) and, of course, the United States.
Here's an example from my personal life with my adult son.  During the two years when he wouldn't speak to me, and, by the way, he was my neighbor living only fifty feet away; I had a practice that saved me. I decided that no matter what, I would keep my heart open.  Almost daily, I had to remind myself of this intention because anger or grief would come up and my mind wanted to blame, resent and DO something. Mindfulness brought me back to the present moment and to remembering my intention.  One day, it was over. Just like that. He started relating to me again. I was available because I had stayed open with the help of mindfulness practice.
You maintain that inner peace is possible even when those around us are struggling. How do you help others achieve and maintain a peaceful life even when loved ones are not doing the same?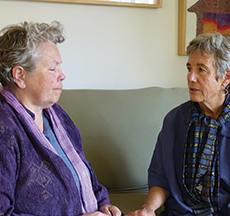 I love this question. Maintaining our equilibrium when someone close to us is suffering or freaking out is not easy. It helps to have a practice for keeping grounded using tools like meditation, Tai Chi, Tapping, dance, exercise, being in nature, singing, painting, creative writing and so on.  When I work with someone, I use an exercise in which they plot the people in their lives and how they affect him or her. It's on paper, very clear. We look at what they would like to see changed and then talk about what can be done, what has to be accepted as is and what steps to take next. This engages both hemispheres of the brain and brings relief and calm.
I rely on many of the teachings from 12-Step programs. There's much wisdom there. The Serenity Prayer is terrific. I also appreciate some of the slogans like "Detachment with love," so difficult and so valuable.  Inner peace is a choice and requires a committed practice. We go back to it every day; maybe every hour sometimes or even more frequently than that. The first step is to set the intention to nurture our own inner peace regardless of what's going on with others around us. The second step is to establish a network that will support us in this endeavor.  Then we make choices that support our peace.
You have compiled a comprehensive history of the Western family culture in this part of the world. How has this informed and enhanced your work?
It's been a fascinating study. Here's some information that helps understand what's happened. At the beginning of the 20th century, with the advent of Freud, Watson, and even Dr. Spock, parents learned that they were responsible for their children's mental health or lack of it. 
However, in the second half of the 20th century youth were taught, primarily through TV and other commercial media, to follow their peers rather than their parents and other older family members. This had not been previously seen in North American society and it has contributed to creating distance between generations. Youth have cultural references and experiences shared by peers from which parents are excluded.  In the past fifty years children and teenagers have became a highly sought after class of consumers. They are considered pillars of the consumer economy and demonstrated "purchasing power" of $18 billion in 2006.
What an impossible situation! Parents are responsible not only for the physical safety of their children in a world considered to be dangerous, but also for the mental health of sons and daughters. However, they are so distanced from their children that they really can't affect and guide them. There's a positive side to that: more democratic families, more freedom and independence for children; and also, a downside, which is the separation in the family and the confusion about authority and guidance.
Another factor that influences the current situation is economic in the sense that jobs are scarcer and harder to hold on to. Whereas adulthood in the 1950's, for example was reached in the early 20's when people set up their separate household and started families and careers. Now adulthood, measured by these standards isn't reached until later.  Many 27 or 34 year olds are still at home, or have returned to the parents' homes after divorce or loss of a job. Everyone in the household can be challenged by these circumstances.
I find that when people learn these and other facts I present, often in slide-show format, people have a sense of relief because they have a new perspective. "It's not just my family, it's not my fault, and it's not my kids' fault either." Ideally, we can then get to "We can work on this together."
You recently attended a workshop in Canada about Interpersonal Neurobiology. I'd love to hear more.
Yes, a fantastic 5-day workshop entitled "Nonviolent Communication (NVC for short) and Interpersonal Neurobiology (IPNB)." What a mouthful!  I've been learning about IPNB, a term coined by Dr. Daniel Siegel, which studies the way the brain grows and is influenced by personal relationships. It's a program available at PSU. NVC and IPNB complement each other.  This correlates with one of NVC's key skills, empathy. Empathy is listening for feelings and needs from a place of neutral and compassionate presence. Skillful empathy will soothe the reactivity.  A listener offering empathy may or may not be successful depending on his or her skill level and capacity to remain present and neutral.
For example, Mary says, "I can't stand that you don't answer my emails. How am I to communicate with you?"  Jane says, "I'm sorry. I didn't know you cared." (This is not empathy.) "That's ridiculous," says Mary. "Why would I write you the email if I didn't care?"
You can see this isn't going very well. NVC empathy would sound more like this. Jane says, "When you don't see a reply to your email, are you worried that you won't be able to communicate and that you'll be left alone with the project we're working on?"
IPNB can add the reminder that she can use metaphor, which will be understood by the brain's right hemisphere. Jane might say, "Do you feel like you're hanging out on a limb with not enough support?"
IPNB adds monitoring of breathing, body language and voice tone to create empathic resonance that body and brain respond to. It requires a subtle level of self-awareness that will let Jane know when she's on overload or activated herself because she's beyond her tolerance to take in the emotions expressed and is no longer able to be empathic. She can then communicate that she wants to take a break, for example. Then Jane can re-establish her self-connection, get empathy herself and be able to return to the conversation and be in empathic resonance with Mary.  IPNB brings a deeper and broader dimension to NVC/Compassionate Communication and greatly increases its effectiveness. 
What do your clients have to say about your work?
"Selene observes and listens without judgment. I was in a stuck place with relationships in my family and reached out to her for support.  She responded with compassion and a deep desire to promote peace within me and between those I loved.  What has motivated me most is her authenticity and the creation of safe space for vulnerability. It has been from her work that I learned the strength in my own vulnerability and how it allows me to connect to others and myself; how it heals. I see myself and those I love in new ways because of her support."

A.A. Medford, OR
What do you have coming up that readers can look forward to?
I'm offering 2 free talks in November. One is on Thursday, November 13 at 10am; the other is on November 19 at 6pm, both at the Ashland Public Library.
My intention is to give people an opportunity to meet me and find out what I have to offer both in terms of information and services. The talk will be valuable to anyone interested in challenges facing families with adult children. It will also be appropriate for anyone curious about engaging my services.  I want folks to have a chance to get a sense of whether I will be the person they can comfortably working with. I also want to feel confident that I can serve a family or individual I will be working with. It's important to have a good fit.
Learn More:
The Dance of Communication
541-227-8818