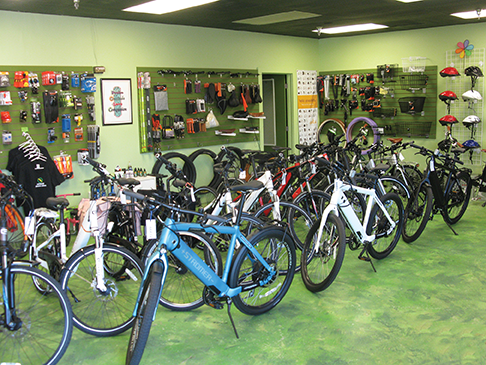 As the weather changes here in the valley, folks are getting back on their two- and three-wheeled rides. Some for the first time after a 3-4 month hibernation. If you haven't taken your bike/trike out for a spin yet, and you're not comfortable servicing your own bike, then we highly recommend taking a test ride before the rush of spring. Soon your local bike repair shop's schedule will be full, and there may be delays in getting you out and safely riding for the season. 
Even if your bike was functioning perfectly at the end of last season, it may not be now. For those that have to store their two-wheeled rides outside during the winter season, corrosion may have taken hold on chains and bearings. If you have a moderately climate controlled location – like a garage or shed – then often it's accidental damage/misalignment as bikes get bumped and knocked over, often bending the derailleur. Flat tires are also a common issue no matter how you store your bike. Folks get busy with holidays and winter activities, and often forget to regularly check the air pressure in their tires. Depending on how long your tires have been flat you may need to replace your tube(s) before you get rolling again for the season. 
If your bike is electrified, then hopefully you charged your battery and stored it in a dry climate-controlled location. If you forgot to charge it before storing, your battery is dead and won't take a charge you'll want to see your local bike shop asap to see if they can revive it, or determine if it needs replacing. 
At Ashland Electric Bikes, we offer very reasonable rates on tuneups for those that lack the necessary tools and third-hands to Do It Yourself. Additionally, as the valley's oldest exclusively electric bike shop, we offer battery testing and electronic maintenance that even the most dedicated home mechanic will likely struggle with. If your eBike is handling a little squirrely, braking poorly or feeling a little underpowered, bring it in so our team of experienced and ingenious mechanics can fix whatever ails your two-wheeled transport. 
And now, an original poem from one of our mechanics to help you remember your maintenance schedule:
Tire pressure once a week. Lube the chain to kill the squeak.
Once a month I check my Drive, Tension spokes and True my ride. 
Half a year I change my brakes, stare at tread, fix chain mistakes.
Once a year (at very least) I let Them fix my two-wheeled beast.
Torque and Lube – These are my guiding, 
Lest I break myself while riding.