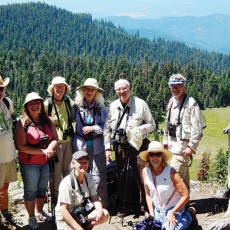 Talk to most folks who live in Southern Oregon and you will hear that we live in a special place.  We've got majestic mountains, we've got old growth forests, we've got crystal clear rivers; we've even got world-class theatre and an abundance of fresh, locally-grown food.  Kathy Pyle knows precisely how lucky we are to live in the Klamath-Siskiyou bioregion.  As program coordinator for Siskiyou Field Institute, Kathy's job is to help create opportunities for the community to learn just how lucky we actually are.  Is it the Darlingtonia, a rare carnivorous plant found in serpentine fens?  Could it be the Howell's mariposa lily or Kalmiopsis plants found only in Josephine County or a number of relict species conifer trees including Brewers spruce and Port Orford cedar found in our very own backyard?
If you haven't heard of Siskiyou Field Institute, you're not alone.  Although the non-profit serves thousands of Southern Oregon residents and visitors from California, Oregon, Washington and British Columbia each year, this Illinois Valley gem is yet undiscovered for a large number of us.  Created in 1996 in an effort to investigate and preserve the Klamath-Siskiyou bioregion, SFI reaches a diverse range of youth and adults each year through their unique educational programs.  From one-day classes to multi-day, overnight trips, the SFI staff works tirelessly to create opportunities to inform and educate the public about the vast diversity of animals, plants and natural habitats found in our "hot spot" bioregion.
Thanks for your time today, Kathy.  It sounds like 1997 was a very important year for the Klamath-Siskiyou bioregion and the early beginnings of Siskiyou Field Institute.  What happened and how did this important non-profit begin its work?
In 1997 Siskiyou Regional Education Program (SFI's parent) sponsored an Illinois Valley conference attracting scientists from many fields of study. Together they helped assemble a research and conservation "big picture" about our Klamath Siskiyou Bioregion. More than 300 people attended the conference. Field trips were so popular that participants asked for an annual repeat performance. That's how Siskiyou Field Institute came about, dedicating itself to nature-based public education.
Help us understand the geographic area you refer to as the Klamath-Siskiyou bioregion.
Our bioregion extends from just south of the Umpqua River to the Eel River in northern California. That's quite an expansive area. It includes Jackson, Josephine and Curry Counties in Oregon, and a large part of northern California (Del Norte, into Humboldt and Siskiyou Counties). Five rivers, all with wild and scenic areas, define our natural region: Rogue, Klamath, Smith, Illinois and Eel.
What makes this large area so very unique in the world of science?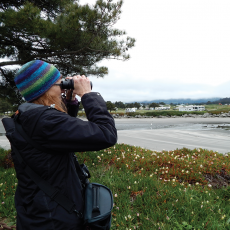 The Klamath-Siskiyou is considered one of the world's top six hot spots of biodiversity. Because of some very unusual topography (mountains run east to west) and a relatively mild climate with a moisture zone that stays cool in summer, many animals and plants are either unique to this area or the last remaining populations that originally existed to the north or south of us, called "relict species." Some examples are conifer trees including Brewers Spruce, Port Orford Cedar and Foxtail Pine. You can learn a lot more about this complex and unusual place by reading David Rains Wallace's book The Klamath Knot.

Our classes explore a wide-ranging area, from 8 Dollar Mountain in our own backyard here in Selma to the Russian Wilderness in the Klamaths to the Lava Beds National Monument in the eastern part of the bioregion.
Tell us about the relationship between Deer Creek Center and SFI.
Our headquarters (Deer Creek Ranch) is owned by a separate non-profit, Deer Creek Center — a partnership between the Southern Oregon University Foundation and SFI. The historic ranch house contains private bedrooms, a small dorm and a spacious living room and kitchen. We accommodate students and other visitors indoors and in large yurts and meadow campsites. Weddings happen here with a backdrop of spectacular scenery. Deer Creek Ranch also has a convenient location near Illinois Valley wineries.

John Wayne fans drop by to tour the house. Wayne frequently visited ranch owner Chick Iverson back in the day. His plush downstairs bedroom can now be rented for the night.
How did you end up in your position as Program Coordinator at the Siskiyou Field Institute?
I have a long history with education-based non-profits outside of the area.  I really missed the trees most recently when I lived out in the sagebrush steppe of southeastern Oregon.  I am glad to be back here in this region.  We are so incredibly lucky to live here.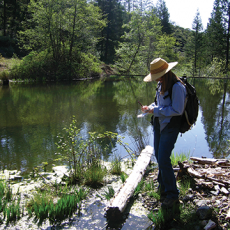 What opportunities are coming up for those of us unfamiliar with your programs?
On May 17 we celebrate spring here with the Birds and Brews festival. This is the perfect time to visit SFI. The day-long event raises funds for SFI's educational programs. Our education and entertainment menu offers something for everyone: live music, microbrew and wine tasting including donations from Standing Stone and Ninkasi and Bridgeview Winery, children's activities throughout the day and nature workshops starting with an early morning bird walk. A local caterer will sell lunch food — and there's ice cream, too! We invite everyone out for a day in Selma to enjoy our beautiful grounds, sample our educational programs along with a little beer and some great music.
I am amazed at the wide range of classes and adventures SFI offers.  There really does seem to be something for everyone.
Yes, we've planned different learning experiences for families, serious students of nature and more adventurous hikers. Family-friendly Forays are shorter classes running 3-5 hours. Two examples are "Visual Bird ID" on May 3rd and "Insects of the Evening" on May 31st, which is like a drive-in movie of bugs. There's also a mushrooms hike in the fall.  Our adventure classes offer a little more challenging physical experience. They include some camping and backpacking trips for wildflower and natural history enthusiasts — imagine watching the bees and butterflies in a wildflower meadow by day and seeing the Milky Way at night.

What makes our classes different are the depth of study, the field component where nature becomes the classroom and the instructor expertise. Students have the opportunity to learn from instructors' ongoing research. Students who want to be officially recognized as naturalists can enroll in our Naturalist certificate program and become citizen scientists of the bioregion.
And the classes happen all over southern Oregon.  Tell us more!
There's an SFI class in almost every corner of our region, including Lava Beds National Monument, Redwood National Park, the Del Norte Coast, Charleston, Russian Wilderness, Siskiyou Wilderness, Siskiyou Mountains, Rogue River, and the Upper Klamath Canoe Trail.
The folks teaching your classes must be quite experienced in their fields.  Seems like an amazing opportunity to learn from the experts!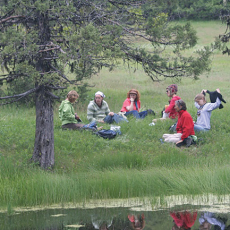 The "Exploring Conifer Country" class came to be based on Michael Kauffmann's book. This year we're exploring the Russian Wilderness and Michael's wife Allison will lead a plein air painting workshop the second morning of the class. Russ Namitz who set the Oregon Big Year bird species record is teaching two of our birding classes; our other birding leaders are equally illustrious. There's Dennis Vroman, a Josephine County birder who co-authored a book on birds of the Rogue Valley and SOU professor Stewart Janes who leads our pelagic (offshore) birding trip on a chartered boat out of Brookings.
In addition to class fees and tuition, how are your programs funded?
1500 students are able to participate in our youth education programs and wilderness camps thanks to grants from foundations including The Carpenter, Cow Creek, Plum Creek Foundations and the Oregon Watershed Enhancement Board. We simply couldn't do it without them.
Funding by the Atlanta-based Kendeda Foundation made purchase of our headquarters possible; it continues its support with facility and marketing grants.

We strive to keep our tuitions affordable; we also have adult education scholarships available, especially to Jackson County teachers and non-profit outdoor educators, through the generosity of the Rogue Valley Audubon Society.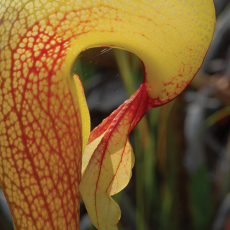 Climate change has become quite an important topic to those who are concerned about the effects people are having on the planet.  What concerns do you have about our ability to preserve these significant areas?
It's important for every person living in this area to understand the rarity of our natural surroundings and how susceptible our animals and plants can be to any shifts in climate, especially changes that cause hotter and drier temperatures. The most biodiversity here occurs in the moisture belt between mountains and coast, in old-growth forest on south-facing slopes.
How can we get involved Kathy?  Where can we go for more information?
You can find SFI catalogs in your local library, coffee house, co-op or visitor's center or by calling 541-597-8530. Our website is www.thesfi.org. Visit us on Facebook for day-to-day news about what's happening at SFI. We welcome volunteers in any capacity to maintain our grounds and trails or help in the office or help out at mailing parties.

Our more popular classes do sell out. We're currently close to the max on a few. Class pre-registration is required and we recommend that you sign up at least two weeks before the class date.
What else would you like us to know about this special place we call home?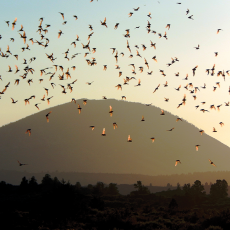 Come out and experience it for yourself in one of our classes.  You'll be hooked!
Learn More:
Siskiyou Field Institute
1241 Illinois River Road, Selma
www.thesfi.org
541-597-8530