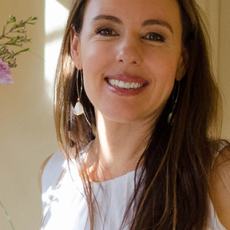 Now entering her 16th year as a Network Chiropractor utilizing Network Spinal Analysis (NSA) entrainments and SomatoRespiratory Integration (SRI) to help patients of all kinds, Dr. Erin Pollinger of Soulwave Chiropractic Studio is expanding her practice in exciting new ways.  For starters, she has developed the Ultimate Alignment Coaching program offering women a 90 day intensive journey intended to inspire new ways of thinking and being in the world that foster health, wealth and nourish their dreams.
Just back stateside after leading her first retreat in the Dominical region of Costa Rica we caught up with Erin to hear about Soulwave Chiropractic and the exciting new developments in motion for her business here in Ashland and beyond.
Thanks so much for making time to talk with us today Erin.  How are things going for you and Soulwave Chiropractic Studio?
Great!  I feel more excited than ever before to do the work that I do.  Helping people become more aligned physically, and as a result in all other areas of their lives continues to be the most incredible thing I get to do in my life.  It is so rewarding to help my patients see that the pain they are experiencing in their bodies is a wake up call to make a shift in their lives.  Whether this change is in the area of relationship, career, community, diet, exercise, etc., the pain always means that there is some way in which we are ready to show up in our lives and give our gifts more fully. Most people come in wanting to get rid of symptoms – neck pain, back pain, headaches, etc., and have no idea about the bigger picture of the work.  The founder of chiropractic, D.D. Palmer, said that his purpose for the profession was to "unite man the physical with man the spiritual."  He knew that when our posture is in defense and the tone of our nervous system is compromised, we are not in alignment with the divine plan of our lives and are not able to express our fullest potential. Through the Network Spinal Analysis (NSA) entrainments, chronic tension is transformed into energy or fuel that my patients can use to experience progress in life.  When the entrainments are done in conjunction with SomatoRespiratory Integration (SRI), or the 12 Stages of Healing, massive change occurs.  The 12 Stages of Healing exercises involve focused touch, breath, sound and movement that allows people to access the deep wisdom that their pain has to offer. Working with people to feel more free and flexible in their bodies as a result of them living more passionate and full lives is what really lights me up!
And you've literally just returned from leading a retreat in Cost Rica.  Wow! Tell us about that exciting new opportunity.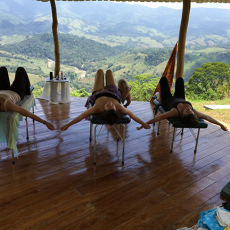 Yes!  It truly was one of the best weeks of my life. 

My father bought land down there 6 years ago and has been building it out to create a space for people to come and heal, do yoga, dance, sing, be in community and be in the magic of nature.  We just brought 10 people down for a Network and Yoga retreat and it was extraordinary!  The level of connection, support and transformation that occurred blew my mind.  We woke up meditating with the sunrise, did yoga, got entrained, danced, ate delicious local Costa Rican food, and swam in the ocean while watching the sun set.  I am still getting emails from the participants about what a big impact this week had on their lives and how they feel deeply changed.  What a gift!
This retreat had a big impact on your sense of community.  Can you tell us more about that?
Being able to be part of something greater than ourselves in community for a whole week reminded me of how isolated we can be here in this culture. We have our own homes, with our own gardens and our own bills to pay – and for many, it is a struggle just to survive.  I believe that this is one of the primary reasons that there is so much illness in this country.  People feel disconnected from community and are not giving the gifts they have to give as fully as they could be.  When we feel like we are part of something greater than ourselves and are sharing our gifts fully we experience increased health and wellness.  Bringing people into community in this way is definitely something I am meant to do more of.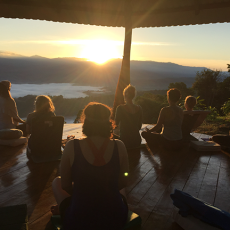 Do you plan to offer more retreats in the future?
Absolutely!  We have one planned for next year – February 13th – 21st, 2016. My plan is to do 2-3 a year for now and then expand from there.
How did you develop the Ultimate Alignment Coaching program?
I have a huge passion for helping woman transform their stories around money that are preventing them from experiencing progress in life.  About 6 years ago I remember standing in my kitchen and feeling so tired of not having the money I desired to really make a greater impact in the world.  I had been in survival mode for a long time and lost sight of what my truest desires were.  I was making just enough money to pay my bills every month.  I was exhausted, in pain, and knew that I was meant for more than that.  Right there, I made a decision to make a change.  I hired a coach and started flying to Colorado more often to be with my teacher and Chiropractor, Donald Epstein.  With the support of these people, I simply made a choice to up level my self and my life. 

I am now making more money than I ever thought possible and am able to do things like continue building out the retreat center in Costa Rica for more people to come and heal, travel when I desire, have an amazing support team personally and professionally, and am able to give my gifts in more open and relaxed way.  It was when I made this decision to play a bigger game that my symptoms started shifting in a profound way.  That is the beauty of symptoms; they are always the message that something needs to change and that there is an opportunity for us to expand in some way.  I see so many women in this valley struggling like I was and I know that there is another way.  This coaching program is all about helping women create lives in which they are doing what they are truly passionate about, making the money they desire, and feeling more incredible in their bodies than ever before.  It is all about freedom… physically, financially, and in all areas of life.
How has that shift played out for you in your life since doing this work yourself?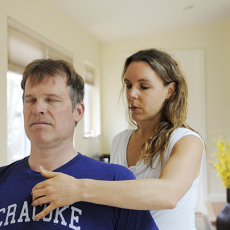 To me, Ultimate Alignment means being in a body that is free and flexible that I feel incredible in, feeling supported in life, having extraordinary relationships, doing what I am MOST passionate about, and making as much money as I desire. I am so grateful to say that this is all happening for me!  I have so much more energy to do the things I love in life. I wake up so excited to be a part of this amazing life that I have created.  I have made a commitment to live an extraordinary life.  So many people settle for ordinary and stay comfortable. This creates pain, tension, and symptoms.  For me, the juice is in the uncertainty and expansion – having a dream and settling for nothing less than the ultimate expression of it.  Because why not?  Extraordinary is so much more fun.
What does it look like for you to assist women in finding the answers to these questions?  What does a session look like?
We start with a personalized welcome packet in which woman get clear on their desires as well as begin to shift their mindset.  80% of success is mindset, 20% is structures.  We do weekly, laser-focused sessions in which women get clear on what truly lights them up and how they can create lives based around this.  The coaching program is a container in which women are immersed in wealth consciousness, conscious language and is a space where the dreams they may have forgotten can be nurtured and brought to life.  There are modules in between sessions for women to go deeper into the exploration of themselves so they can live their most fully expressed lives.  Being under Network Care greatly supports women in this process, as NSA and SRI help shift the posture from defense, or survival mode, into ease.  It is then that the higher centers of the brain are accessed so we can think different thoughts, see ourselves and life in a whole new way, and make different choices that are more aligned with who we are. When our posture is out of alignment, our lives are out of alignment.
Have you had any mentors or teachers who helped you develop this new offering?
I have had several chiropractors, coaches and mentors.  I have learned so much from all of these people and feel so grateful to have been supported in the way that I have. I have taken pieces from all of what I have learned and experienced to create this program for women.  I have not seen anything else like it out there.  Helping women see how their pain is simply the body's wisdom calling them to something more has been such a gift.  It is all about waking up to a new level of passion, abundance (which really means how much you have to give, not how much you have) and freedom.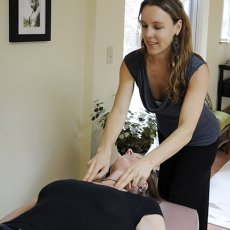 Erin, you have been a practitioner in this community for 14 years now.  What is it like for you to be at a point in your career where you are collaborating with so many other talented professionals in the community?
It is so much fun to be a part of this dynamic community full of extraordinary healers.  It is so exciting when I have a patient who is also seeing another health care practitioner.  There is no one practitioner that is for everyone and it usually takes many different modalities and people to help one person.  I love dreaming up different retreats and workshops to do with other practitioners in the community as well.  It is so much more energizing to work with others in support of the community.  I have been co-leading a workshop called The Wave of Feminine Beauty for a few years now, with Karin Pedersen, my tantric dance teacher and dear friend.  These workshops are a powerful combination of Network Spinal Analysis, SomatoRespiratory Integration and tantric dance.  The intention is to support women to connect with a place within themselves that they have never seen before, opening up to their unique flavor and expression of the divine feminine, and bring this with them back out into their lives so that they can create what they desire with more ease, passion and power.  It is from this place that we have the most fun creating from.  So many successful women create like men and forget their feminine core.  If every woman did this work, the world would be a very different place!
Do you have any other workshops or classes coming up?
Yes!  I am giving a free talk at Hidden Springs Wellness Center on Wednesday, April, 22nd at 6:30pm, called The 5 Gifts of the Spine: Intro to NSA. This is a great way to learn more about the work that I do with patients in the office. We also have two Wave of Feminine Beauty Workshops coming up: We will be in Santa Cruz, CA on April 11th and 12th, and here in Ashland on May 8th and 9th.
What should readers do to learn more and sign up?
To sign up, or for more information, please call me at 541-701-9174.  You can also go to my website, www.soulwavechiropractic.com to learn more about all that I am up to right now!
What do your clients have to say about the work you do?
"I am so grateful that I found Dr. Erin.  I made my first appointment to heal pain in my shoulders and neck from a car accident.  I didn't understand at all the work that she does and I had no idea what was in store for me.  I was in a place in my life where I was very disconnected from my body; I was drinking and smoking frequently, eating fried foods and not taking care of my body at all.  I was very depressed and dealing with high anxiety every day.  I was very stuck in my head and thinking angry and fearful thoughts that were ruling my life. I felt completely stuck and hopeless, was uncomfortable in my body and self-love was something I had forgotten.

I have been seeing Dr. Erin for over a year now and my life has changed in more ways than I could ever imagine. I don't drink or smoke at all anymore.  I have easily transitioned into healthy eating habits and the anxiety that used to be with me all of the time is almost completely gone. I feel incredible in my body now and actually love myself on a deep level.  My relationship with money has changed greatly. I used to have a constant underlying anxiety about money and a feeling of unworthiness. Through working with Dr. Erin I have released most of my tension and fear around money and as a result have been making more of it!

I have witnessed my whole life change around me and walk with so much grace and ease.  Every week I am feeling more and more free!  Thank you, Dr. Erin!

-Greta Gardiner, Ashland, OR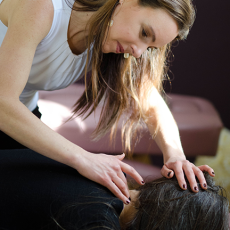 Is there anything else you'd like readers to know Erin?
Yes. This month, April, is New Patient Appreciation Month. Spring into action!  If you are wanting and willing to finally make the change you have been waiting for, I am here to help make that happen. For the entire month of April, come in for the first 2 visits for only $69, saving you over $100!  Why so Cheap?  Because I am on a mission to live in a community where everyone is blossoming and able to express their fragrance of life in abundance. For this to happen, we all need to work together.  This is a great way to learn about how this revolutionary work can help you be more aligned physically and in all areas of life.  I am also offering free half hour Discovery Sessions for those of you who are interested in finding out more about the Ultimate Alignment coaching program.  Spaces are limited so call today to sign up! 541-701-9174.
Learn More:
Soulwave Chiropractic Studio
721 Faith Ave., Ashland
www.soulwavechiropractic.com
541-701-9174