The 2nd annual Southern Oregon Grape Fair is right around the corner and we've got all the details you'll need for a fabulous day celebrating our region's rich history and future in wine, agriculture, art, and local food.  This fun event kicks off on Saturday, May 30th with Bike Chata, and continues throughout the day with live music, delicious food, unique art, outstanding local spirits, beer and of course wine. We caught up with Talent Chamber of Commerce President Gretchen Hartrick to learn more about this much-anticipated event benefiting the Talent Chamber of Commerce.  So mark your calendars and read on about the Southern Oregon Grape Fair.
Wow Gretchen!  The 2nd annual Southern Oregon Grape Fair is nearly here!  How's it going as you prepare for this great community event?
We have an engaged team of professionals on the Talent Chamber Board and an excellent team of volunteers.  What a great excuse to meet and work with local leaders in the wine, art and food industry. We laugh a lot, drink delicious wine and sample amazing food! It's a lot of work that also happens to be fun, enriching and educational.
The whole idea is to help support local wineries in expanding sales and helping our local economy.  Talk to us about this specific goal.
The Southern Oregon Grape Fair will be fun and uniquely experiential for our participants and guests.  New to this year's fair is "Will Call."  To make buying easy and fun, guests can purchase wine throughout the day and allow our volunteers to store their purchases in a will call area, freeing patrons up to enjoy the day without hauling around their treasures.  At departure our guests can easily pull their cars up to will call, and by presenting their claim ticket, a volunteer will load up the day's treasures.  Will call is a specialty service touch that we are very excited about.
You've got some really fun events planned throughout the day.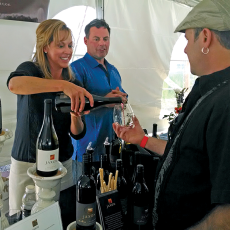 This year's SOGF kicks off with Bike Chata (bikechata.com). The 2nd year, 20-mile ride/race, organized by the Rogue Valley Race Group, winds through the beautiful rolling vineyards surrounding Talent. There is a 4-mile family bike ride, as well as a Bike Rodeo hosted by RVTD. Bike Chata honors the former Talent Chata restaurant owner, bicycle enthusiast and community builder Jozef Wayryniec Slowikowski.

SOGF is a walking fair of wine, food, art and entertainment: wine tasting from the region's best wine producers; delicious food from our area's most talented purveyors; live music from some of the valley's most loved entertainers. There will be wine and experiences unique to this event such as a People's Choice and juried wine competition.  Several winemakers will be on site so guests can get to know exactly who crafts their favorites.
You've assembled quite a team of partners and sponsors for this day.  Tell us about some of these key collaborators.
The Talent Chamber Board of Directors is an energetic, brilliant team of professionals that believe in and invest in our community, through the Chamber and in so many other ways.  Moving us forward are organizations including EdenVale Winery, Ashland Wine Cellar, Travel Southern Oregon, Rogue Valley Race Group and Ray's Market.

Bobby Townsend is our Steering Committee Chair.  His amazing creativity and passion for a thriving community is what is pushing this event to the next level. With help from the City of Talent we will be shutting down all of Market Street to create a street fair setting that holds the promise of a tradition of Talent.

There are many more individuals who are investing their time, energy and funds to create not just an event but an experience that will result in growth and opportunity here in Talent and in our region.
Talent is a small community with a very large presence in the rapidly growing Southern Oregon wine industry.  Tell us more about the significance of this for Talent.
Talent has a rich history in grapes. The Talent Historical Society has found early records showing Wilburn Beeson planting 3000 vines here in Talent in 1865. This small town now has at least 8 vineyards and 5 tasting rooms.

We are all committed to growing Talent and our region as a destination and encouraging cooperative outreach marketing, education and public relations by showcasing our regions wine, art and cuisine, and continuing the legacy of these gems of our valley. We have been blessed with the opportunity for economic growth and development beyond what this valley has ever seen.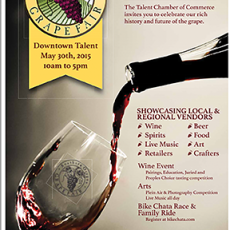 The wine tent is sure to be a fantastic experience.
There will be a program guide with winery bios and maps; wine lists and descriptions as well as a pairing guide and tasting notes. With beverage (wine, beer and spirit) vendors and artisan food vendors offering pairings, it is sure to be a full tasting experience.
How can readers get involved?
Volunteers are needed for the day of the event and even for some planning in these final days.  There will be a Volunteer Dinner at EdenVale Winery featuring wine tasting and education for the volunteers.  To volunteer or donate please email  info@southernoregongrapefair.com

The event will be right in front of Ray's Market on Market Street in downtown Talent. Bring your friends and join us on May 30th.
There is a very unique art competition happening as well.  Tell us about this.
The Talent Public Arts Committee is hosting a Plein Air Art & Photography Competition where artists pick up a clean canvas Saturday morning and return that afternoon with a completed work of vineyard inspired art, matted and framed for competition at the Fair. The Plein Air was a big success last year and the artwork was beautiful.  The talent it takes to be able to paint and prepare a piece that quickly is extraordinary.
Talent is really living up to its name!
We have an abundance of world class artists here. Which leads to the question:  Did they move here for the name?   Personally I think they moved here for the wine.  Come to Talent, and decide for yourself.
Anything else you'd like to tell readers about the Southern Oregon Grape Fair?
We are working with several sponsors that will be announced very soon.  The Talent Chamber of Commerce would like to thank all of our partners and sponsors so far:
EdenVale Winery

Butler Ford

Ashland Wine Cellar

Avista

Infostructure

Umpqua Bank

Adroit

Ray's Market