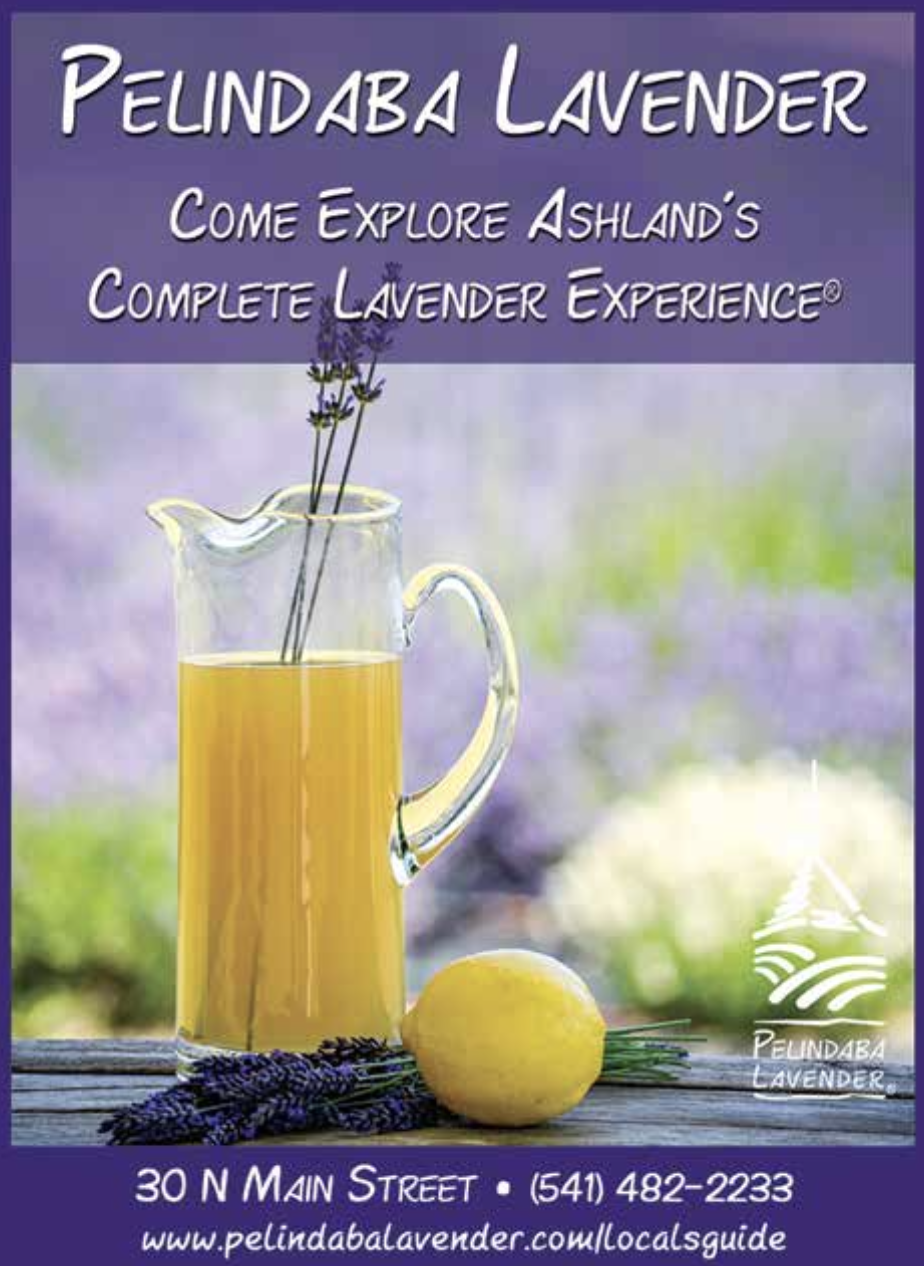 The sun is high, the lavender is in full, glorious bloom and the fragrant flower heads dance in the breeze while busy honeybees make their endless rounds from flower to flower. Summer is ripe at the Pelindaba Lavender Farm on San Juan Island, WA and here in Ashland. While certain snacks are synonymous with summer, I've gathered my favorite summertime lavender treats guaranteed to be a hit at cookouts, rafting on the river, or hiking the trails. Let's face it, I think they are a winner no matter where or when you serve them.
We start with a local favorite – our Lavender Gelato. Locally handcrafted, small batch Lavender Vanilla and Lavender Coconut Honey (dairy-free) Gelato are made with Pelindaba Lavender organic culinary lavender. This is one sweet treat you can only find at the Ashland product gallery so come in today and enjoy some while walking the Plaza or at the end of a picnic in Lithia Park.  
Let's wash that down with a cold glass of Lavender Iced Tea. While any of our organic lavender tea blends brew beautifully hot or cold, my favorite for iced tea is our Organic Lavender Rooibos Tea. It's an herbal blend of our organic lavender and organic Rooibos. Rooibos is a naturally sweet, low in tannins, high antioxidant herbal tea from South Africa. Refreshing – and with a hint of lemon and lavender – it's a perfect summer treat.
For a lavender spin on the classic "Arnold Palmer," I mix equal parts Lavender Rooibos Iced Tea and our Lavender Lemonade. Our famous Lavender Lemonade comes in a handy pack that includes everything you need to make 8 cups of this refreshing summer drink. We like to call it a "Lavender Palmer!" Our Lavender Lemonade is best when served chilled on the rocks and can also be used to make a delicious Lavender Mimosa. It's a wonderful hostess gift too!   
One of the best parts of summer is the classic cookout. Every time you are with friends and family, there seems to be a cookout happening. I've got a new recipe idea to inspire you on a tasty snack to bring to the next one. My mom's Sugared Lavender Almond recipe is easy to make and these crunchy bites are as addictive as they are delicious! 
Sugared Lavender Almonds
Ingredients:
1 pound raw almonds (approximately 3 1/2 cups)
2 tablespoons Pelindaba Organic Culinary Lavender
1 tablespoon granulated sugar
2 tablespoons olive oil
Finely grind lavender and sugar together with a mortar and pestle or a spice mill. If a food processor or blender is what you have at hand, either will also do the job.
Preheat the oven to 300. Place raw almonds on a rimmed baking sheet. Slowly roast the almonds, stirring once, until lightly browned. This takes about 15 minutes. Let the toasted almonds cool until just warm and transfer them to a large bowl. 
Drizzle with oil and mix to coat. Sprinkle the lavender and sugar over the almonds and mix until thoroughly distributed. I suggest covering them and allowing the oils and flavors to infuse for 24 hours as I think the flavor improves over time.
If cooking with lavender is new to you, in our Ashland product gallery at 30 N. Main Street we offer lots of useful tips, sweet and savory lavender recipes, along with a cookbook containing many favorite lavender recipes from the Pelindaba Farm kitchen and beyond; we are open daily 11am-5pm or online at pelindabalavender.com/ashland.
Keep your sunscreen and these lavender treats handy this summer!