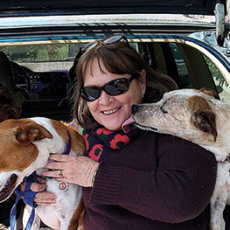 The first thing Susan McGlynn noticed when she moved to Ashland from Oaxaca, Mexico a year and a half ago was how much Ashlanders love dogs.  After 20 years of living in a country with very little in the way of advocacy for the well being of pets, Susan has found her passion and her mission in her professional pet care business, DOG.
You may have seen her walking a happy pack of four-legged friends around town or unloading her Volvo "dog-wagon" full of playful pups at the dog park.  If you've caught a glimpse, you know how passionate she is about animals.  She falls in love with every animal she comes into contact with and provides customers with affordable rates, high-quality professional services and compassionate care for furry friends of all kinds.  As a bonded, licensed and insured pet care business, Susan McGlynn's DOG is your best bet for supportive care for your pet.
Susan thanks so much for talking with us today.  How did you originally find your passion for animals?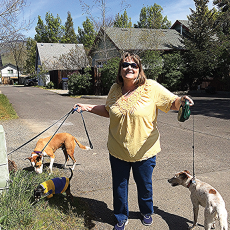 My passion for animals probably started with my first Chihuahua, Ernesto. He was an exceptionally sweet and smart dog.  After having him for about 2 years I started noticing that I saw his face in the faces of all other dogs. This made me realize that I had to do whatever I could to make sure other dogs were not suffering. 22 years ago when I moved to Oaxaca, there were no laws regarding pets. Most of the locals don't consider them family members the way we do here and there were many stray dogs on the streets always, in all states of illness and need.

I was a tour guide in Oaxaca and would take tourists to the archaeological ruins in different villages every week. There were always dogs there, the dogs the guys who work there take care of, and strays that found someone to feed them and protect them.  The dogs would start to feel like the "mascots" of those ruins. The dogs and I got very close and I would bring food and treats for them when I had a tour. They learned my guiding routine and would go from room to room in the ruins ahead of me and wait in the shade until I finished. I then started a project of spaying and neutering all the dogs that lived at the ruins and with the help of local vets generously GIVING their time and expertise (I paid for the meds).  We systematically spayed and neutered (and unfortunately had to euthanize a couple along the way that were too sick to save) all the dogs at the ruins in the Oaxaca valley. This was the start of me getting serious about spaying/neutering and saving as many dogs as possible and finding homes for them.
Your efforts in Oaxaca have actually made a difference.  Tell us more about that.
Unbeknownst to all of us, there were many people in Oaxaca doing the same thing, taking food to stray mamas with pups, trying to find homes for them, paying all the bills ourselves, mostly foreigners living there, but also many local people who had the understanding of pets. When Facebook became popular in Oaxaca, we realized how many of us were working on our own toward the same goal, so we combined our efforts and actually made a few changes happen.
There are now laws that prohibit keeping a dog on the roof of a house, and also, you cannot keep them on a chain or leash tied up that is less than 3 feet long. I know these may seem like barbaric circumstances to us, but these are big advancements for animals in Mexico. There is much more awareness now, due to social media, and children are being exposed at a younger age to the concept of "pets" being family members and living inside the house.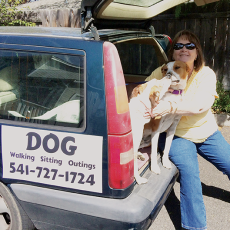 My own dog, Vince, a rescued Chihuahua from Oaxaca who came here with me to Ashland, is my only pet. He is so grateful to be here where everyone loves him and he doesn't get kicked on the street like he did when he lived in Mexico. It's a miracle he survived, although he does have health problems, such as gum disease, because he never ate a "crunchy" or kibble until I adopted him. Many rescued animals have health problems from having a hard time on the street and not getting proper nutrition.
What kind of services do you offer to clients?
I know a lot of businesses say they offer "personalized" service, but I truly do. Basically, whatever a client needs for their pet, I offer. I do dog walking by the hour, but your best bet is my 2-hour outing, which is the most economical. I usually have 3-6 dogs for these outings and we go anywhere from walking the Bear Creek Greenway, the Ashland dog park, the trails in Talent along the creek, the reservoir above Ashland, the Railroad District and just about everywhere! It really depends on the dogs I have that day too, sometimes they need to run free at the dog park for 1/2 hour before they can settle down and walk for a while.
I find the most common dilemma for most people is they go to work all day and their dog is home alone. It's great when people realize that their pet needs to be with other dogs and enjoying sunshine and fresh air and exercise during the day. A lot of people work up to 12 hrs. at a time and no dog can stand being home alone that long!!! I pick up and drop off your pet. Please see my website for a complete list of services and prices ashlandoregonpets.com
I also pet sit in client's homes for dogs and cats (& other little critters too, I don't do horses though!).  I LOVE cats too! I can't have a cat now since I have a dog business, so I love pet sitting cats. I can go to your house once, twice or even 3 times a day to care for your pets; it just depends on you and your pet's needs. Please call me about pet sitting because everyone has a different arrangement and we can talk about yours. I will even take your pet to the vet or to be groomed, if that's what you need! Just ask!
I understand you even offer Big Dog and Little Dog days.  Tell us about these special offerings.
Mostly on Mondays, Wednesday, and Fridays I have big dogs and on Tuesday and Thursdays I have littles. But this has some cross over too. Sometimes I'm pet sitting a small dog and if they are OK with big dogs, they will go with us too. I find this fleibility teaches everybody to get along with all sizes! But there are little dogs who do not enjoy the company of big dogs, perhaps they've been traumatized; we often don't know what happened to them before they came into our lives so we don't know why, but those guys deserve some time with just other little dogs to socialize with, without the pressure and stress a huge dog can cause them.
You even have the special ability to take care of sick and aging dogs.  That must take very special qualities, Susan.
With all of my experience rescuing sick and dying dogs and nursing them back to health to be adopted, I have seen it all, including things that I would prefer to forget! I have no qualms about putting pills down dogs' and cats' throats, or putting salves in their eyes or any other special care that they may require. Also, I have had to reach my hand down dogs' throats and pull out something they were choking on, so one cannot be afraid or squeamish to do these things. I sometimes have to charge a little extra for animals that have a lot of special needs, but you'd be hard pressed to find anyone else in Ashland to do it!
You love animals so much that you have yet to turn someone down.
Well, it's true.  I mean, how can I take a day off if you need me to pet sit for two weeks??? Or if I say, "I don't work Mondays," how would that work? I can sit your dog on  Friday and Saturday but on Sunday he's on his own??? It's not like I never have a day off, but they happen by accident. I also do EVENING pet sitting for tourists and play goers, or anyone who wants an evening away and doesn't want to leave their dog alone.
Tell us a little bit about your typical client.
The beauty is that there is no "typical" client.  As I mentioned, most people work all day and realize their pet needs stimulation, but I have students as clients as well! I have elderly and retired clients, who just can't keep up with their dogs, or moms who have so many activities with their kids and school that they need some help with the dog.  Sometimes people have to have a surgery or they break their leg and are temporarily disabled and can't walk their dog as usual. By the way, I offer a DISCOUNT for people who are disabled or hurt and need pet sitting or walking.
What about dogs that don't do well with other dogs? Can you accommodate these cases?
Of course, as I said, we don't know what has happened to these guys to make them afraid or aggressive toward other dogs, but that is not their nature. Dogs love being in a pack that is led by a strong leader, both a strong human leader and a strong dog pack leader.  I can take your dog alone, but that won't help overcome the problem.  Gentle exposure to other dogs, which I know are balanced and are a good role model, over a period of time, is the best way to conquer this phobia in dogs. Every single dog is different and each one learns in a different way and on a different timetable, just like kids. The trick is patience and knowing the dog and his/her limits and fears.
You must have some amazing dog stories.  How about sharing a good one with our readers?
I was driving on the highway that skirts Oaxaca, Mexico, on my way to town when I saw a tiny puppy walking along side of the highway! I thought, "Oh no!!! That puppy will be a dead heap when I drive by here tomorrow!" So I pulled over to the right and got out. The pup saw me and started to head out across the two lanes of traffic toward me!!!! Oh my God! Please! No!!! Just then a huge tractor/trailer truck drove right over her. I was screaming and crying and blaming myself for this pup's demise when she popped up from under the truck as it passed! UNHURT!!
She was quite shaken and tumbled around, but she wasn't hurt! She was really dirty and full of ticks and fleas and nobody knows where she came from. I bundled her up in a blanket and took her home and then to the vet. We named her "Milagros" which means MIRACLES in Spanish. We found a good home for her with kids after getting her healthy and spaying her, and she grew up to be a large dog with a super sweet temperament and a bright future!
Have you ever met a dog you didn't like Susan?
I know people don't like to hear this, but all dog professionals say the same thing, "There are no bad dogs, just uneducated owners."  If a dog has not been trained and does not know how to walk on a leash at all (we can work out "pulling" problems), then we might have a problem. If a dog does not obey simple commands like coming to his/her name, or NO, then it's also difficult to have them in a group.  Your dog needs to know the basics of dog behavior before they can come into a group.  Puppies are always welcome, I will reinforce your training, corrections are given constantly, but I cannot take the time with one dog to train them because it's not fair to all the others.
Unneutered males can sometimes pose a problem in a group situation, but I do not turn down unneutered males per se. I have to know the dog, and it depends on the dog's size and socialization and breed. I would have to say that I have never met a dog I didn't like. I love them all! They are all so unique and bring a different energy and personality to the group. To me, happiness is a warm, sleepy puppy. I love having all these different breeds to get to know, it keeps me from having to have all these dogs myself. Since I have two grandchildren, I sometimes feel like Grandma with the dogs I sit for and take care of, only not the permissive Grandma that gives too many treats and allows naughty behavior. I also have never met a dog that didn't love me!!! Sorry for bragging!
As a pet care professional, you must observe some pretty frustrating behaviors.  What do you wish dog owners in the Rogue Valley would do to better care for their pets?
I'd have to say that over-feeding of pets is a serious issue and one that just doesn't have to happen!!! I wish someone else were controlling my calorie intake daily!!  There are subtle and painless ways to slim down your dog so you can still give that occasional treat; more exercise is one good way.

Another is being a good "alpha" leader yourself for your dog. Don't let your dog run your household or tell you what to do and when. I feel this gives the dog the idea that he is in charge and that is dangerous. Tough love is best for dogs; they need a strong hand to tell them what is right and wrong. Your dog desperately needs to be trained well as soon as you get him/her. If you get an older dog, you can still change behaviors, the old saying, "Can't teach an old dog new tricks," is NOT TRUE!!!! You can!

Your dog obeying your commands can save his life, so please, make sure your dog is a good citizen and knows how to come, sit and STAY! It's very important.
Do you have a favorite pet from your own past?
I would have to say that my first dog, Ernesto, my first Chihuahua, who taught me to love all dogs, is still my favorite and a very hard act to follow! Maybe it's just that our first love is hard to forget and is the best!
You have some very satisfied customers Susan.  What are people saying about DOG?
Had a wonderful experience with Susan. She came and picked up Timon from our hotel and dropped her off promptly. Very friendly and warm. She was great with my dog. We came from out of town and needed a reliable pet sitter while we went to the Shakespeare Festival. Susan made our plans less stressful. The other dog sitter I called said she would put my dog in a 5 x 7 cage– like the pound. I was relieved to hear that Susan kept my dog in her home. I highly recommend DOG. – Isabel B., Redwood City, CA
Our Red Heeler Geena loves to be with Susan when we're in Ashland. We've known her for years and she loves dogs. Geena gets exercise and socializes with other dogs. The dogs all like Susan. While there, they frequently sleep on the floor while she cooks just to be near her. You can trust your precious pet with Susan.  – Kat R., San Diego, CA
Since we found Susan at Dog over a year ago, our dog Riley lives a dream life.  Anytime we go out of town, are too busy to walk him or are out for a long day, Susan drops by and swoops him up. He loves going with Susan, it's like going to grandmas.  When she shows up he goes gaga and races to her car to see who he gets to play with.  I have had animals my whole life including sled dogs, but I have never met anyone who understands and knows dogs like Susan.  – Beka Chandler, Ashland, OR
Anything else you'd like to share with our readers?
One of my favorite Mexican folktales says that dogs guard the gates to heaven. I always say I HOPE IT'S TRUE, because if it is, I am sooooooo in!!!!

I'd like to leave everyone with my favorite saying, DOG BLESS AMERICA!!!!
How can readers get in touch with DOG?
DOG – Walking, Sitting, Outings
541-727-1724
dogs4susan@yahoo.com