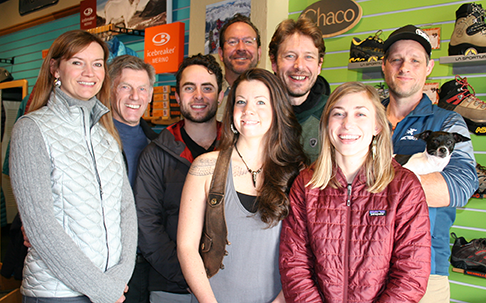 Do you know whether it's safe to swim in your favorite swimming holes in the Rogue Basin? Rogue Riverkeeper can help you find out! 
Rogue Riverkeeper's water quality monitoring program is in the midst of testing local waters so you know where it is safe to swim, raft and recreate in the Rogue Basin. Local waterways are tested for temperature, sediment and harmful bacteria like E. coli. Thanks to many incredible Rogue Riverkeeper volunteers, several sites around the basin will be tested weekly so that you can see and use the results to make smart choices about staying safe in the water this summer.
"If you are out swimming and recreating in our beautiful Rogue basin, it's good to keep in mind that not all streams and water bodies are safe for water contact. Checking Swim Guide before you go can help keep you and your family safe," says Frances Oyung, Program Coordinator for Rogue Riverkeeper.
Find current sampling results for popular swimming and boating sites in our region and throughout North America on the Rogue Riverkeeper website and through the Waterkeeper Swim Guide (www.theswimguide.org). There is also a free Swim Guide smartphone app so you can check for safe water wherever you go.
Rogue Riverkeeper volunteers will be collecting samples weekly or biweekly from June through October at the following locations:
Emigrant Lake 

Bear Creek (at North Mountain Park, Ashland)

Wagner Creek (at W. Valley View Rd., Talent)

Baby Bear Creek (at Bear Creek Park, Medford)

Little Butte Creek (at Harnish Wayside, Eagle Point) 

Lost Creek Lake (at the swimming area) 

Rogue River (at Gold Hill)

Evans Creek (at Palmerton Wayside, Rogue River) 

Rogue River (Riverside Park, Grants Pass) 

Rogue River (at Grave Cr. Boat ramp near Galice) 

Grave Creek (at the mouth)

Illinois River (at Six Mile Day Use Area)

Applegate River (at Cantrall Buckley Park)

Applegate Lake (at Hart-tish Park)
In addition Rogue Riverkeeper is working with partners to collect their sampling data and pass the results along to you. Swim Guide has information from the City of Ashland along Ashland Creek as it flows through Lithia Park and the Lower Rogue River Watershed Council as they sample at three locations on the Rogue from Agness to the estuary. You can also use Swim Guide to report pollution or other water quality concerns.
In addition to answering questions about water contact safety during the summer, our data is provided to state and federal agencies and used to guide decisions that affect our watershed. Already this summer, there have been some hot spots showing up where water does not meet state water contact standards, so check Swim Guide to see if your favorite swimming hole is safe.
Check out the Swim Guide and have a clean, safe water summer!