Interviews
Tasa Painter – Glow – Skin Rejuvenation & Laser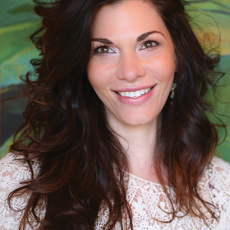 Walk into Glow, and you will see beauty in every detail.  Walk out, and you will feel nurtured and fabulous.  Tasa Painter's passion lies in encouraging her clients to make the most of their own individuality and natural beauty. As an aesthetician and owner of Glow, her skin care studio is now in its 4th year of business in Ashland and growing in new directions.  A seeker of beauty in every sense of the word, Tasa knows that there is a distinct difference between the outer beauty that we strive for and the inner beauty that exists in every single one of us.  As a wife and mother, in her garden, in her appreciation for art and world culture, and as an artist herself, Tasa brings out the beauty she sees in the world around her.
In her pursuit of constant learning and growth, Tasa increased her credentials by becoming a medical aesthetician last January.  This has led to an exciting announcement that Glow is expanding its offerings to include medical aesthetic treatments.  Dr. Margo Herron, a plastic and reconstructive surgeon here in Ashland, is pleased to oversee Tasa's new services.  Continuing to utilize only the highest-quality, natural product lines and latest technology, Tasa is proud to bring joy to her clients by making them feel and look their absolute best.  I had the opportunity to speak with Tasa recently to learn more about her thriving practice and the secret of her great success helping her clients look and feel amazing.
Thanks for talking with us today, Tasa.  Tell us a little bit more about Glow.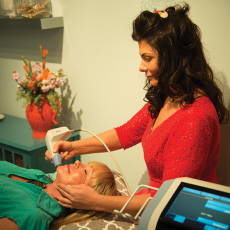 Glow is about you.  We provide a beautiful space to find your own peaceful center from which the healthiest you emanates. Our goal is to maintain and cultivate the health and appearance of your skin from the inside out.  We believe skin care is a craft, and in practicing it we continually learn and grow in order to pass our knowledge and skill onto you, our client, for your greatest benefit.

We've chosen our products for their efficacy, sensory experience, and quality ingredients.  Our products are derived from only plant or mineral-based, chirally-correct formulas to stimulate healthy cell formation deep in the skin, creating a beautiful, renewed complexion.  At Glow, we combine holistic traditional skincare techniques with up-to-date knowledge of technology and product ingredients.  Our personal consultations and care encourage healthy, youthful, glowing skin.
You believe strongly in the self-esteem building, human touch and artistry of your work.  Tell us more. 
In my youth, I struggled with self-esteem issues.  As I've made my way to acceptance and unconditional love for myself, there's a freedom I feel from letting go of self-sabotage.  This has allowed me to share with others the joy of loving oneself.  I'm so thankful I have created and manifested a profession that is not only enjoyable and grounding, but holds the greatest wealth in caring for others, giving of my time and knowledge, and promoting health.  Continuing to add to the artistry of the experience is the fun part.  I use sound, aromatherapy, hot rocks, cool stones, massage techniques, and new and exciting modalities that offer noticeable results.  I love what I do and approach it each day with passion and enthusiasm to make a difference in my clients' lives.  Whether it is through a conversation or helping with a skincare issue, I find my connection to people immensely rewarding and inspiring.  Over the years many of my clients have become like family.  I know what they care about, where they work and travel, their special stories, and what is changing within their lives.  I love my clients, and I love Glow.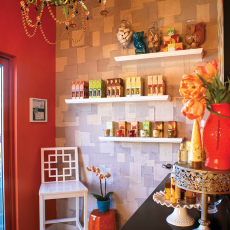 Tell us about Dr. Margo Herron and your decision to move Glow into the Elizabeth Institute.
After meeting Margo, it became apparent that I had a lot to learn about plastic surgery and what it truly is.  The common thought is that plastic surgery is all about vanity, when in actuality, it encompasses much more. The Elizabeth Institute removed over 300 skin cancers alone last year.  Dr. Herron and her husband Eric founded the Elizabeth Institute in honor of her late mother, with the intention of creating a unique and meaningful approach to this field. Very few plastic surgeons are women, and thus Dr. Herron brings a special level of compassion and empathy to her work.

Dr. Herron specializes in breast surgery with a focus on reconstruction, as well as aesthetic plastic surgery.  In her words, "It is my desire to help people feel whole again through offering cosmetic and reconstructive procedures that enhances the way they feel about themselves and improves their quality of life." Like me, Margo finds her work very rewarding when she helps people feel good about themselves. Dr. Herron will serve as Glow's medical director, which allows us to provide comprehensive and effective medical aesthetic treatments. We will focus on our specialties while complementing each other.  I will continue to have a separate store within her building with a separate entrance.  This ensures the intimate experience I have always offered.  One-on-one time for every client is still the focus.

I'm excited to join her, because she's a really special person and our values align. 
What services will you provide at your new location?
With the addition of my two new services, laser and radiofrequency, I will continue to offer all of my current treatments: facials, peels, microdermabrasion, waxing, microcurrent, LED light therapy, and much more.  Facials have always been our number one requested service, as we have placed high regard for providing a heavenly experience; it's not just for the face, but the whole mind-body experience.  All skin treatments have the result of refining, brightening, and enhancing the quality of your skin, while each offers a different approach. Peels stimulate the skin to promote new cell growth, heal acne, diminish sun damage and decrease pore size.  Microdermabrasion is a progressive treatment for resurfacing your skin.  Microcurrent uses electrical current to tone and lift the muscles of the face and neck.  LED light therapy uses different colored wave-lengths to heal specific skin problems.  We will always bring you cutting edge technology and the highest quality natural skincare products available.
Tell us about laser.  I understand you've experienced excellent results yourself.
I began having laser treatments twenty years ago on my legs for small spider veins.  I was impressed with the instant gratification and the pleasure I got from my results.  Over the years, I've continued my love and appreciation for laser.  Every two years, I have had my face and chest treated for vascular redness (from all those years of too much sun without protection).  This has given me the gift of not needing make-up, which is my preference.  There is also a lot of science behind the benefits of the particular laser machine I have purchased—the Sciton Forever Young Broadband Light (BBL).  Stanford research has shown that this particular form of laser rejuvenates skin at the genetic level. They've found that people who had BBL years previously had not only better looking skin at the time, but that the quality of their skin was noticeably younger even ten years later.  Laser is fast becoming one of the most popular cosmetic procedures for people of all ages and genders.  A wide variety of conditions can be treated with BBL therapy, including fine lines and wrinkles, acne, blood vessels (spider veins), rosacea, unwanted hair, uneven skin tone, texture and age spots.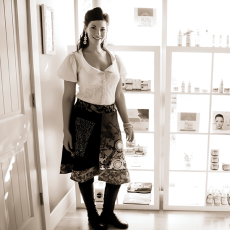 Is laser treatment painful?
The level of discomfort depends on each client's tolerance and the area being treated.  Some people describe the feelings during a laser procedure as a stinging sensation, or the feeling of a rubber band snapped across the skin.  The quality of the equipment is also crucial to outcome and comfort.  At Glow, we will provide our clients with aftercare and a serum to help calm and quickly heal the skin.  For me the results way overcompensate for any uncomfortable sensation.
You believe this kind of treatment can be life changing.  Give us some examples of how this is true.
We are all our own worst critics, and how we view ourselves affects us.  For example, I can help a man or woman with rosacea that constantly faces the world with redness; that person will now walk around without the weight of that self-consciousness.  For the woman who no longer wears dresses because she doesn't like the spider veins on her legs, or will not wear sleeveless blouses because of brown spots, we are able to change this and in turn, raise her self-esteem.  We can also help the woman with unwanted facial hair who may have to shave every day, or for a man with back hair that keeps him from taking his shirt off on a hot day.  These are treatments we provide to change how they feel in their everyday lives.
What is radiofrequency?
I chose to add Exilis Elite radiofrequency treatments six months ago.  Last year, it won best skin tightening device of 2013, and is fast-gaining recognition as the most powerful aesthetic treatment system available for skin tightening and body contouring.  Exilis can be used anywhere on the face and body, including around the eyes, jaw line, jowls, mouth, neck, arms, chest, abdomen, thighs, hips, and love handles.  It is redefining nonsurgical alternatives.  Exilis is not a laser; there is no skin peeling, pigment change, or prolonged healing, and little to no downtime.  Optimal results after four to six sessions give immediate and progressive results that last.  My clients continue to be impressed with their results and many have added additional areas, attesting to their high satisfaction.
What recommendations do you have for at home daily skincare?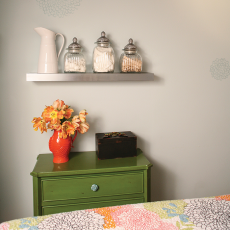 Hot towels used regularly can do wonders. 

Coconut oil is a wonderful, nourishing and inexpensive way to hydrate the body. 

If your hair is short or up, always remember to use sunscreen on the back of your neck and ears—a common site for skin cancer. 

Wash your face every night (you are collecting pollution, pesticides and dirt throughout the day). 

A smile is the most beautiful thing you can wear. 
Come see us for more simple tips you can use in your everyday life.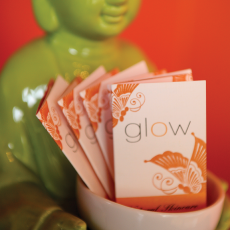 What's your best-kept secret?
I'm really down to earth.  Even though I enjoy playing with color, dressing up and makeup, the real me is confortable without any of this.  On a Saturday, you will find me the garden with no make-up and my hair tied up in a knot.  I honor my clients for who they are, not how they put themselves together.
Do you have anything else you'd like to share?
I want to reassure readers and clients that we will continue to provide high-quality, personal care even though we are growing.  If you haven't ever received an aesthetic treatment, please call and give yourself the pleasure of a great experience.  I look forward to working with you!
Learn more:
Glow
638 N. Main, Suite D, Ashland
541-488-5555