Interviews
TEN Realty Group It's About Where We Live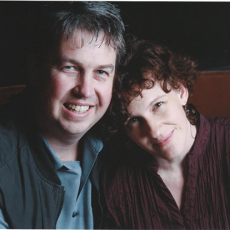 When it comes to buying or selling a house there are a lot of real estate companies out there to choose from. What makes TEN Realty Group stand out is their philosophy of giving back to the community and their use of cutting edge technology to be competitive. J. Adam Bogle and his wife Sophia make a fantastic team so we couldn't wait to sit down with them to learn more about this modern new approach to real estate and why their tag line means so much to them.
Let's start with that tag line. Tell us more about, "It's about where we live," and what it means to you both.
The longer version is "TEN Realty Group: It's not just about houses, it's about where we live." When we were thinking about starting a company on our own we realized the only way to be truly excited about it would be for it to be bigger than us. We wanted to create synergy!
Adam, you have been in the business for a number of years as the "Agent in a Kilt." Why did you decide to branch out and do something different?
Promoting myself as the Agent in a Kilt was certainly effective at helping me become the most recognized realtor in the universe, seriously…Google it. Now it is time to put the focus on my philosophy, because it's not about the kilt. It's not about me. It's about the clients I work for and the town that I live in. Sometimes I feel that gets lost in the whole "kilt" thing, so I wanted to create a new brand that better expressed the why, not the who.
Tell us more about eXp Realty.
eXp Realty is the brokerage company that handles the back end of the TEN Realty Group. Working with eXp leaves us free to focus on clients while they take care of the standard paperwork stuff that every agent needs to deal with. We chose eXp because they are a cloud-based company with a full time support staff to answer questions as well as providing an amazing amount of ongoing education. Because they don't have to support any brick and mortar corporate locations they can take a smaller percentage of the agent's commission. We are choosing to take that savings and reinvest it where we live.
So every month you are committed to giving back 10% to the community. That's amazing!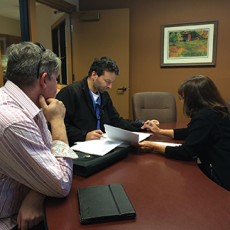 The concept of tithing just makes sense to us. We love where we live and the people who choose to live here too. Because real estate income is not a regular paycheck, we guarantee a minimum of $100 donation to our charities.
Sophia, you raised your daughter here in Ashland with a firm belief that volunteering in the community is of utmost importance. Tell us more about why this means so much to you both.
I remember telling our daughter one time, "Volunteering is just a normal part of what we do wherever we live." I wanted her to understand that it isn't a great burden and doesn't have to be some heroic effort. It is just part of living. Don't get burned out on it. Just do something. If everyone does a bit then everything works better! Between the three of us we have done CERT training, helped throw neighborhood block parties, started a neighborhood FB page, volunteered for AIFF and Britt as well as sending care packages to soldiers in Iraq and much more. Our daughter is in Eugene now. She just graduated from the U of O (top of her class!) and got a job right away. We are so proud of her.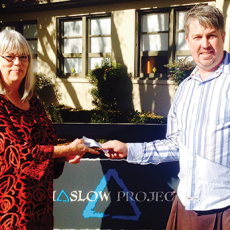 How do you choose the organizations that benefit from your ten percent donations?
When we first decided to do this we made a list of over 30 local charities. We quickly figured out that we had to create some parameters that would help us choose. We created three categories: The Arts, Basic Human Needs and Specialty Groups like the Humane Society. (We are avoiding political and religious organizations for obvious reasons.) They all need to be 501c3 and they must be local to the Rogue Valley. So while the Red Cross may help us locally we won't choose them because they are a national organization.

If you would like us to consider your organization, please contact us at tenrealtygroup@gmail.com. Over time we feel that some of the charities may become regular staples of our program. But we also want to leave flexibility in case something moves us, such as this last month when a friend of mine died suddenly of a heart attack. His family was asking that donations be made to the Rogue Riverkeeper because of his tremendous love of fly fishing. So we chose that organization for our next available slot, which happens to be 6 months from now. That felt like the right thing to do, both to honor him and to keep his memory alive for us.
Tell us about some of these important organizations and the work that they do.
Our first charity was The Jackson County Fuel Committee. They help people keep their houses warm and much more! Our November charity was The Maslow Project. They provide amazing support for local youth most of whom are homeless. Apparently Oregon has the highest percentage of homeless children in the nation so they have a lot of work to do. Our charity for December is the Ashland Independent Film Festival. This organization, in addition to producing the nationally acclaimed film festival, provides educational and cultural programs for more than 10,000 patrons annually. Our next three charities are the Ashland Schools Foundation, Southern Oregon Humane Society then the Ashland Emergency Food Bank. We are having such a great time getting to know the people involved in these charities and are awed at all they accomplish.
I understand that you have also created a referral incentive.
Yes, it is very straightforward. Every time you help us connect with a potential client we will give $10 to that month's charity! This is true whether the connection results in a sale or not. The best way is to tell your friend that is looking to buy or sell that you know an awesome Realtor and then email us at tenrealtygroup@gmail.com so that we can get the conversation started.

But TEN isn't just about getting referrals; we strive to give them as well. Our goal is to give 5 times the number of referrals for every referral we receive.
Adam, what are your specialties when it comes to buying and selling homes?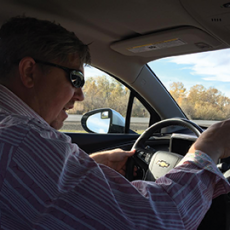 I specialize in all residential real estate, with both buyers and sellers. However, I kind of have an affinity for rural property sales. Well tests, septic inspections, and surveys are just a few of the added components necessary in a rural property sale, and not all Realtors® want to handle the added complexities or have the experience to do so. Plus it gets me out into the beautiful country that surrounds us. I also feel strongly about helping people looking for "GREEN" homes. Energy efficiency, solar power, upgraded insulation; air quality, small footprint, sustainable landscaping, etc… GREEN has a lot of aspects to it, and for clients who find ECO-friendly a quality they are looking for, I wanted to make sure I created a company that values and understands the terms and systems that can make either new or existing homes more friendly to the planet.
Sophia, tell us about your role in TEN Realty Group.
As Adam got busier as a Realtor it seemed a natural evolution that I would do what I could to help him. When he told me about his idea for TEN Realty Group I got really excited to be a part of it. I got the fancy title of Communications Coordinator. What this means is that I help keep in touch and make connections with both our charities and our clients. Because of the way Adam works, his clients pretty much become friends and family to us. This leaves Adam free to do all the research, house searching and negotiating that he is so good at. My husband has an analytical mind and is really great with numbers. In fact he created the system for statistics that you see printed in the Mail Tribune every month.
Help us understand the advantages of working with a smaller company rather than a larger corporation to buy or sell a home.
The internet has really leveled the playing field. Companies that embrace the internet to give their clients the best tools for searching for homes, researching comparative values and neighborhoods are going to be the companies that succeed. But the real key is the people and the relationships. When a person has a Realtor® that they trust, and know without a shadow of a doubt that their Realtor® has their best interests at heart, it doesn't matter what company they work for. Our decision to start TEN with eXp was to give our clients the tools of a large franchise real estate company, without having to pay the franchise fees.
Adam, tell us about some of your most successful sales.
That is hard for me to do because every happy client is a success. And sometimes having a happy client doesn't involve a sale at all. Some of the specifics of the individual sales are more challenging than others, but the key is to keep everything in perspective, even when the parties involved in the deal start feeling overwhelmed. Real estate is an emotional experience for most people, and sometimes those emotions can get in the way of what is truly in the best interest of the parties involved. There are many reasons people decide to sell their houses, and many of them have to do with other large events in their lives; divorce, death, empty nest, change of job, new family, and so on. Those other life events effect how one deals with the real estate sale. There are many times where even the parties on the same side of the transaction don't agree, let alone trying to get both sides of the sale to come to terms. That is where having a trusted person on your side is needed. Someone who can look at the big picture, and help everyone reach an agreement that works for him or her. I have done this time and time again for my clients. However, I believe very strongly in confidentiality, so I cannot give any specific examples. It is a small community, and the privacy of my clients is very important to me.
What do your clients have to say about your work?
Sophia: Adam can't say it so I will. His clients love him. He is always going above and beyond what is necessary and all with a great sense of humor. Here are a few direct quotes from some recent clients:

TF: I have told lots of people how you made my life possible, how you were always there for me during my difficult transition, how you went way above and beyond as my counselor, advisor, friend and last of all as my skilled realtor.

DJ: Adam has a calm assuredness that helped me to remain patient during the waiting period, knowing that everything was in his trusted, professional hands. I highly recommend him as a real estate agent!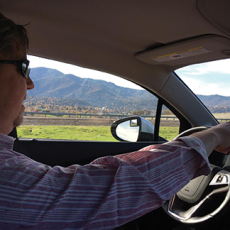 Adam, do you have any tips you'd like to pass along to readers who might be in the market?
I just like to encourage people to talk to me. I am very good at listening, and getting to the heart of many situations, especially in regards to real estate. Many people don't think they can afford to buy, or afford to sell. But knowing where you stand at any moment is powerful knowledge. Think of it like knowing your credit score. It just pays to know what is possible, what you can work towards, and that opportunities exist. There are programs out there like the Dream Savers program which will match every dollar you put into it with 3 dollars, if you use it to buy a house, or go to school, or start a business. There is a program that will allow you to basically short sale your house to yourself if you are underwater and can't make the payments. These are the kind of things I keep updated on. And the best way I can pass that on is to listen to people, and lead them in a direction that works for them. Being a Realtor® is not about making a sale to me, although granted I need to do that too to keep a roof over my head. I just trust that integrity and honesty are more valuable than a quick sale.
Is there anything else that you'd like readers to know?
While our philosophy at TEN is an awesome reason to let us help you buy or sell a home, an even better reason is that our focus is always on your best interests. Whether you are making a transition now or looking to a future change, let's connect and see if we can have some fun working together on your project. Or if one of your friends is in a time of transition, such as divorce or a change of job, tell them about us. We will take care of them!
Learn More:
TEN Realty Group
J. Adam Bogle
541-944-1466
www.TenRealtyGroup.com