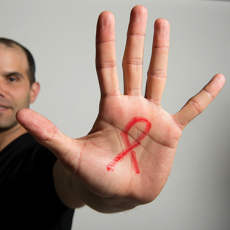 Almost 30 years ago, an AIDS diagnosis was a death sentence. Widespread amongst the artistic community in cities around the world such as New York, San Francisco and Los Angeles, AIDS research, awareness and education built momentum as the stigma of the careless intravenous drug user or promiscuous homosexual fell away and more and more people across the globe were affected by this deadly disease.
Right here at home in Southern Oregon, AIDS took its toll as well. Members of the Oregon Shakespeare Festival community felt the impact of this deadly disease and wanted to do something to support those diagnosed right here in our own backyard. Founded in 1988 by OSF COMPANY MEMBER James Edmondson, The Daedalus Project has since raised over $1.4 million dollars, which has been donated towards local, national and international HIV/AIDS care, prevention and awareness efforts.
I spoke with Eduardo Placer, a second year member of the OSF acting company (and currently starring in The Cocoanuts) recently to learn more about this unique and passionate project and the great strides being made toward the end of the AIDS epidemic.
Eduardo, you were in your first year as a member of the OSF Company when you were tapped to be the director of this vast undertaking. What was that like for you?
It was a huge honor. It also came out of nowhere, I had no idea that a first year company member would be asked to direct such a beloved and long standing community event. I was given a list of responsibilities and then locked myself in the OSF Archives to look at pictures from all the past Daedalii. I had never been to one before and therefore needed some visual context. There is also no video footage of the event because of union restrictions. I also spoke to a lot of people. I call them drive-bys – walk around campus and talk to whoever wants to have a conversation. I think that because I'd never seen one or been to one, it gave me some freedom to create and innovate, which was really exciting and I felt very supported by my colleagues at OSF in that process.
This year's theme is direct and powerful. Tell us more about the intention behind the "Final Act."
As a theater company that is committed to the work of William Shakespeare, and as actors who perform the Shakespeare canon, there is an understanding that when you arrive to the final act of the play (or the fifth act in a typical Shakespeare 5 Act play structure) you must drive towards the resolution, the end. If we look at AIDS as a play in five acts, we have gone from dying of AIDS to living with AIDS and now is the time for a paradigm shift . . . to name the END of it; to put intention and momentum on the charge to find a cure to end the disease once and for all.

Something that also happens in ACT V of Shakespeare plays is that all the characters end up on stage – so in a way, our ACT V is an opportunity for the whole community to stand with us to end AIDS. It will take all of our commitment to be able to end the plague.
Why Daedalus? What is the significance of naming the project after the Greek mythological builder and inventor?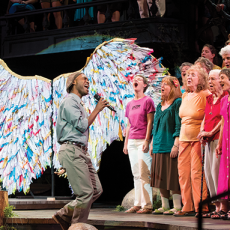 The name The Daedalus Project was given by OSF Artistic Director Jerry Turner. Daedalus was a renowned inventor and innovator and King Minos tasked him to build the Labyrinth in Crete. Once the Labyrinth was completed, Minos imprisoned Daedalus and his son Icarus in a tower. It is named after Daedalus because he is the one who figured out how to get out of the Labyrinth . . . he fashioned a pair of wings to escape. He had to think outside the box. AIDS is the Labyrinth and like Daedalus, we must solve the puzzle. The myth of Icarus and Daedalus continues and it has a tragic end with Icarus flying too close to the sun. The WING iconography is very prominent in our images promoting the event. Last year we built a new set of wings fashioned from origami feathers with the names of people we have lost to the disease. The wings that we use are a new set of wings, a new iconography for the myth, a commitment to the memory of those we lost, and a commitment to the end of the disease so that we don't lose any more.
What significance does this project have for you personally?
I am lucky to say that I have not lost anyone that I know personally to AIDS. As a gay man who came out in the mid 1990s, there was a barrage of information and education about AIDS and AIDS prevention at that time. That being said, there are a lot of people who I know well who lost loved ones and I know that both the gay community and the theater community were ravaged by the plague. I see this project as an opportunity for me to honor the memory of all the activists, innovators, artists and instigators that died too young.

I'm also really passionate about creating opportunities for people to gather to do something great. The Daedalus Project is a generosity-fest, and it's a blessing to steward so many manifestations of love and kindness. People have asked me if I have a specific financial goal for The Daedalus Project. My goal is to end AIDS and connect as many people as possible to express that commitment. Hopefully the commitment is expressed in a generous contribution, however that contribution can take many forms. With the Daedalus Project there are many opportunities to contribute: Running the 5K, buying tickets to the film festival (a partnership with AIFF and Coming Attractions Theatres), singing in the Community Choir. All of these are an expression of a commitment to end AIDS. I believe the final amount we raise will be a manifestation of that commitment and whatever it is, as far as I'm concerned, will be perfect.
In your estimation, what needs to happen to end the AIDS epidemic? Is this even possible?
We have to believe that it is possible. I think it is within reach, which is why there is so much momentum now. I think that the paradigm shift of Ending AIDS is how it begins. One sure way to end it is to participate with us in THE DAEDALUS PROJECT, right here in ASHLAND.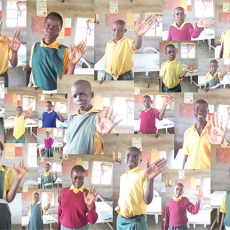 Help us understand the impact that our efforts here in Ashland are having locally and internationally.
In the 26 years that we have gathered, we have raised 1.4 million dollars to serve people here in the Rogue Valley and all over the world living with HIV/AIDS. It is because of this financial support that we have a home in Medford that houses people diagnosed with AIDS who would otherwise be homeless. It is because of The Daedalus Project that we still have free HIV testing in our community. I'll also share with you the following names: Barak Obama, Messi Lione, Magrate Michael, Evans Omondi, Fidel Castro Omondi. These are five of the 95 students at the SCHAP School in Kenya who received scholarships from our efforts to attend school. All the students are either partially orphaned or orphaned because of AIDS. The scope of the generosity is local, national and international.
You have mentioned what an important cause this is for all of us. Why here? Why now?
If not now, when? If not here, where? We have gathered for 27 years . . . let's strive to not have to do this anymore. Let's strive to get the job done. Ashland is as good a place as any to participate in this shift. This is a community that is overflowing with generosity and love. I believe that we have a responsibility to care for each other as human beings. Each of us is capable of so much – let's harness that energy and commit it to something great like the END of AIDS.
Is this a unique effort here at OSF? Are other theatre companies doing similar things elsewhere?
Many theatre companies participate annually in collections to support organizations like Broadway Cares/Equity Fights AIDS. Traditionally the Broadway Community and many regional theaters collect for BC/EFA throughout their season. What is unique about The Daedalus Project is the commitment to care for the local community. The money that was raised at the beginning of the epidemic took care of people here who were dying here.

We remain committed to the local organizations we support, but the possibilities for global interconnectedness is vastly different now than in 1987.
The OSF Daedalus Project is so much more than just a variety show and a 5K run. What's on the program for this year?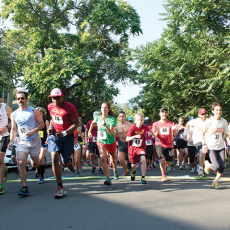 Well there are so many ways to contribute to the End of AIDS this year. I think it's best to go by dates.

Daedalus Week begins on Tuesday, August 12. We sell Daedalus T-shirts and they go very fast.
This year the Daedalus Film Fest, in partnership with AIFF and Coming Attractions Theaters, begins on August 15 with a FREE showing of HBO's The Normal Heart, based on the play by Larry Kramer. We are the first and only theater so far to be granted this honor. There will also be panels and some really exciting guests to lead conversations. The Daedalus Film Fest runs until Sunday, August 17. Tickets for all the other movies are $10. You can find more information about the Daedalus Film Fest offerings at www.osfashland.org/daedalus.
The Daedalus 5K registration site is up at: https://runsignup.com/Race/OR/Ashland/DaedalusProject5K. The 5K race takes you around Lithia Park. There are awards, treats, and raffles. The race is on Sunday, August 17th at 9am.
Daedalus Day, Monday, August 18th, begins with the traditional Arts and Treasures Sale (this year in the Thomas Theater Lobby) and the Daedalus Bake Sale. The children at OSF will even set up a Lemonade Stand.
There are also limited tickets available for The Daedalus Project Play Reading – The Children's Monologues. The Play Reading is a U.S. Premiere – it has only been performed at the Old Vic in London. It is a series of monologues telling stories of children from South Africa. There are similarly limited tickets to The Daedalus Variety Show, which is the culminating event. Mark Bedard (also currently starring in The Cocoanuts) is the emcee and we are thrilled to have such a comedic force to lead us through the event.
We have launched an INDIEGOGO site as an opportunity for people all over the world to stand in their commitment to end AIDS. If you are not in Ashland during the week of August 12-18th, this is a great way to participate.

To commit, people are drawing the red ribbon on their hand and sharing that image on social media: Facebook, Twitter, Instagram using @osfashland, #endAIDS, #daedalusproject.

This is also an opportunity to have friends, family, and colleagues participate in The Daedalus Project remotely if they do not live in Ashland.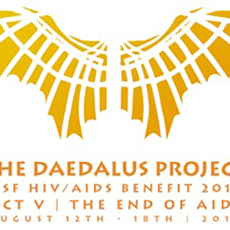 You believe strongly in the power of community. How can readers get involved?
I'm hoping that every individual who is committed to the end of AIDS, and who reads this interview will find at least one and hopefully many opportunities to participate in The Daedalus Project. There are many ways to get involved. We are open to each individual's creativity.

This year the Ashland Food Co-op is sponsoring butter for the people baking for the Bake Sale. We are reaching out to communities of faith to sponsor collections or other manifestations of generosity. Rabbi Joshua Boettiger of Temple Emek Shalom and Rabbi David Zaslow of Havurah Shir Hadash are sponsoring a Book Sale on Thursday, August 7th from 10am -6:30pm to support The Daedalus Project. The sale will take place at the Havurah. Last year the Unitarian Fellowship raised over $500 in a collection.

The possibilities of generosity are endless . . . I ask each reader to reflect, and if you are committed to the End of AIDS, then contribute in the ways that excite you.
How can we learn more about this year's events?
The most effective tools right now are:
Anything else, Eduardo?
The last thing that I would like to say is that this is very much a community led event. It takes many, many volunteers to make this happen and we are all, including myself volunteers. I just want to express my gratitude to all the people who have led this project before me and all the people at OSF and beyond whose generosity, kindness, and love continue to ensure the success of this event.
Learn More:
www.facebook.com/OSFDaedalus
www.osfashland.org/daedalus
https://www.indiegogo.com/projects/act-v-the-end-of-aids/x/3679786
www.osfashland.org/daedalusfilmfest