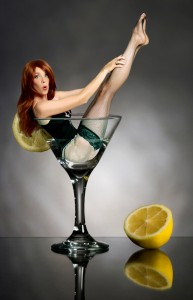 "I want to be the pin-up portrait queen," says photographer Debra Thornton enthusiastically. Thornton's pin-up images feature everyday women clad in sexy vintage attire complete with props such as hatboxes, bicycles and apple pies. The photographs are a modern take on the World War II bomber art of the 1940s and the glamour-girl calendar shots of the 1950s. "The thing I like about that era," says Thornton, "is that the women seemed real. It think there is a certain body type that women settle into—one that isn't modified—and that was what was celebrated." "As a photographer, when I capture that," she says,"it's like a really good hair day."
Thornton has been a professional photographer for several years, running her eponymously-named business from her Ashland home. Although she still does traditional photography like weddings and senior portraits, she is making more space in her portfolio for pin-ups, which evolved from a chance photo-shoot in 2007. "When my friend Amanda moved back to the Rogue Valley from Southern California to live on her parent's farm, we thought it would be fun to dress her up in 'Daisy Dukes' and photograph her for a flyer  to advertise her birthday party," says Thornton. "I realized then that this was one of those things that's time has come," she says. "And people are loving it."
Thornton's interest in photography dates back to childhood. "My dad had some great portraits of my mom he had taken with one of the old Kodak Viewfinder cameras," she says, but she didn't begin to take photography seriously herself until high school. She admits choosing a basic photography class as an elective because she thought it would be easy. It wasn't, she says, but she immediately fell in love with it. "I especially loved the darkroom," she says. "It was like being in a womb."
Pin-up photography is a natural fit for Thornton, a self-described tomboy, who grew up with four brothers. "I'd always be out riding dirt bikes or roughhousing and whenever my mother would put me in a dress I would feel like a spectator, but I also like to be sexy and feminine, something I never really felt like I could be without playing a role," she says. "The most feminine type of woman don't seem to have any problem acting sweet or seductive or whatever. If you put a wig on me, I can be anybody I want to be."
When digital replaced film, Thornton missed the darkroom at first, but soon realized that the instant gratification and limitless possibilities of digital fit perfectly with her playful style. Thornton credits her oldest daughter Sarah Petty as the Photoshop genius responsible for the retro backgrounds. "Without her wizardry the photos would be mere snapshots," she says.  "We are a great team and have fun creating these unique portraits." Thornton notes that for many women, being the subject of a photograph can be stressful. She uses the immediate feedback that digital provides to help her models relax and take themselves less seriously. "I try to show her the pictures during the shoot and she will usually say something like, 'Wow, I don't suck at all,"' she says, laughing.
"She has all of these props you can choose from, which gives you a chance to express yourself," says Ashland resident Clarissa Showers, one of Thornton's pin-up clients. "You go in [to a shoot] as this average woman who is not a supermodel and you think 'I'm not rail-thin, I am this shape—whatever you see in the mirror every day,' and you walk away feeling great and special. You leave saying, 'I AM that beautiful."'
Thornton says that her pin-up photographs can be used to celebrate an upcoming marriage, the birth of a child or even a divorce. "So often we're dealing with the nine to five stuff that there's really no time or permission to slip back into who we really are," says Thornton. The whole idea behind pin-ups is that sexy can be classy, sexy can be approachable, sexy can be playful—it doesn't have to be sleazy."
You can purchase a pin-up photo shoot for yourself or a loved one starting at around $250 and each session comes complete with professional hair and makeup.  There are also fun group sessions, where ladies can save money, while sharing in the fun!   For the person who is self-conscious about having a photograph of herself hanging on the wall, Thornton plans on making coasters or playing cards emblazoned with the images available in the near future.
For more information call 541-621-9463 or email dtphotography@gmail.com. For more examples of Thornton's pin-ups visit her website at www.debrathornton.com.