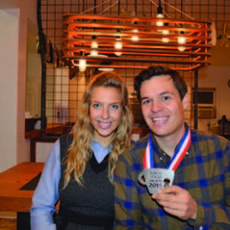 Tim and Kati Case of Case Coffee Roasters have done it once again! Just back from accepting their 2015 award for their Kenya Muthonjo AA from the prestigious Good Food Awards in San Francisco, these local business owners have quite a bit to boast about. Between their recent café expansion, a rapidly growing wholesale clientele and a loyal following of coffee-loving customers, we wanted to catch up with Ashland's own local food heroes to hear more about what's in store for Case Coffee in 2015!
Kati, thanks so much for talking with us today. You guys must be busy with all of this national attention!
Absolutely! We have been shipping out orders all over the country since the big news and I feel like I have been answering non-stop inquiries. All of this while running our busy cafe and taking care of our four year old son Yonnie!
Congratulations on your big win! Tell us more about the award and the kind of competition you guys were up against?
Thank you! For those that don't know, the Good Food Awards were founded several years ago with the goal to celebrate foods that are not only exceptionally delicious, but sustainable and socially responsible. They dare to ask the very complex and delicate question: What makes food truly good? It has grown to be a hugely successful project with over 1,600 entrants across 11 categories this year. There is a blind taste test where at least 15 seasoned professionals in each category narrow the competition down to the top 3 in each region. We were in the highly competitive North region which includes coffee-soaked Washington and Oregon, Idaho, the Dakotas, Montana and Minnesota. To be selected out of such a pool of excellent roasters feels amazing!
Case Coffee started out very small, and as I understand it, you were only 21 years old when you started. Did you ever dream you'd be expanding and growing in these directions?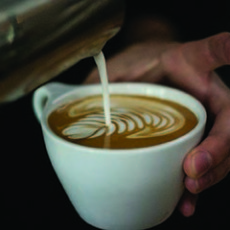 When we opened our doors in 2006 we were eager to start a business where we could make people happy every day with good coffee. But no, I don't think we could have ever envisioned winning multiple National awards and having such a vibrant cafe and roasting company! It is such a huge blessing.
You've got the SOU crowd covered with your newly expanded seating area as well as lots of great table space for those working remotely. Who else are you finding frequenting the café?
Since the expansion we have definitely attracted many more tourists and people traveling through town. Before the expansion we used to be what you could call 'cozy', but now there is plenty of room to study, meet friends or even have small group meetings around our large communal table. We have free Wi-Fi and all tables are wired with USB outlets.
Your wholesale accounts must really be growing as a result of this national attention.
Yes! We are currently shipping out to accounts all over the US as far away as New York and we were even featured in a high-end European coffee subscription service! Closer to home you can find our coffee at Stim Coffee in Jacksonville and at great restaurants like Tot, Homestate BBQ and Harvey's Place in Ashland. We really try to take great care of our wholesale customers and treat them like family.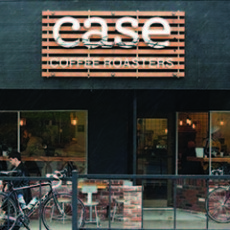 Talk to us about the remodel and expansion of your space Kati. The interior is so bright beautiful.
The new cafe was designed and built by up and coming woodworker Trevor Downing of Forest City Woodworks. All of the new furniture was custom designed and hand-made using solid walnut and reclaimed old-growth Douglas fir. We wanted it to feel very 'Northwest-modern', but still inviting and comfortable. All of our roasting is done in the cafe on our 1950s Otto Swadlo roaster, which is open-air to the viewing public. If you haven't seen the roaster in person it's definitely worth coming in to check out.
What kind of plans do you have for the future at this point?
Our focus for 2015 is to develop new wholesale relationships. If you want amazing, fresh, local coffee delivered to your restaurant, bed and breakfast or office please contact us at info@casecoffeeroasters.com. We are also very excited to launch our new packaging in the next few weeks. It's beautiful and unlike any coffee packaging we've ever seen!
What kind of team have you assembled to support all of this exciting growth at Case Coffee?
We feel so lucky to have such an amazing crew! Here's a quick rundown- Eric Loeffler is our cafe manager and roaster. He is a country music snob and likes to take pictures of people when they're not looking, but not in a creepy way. Riley McAdoo is hands-down the best latte artist this side of the Mississippi and sings while he works. Rocky Garcia-Flores is our pour-over coffee specialist. Rocky spends his non-coffee time winning Tony Awards for his sound engineering work at OSF. Carlos Lopez splits his time between pouring amazing macchiatos and playing the lead in the Cabaret's 'It's a Wonderful Life'. He has several upcoming OSF shows. Sasha Timon is an awesome barista and lights up our cafe with her dry wit and the most genuine laugh you will ever hear. David Sparks is has brought a passion for baking and 80s music. The bacon cheddar biscuits he just started making for the cafe are to die for!
What makes a cup of coffee from Case Coffee truly unique?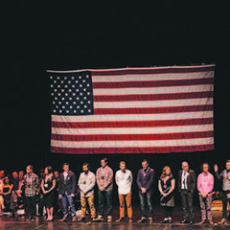 We source coffees that are sweet, clean and complex. The coffees we source must come from a farm or cooperative that has good sustainability practices where they are eliminating or are working to eliminate the use of pesticides or synthetic chemicals. Social responsibility is extremely important to us and we are sure pay a high price to the farms we work with, sometimes as much as four times the current 'Fair Trade' prices.
Favorite brewing method?
Right now we are loving the classic Chemex coffee maker that we use to make pour-overs in the cafe. It lets the natural sweetness of our coffees through and is full-bodied without being full of sediment at the bottom like a French press. I love it when I make a Chemex for a new customer and they come back and say, 'Wow, I didn't know coffee could taste like that!'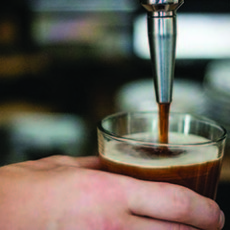 Anything in the shop for non-coffee lovers?
We carry a delicious line of teas from Metolius Teas out of Bend, OR. They do small batch teas blended with local ingredients like local bachelor's buttons, cornflowers, blueberries and chocolate. We make all of our sauces (caramel, vanilla and chocolate) from scratch and have hot chocolate, spicy chai and steamers. Also, we bake fresh pastries in-house every day and serve doughnuts and savory croissants as well.
Anything else you'd like for readers to know?
Tim and I would like to welcome the community to our new expanded cafe and roastery. Please stop by next time you are in the neighborhood. We would be happy to see you!
Learn More: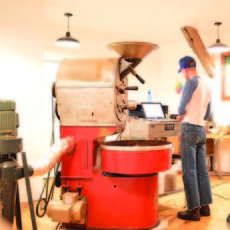 Case Coffee Roasters
1255 Siskiyou Blvd., Ashland
541-601-1691
www.casecoffeeroasters.com
Open 7am-5pm everyday