Interviews
Tracy John & Tamara Smith – FlipSide Studio Upside-Down & Inside Out: Flipping into the Heart of Ashland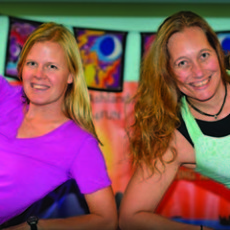 FlipSide Studio offers movement-based classes for all ages to have fun and develop skills in an empowering and relaxed environment. Located in the old Briscoe School, Tracy John and Tamara Smith have created a wide variety of classes taking a holistic approach to tumbling and gymnastics, which ends up being the perfect avenue for also teaching universal skills like respect, listening, accountability, cooperation, and spatial awareness. With baby gym classes beginning as early as 6 months to adult and family offerings in yoga, self-defense and even art, FlipSide Studio has something for everyone looking to get up and move!
Tracy, you grew up in the world of gymnastics. You must have had a great experience to have pursued this career path.
I did! I grew up in the San Francisco Bay Area and spent my entire youth tumbling. Although I experienced the spectrum of recreational and competitive gymnastics, my favorite was always the little studio I studied with for many years in Livermore. In some ways, it's what I've worked to recreate in my own life. The other girls I tumbled with felt like a family, we focused on skills progression, choreography and creativity, we were always excited to perform for our community and we were all very connected with our coach!
You believe that tumbling and gymnastics are the perfect place to help kids develop important interpersonal and social skills. Can you tell us a little more about that?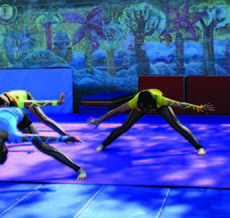 Children are incredible. They are so eager to learn, and live to move their bodies and to feel a sense of dignity and pride in their hard work! They naturally want to do well, to listen, to feel validated in who they are and to flip upside down! We as adults have so many opportunities to honor and affirm children. What better place than through movement? We need to be worthy of imitation so we hold a firm boundary, but also with groundedness, joy and laughter too! Ultimately, we reflect what we ask from our students: listening, respect, encouragement and the courage to try with a willing heart.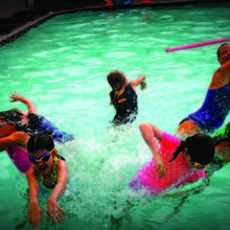 Tamara, your start began more along the lines of youth fitness and swim instruction.
My degree is in Recreation Management and Youth Leadership. I always knew I wanted to work with kids and teens in empowering ways. My earliest youth teaching experience actually came in the form of High Adventure. Guiding teens on rafting, backpacking, kayaking, and snorkeling trips was my passion. Once I started having kids of my own I wanted to be more involved in my young children's lives and interests. I began training as a Red Cross water safety instructor, gymnastics coach, youth fitness instructor and infant sign language teacher. Eventually I added dance and yoga training. I believe it's important to allow children to grow up well-rounded. As a mother I found most classes offered to children were highly specialized. I wanted to use my trainings to create classes for children that would allow for growth in many facets of development. I created a youth fitness business with that "fusion" ideology. Fusion classes blend fitness with skill mastery, relaxation, music and movement. I bring this philosophy into my teaching to this day. It helps the students I work with prepare for the many different paths their lives will take them.
Non-competitive based skill development for children is very important to both of you. Can you elaborate on this?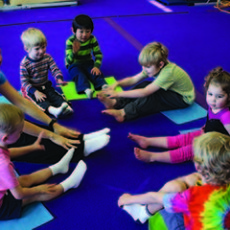 Tracy: My background is in education and developmental psychology. As a teacher, it became evident to me that a child's joy lies in his ability to accomplish a goal that lives inside him. It's about the process. When we place an external reward, it becomes about the reward, not the hard work of getting there. When the child discovers an inner drive to accomplish a goal she's set, then her commitment and self-discipline come naturally. We want all children to feel thrilled in their achievements, as well as to know they have the resiliency to work through their struggles and challenges. Recreation takes the pressure off of the product, and allows us to enjoy the process of learning!
It sounds like you both have worked hard to create opportunities for your own children as you have formed your unique business together.
We both feel that creating a profession where we could be with our children has been our greatest joy! How many mamas get to do this?

Tracy: Being with my kiddos from early on has always been a priority. It's about staying current, engaged and participating in their lives as they grow. I approach my students in the same way. Over the past 15 years, my gymnasts (and mentees) have become like an extended family. We think relationships are the most important thing to cultivate – a skilled gymnast (or swimmer, etc.,) may emerge – or not. In the end, it's how we make our students feel that will be withstanding.
Tracy, you were also a mentor with The Rose Circle network. How does this play in to your work with FlipSide Studio?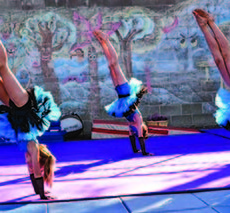 That's right! I have been a Girls Circle Facilitator since 2009. Although coaching gymnastics and teaching Montessori has been my background, discovering Girls Circle was a life-changing experience for me. It provided a new context to work directly with adolescent girls, helping them realize they aren't alone in their struggles. I started TRIBE Girls Circle while living in Flagstaff and while working with Big Brothers Big Sisters. It was an amazing time- collaborating with other organizations to offer some incredible programs like The Story Project, Native mother/daughter circles, and workshops on healthy relationships. When we moved to the Rogue Valley, I discovered the Rose Circle, a wonderful program mentoring youth. After two years of volunteering, I have branched back out on my own, offering our beloved Siskiyou Girls Circles for 6th and 7th graders. I've also discovered a renewed passion for outdoor adventure and an interest in art therapy – both which resonate with teens.

Helping kids, as well as adults be active and healthy is one of the primary goals for FlipSide Studio.

It's a lifestyle, cultivated one day at a time- and we want to make this fun and accessible for all our families! Our base is tumbling and gymnastics, but we're so much more! We also offer year round women's fitness classes, summertime swimming lessons, and spring/summer movement camps for kids and teens. Our camps reflect our diversity- ranging from Swim & Gym at the Wellsprings, to Art & Tumbling to Outdoor Adventure Camps to rafting, climbing, hiking and more! We want share our excitement for being active – and there are so many wonderful ways to do this in and around our community!
And I understand you have some very happy customers!
We love our students and our "parents"! (Customer is a funny word.) We strive to build lasting connections with each family. Each child is so unique. Being an active part in their development is a huge honor. Here are two recent testimonials:

"Tracy and Tamara are amazing! Both of these lovely ladies bring so much creative energy, guidance, leadership and encouragement to my daughters. I have seen them connect with each child on their own level, time and time again. Each class is uniquely designed to give our children a specific experience, which you just can't get anywhere else in the valley!"

"FlipSide offers kids an opportunity to grow in themselves while learning new skills and having LOTS of FUN! Thank you Tracy & Tamara!"
Where is your space located? What kind of classes do you have to offer this season?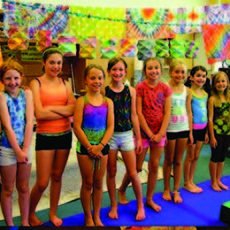 FlipSide Studio is located in the old Briscoe School just off Main St. in Ashland. This is our home base, although some of our camps and swimming lessons often take us elsewhere! Tumbling and gymnastics are offered year round via classes or camps. Currently, we offer a variety of tumbling classes for all ages and levels; Kindertumble infuses with Waldorf verses and movement; FlipSide Fusion Classes blend art and movement (such as Tumble/Art/Yoga or Dance/Yoga). We have Teen Challenge for tween/teen girls, free Women's Bootcamp (M,W,F), free Self-Defense Classes, and we're collaborating with other passionate teachers to offer art, dance, and possibly even aerial yoga in the very near future! Spring break and summer fills with fusion camps that have us swimming, tumbling, rafting, hiking, creating and getting outdoors!
You have established some really fantastic partnerships with other teachers in the area. Tell us about some of the amazing people you team up with.
We've been collaborating with fiber arts teacher, Laura Holtsberg for the past year to offer tumbling and art camps and classes (think home-made kites, silk dying, and hand-made journals). We are also excited to begin collaboration with yoga and therapeutic dance instructor Lauren Cutler, a self-defense and martial arts instructor, Tyler Boyce and aerial yoga instructor Brienne Wasmer. Our partnerships will continue to expand as we find other professional instructors who share our values systems and vision.
How can readers learn more about your programs?
The easiest way is by visiting our website FlipSideAshland.com. Our website is packed with information on all of our programs, photos, testimonials and inspirational videos. We also love to connect with our current FlipSide families through our FlipSide Families Facebook Group. For prospective students our FlipSide Ashland Facebook Page is a great way to learn about upcoming events & promotions: https://www.facebook.com/FlipSide.Ashland
Learn More:
FlipSide
265 N. Main St., Ashland
541-600-4FUN (4386)
www.FlipSideAshland.com