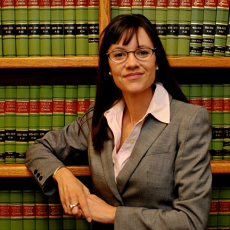 Introducing Ashland's newest legal professional, Tricia Hahn. Just a few months shy of her one-year anniversary practicing Elder Law, Estate Planning, and General Civil Law here in town, Tricia and her family are settling in nicely to their new life in Southern Oregon. With a background in litigation, Tricia Hahn brings compassionate listening and excellent results to clients seeking assistance with legal matters large and small.
We met with Tricia recently to learn more about her growing practice and to find out more about why she and her family are so happy to be living and working in Ashland.
Welcome to Ashland Tricia. How did you come to settle here?
Thank you. My husband, Tim, and I have had our eye on Ashland for some time. We moved from the Puget Sound in the early summer of 2013, after frequently visiting friends here for over ten years. We knew we wanted to raise our son, Luca, in a town where people are really involved in and support their community, where we are close to nature, and where there is a great school system. I graduated, magna cum laude, from Seattle University School of Law in 2005. I had been practicing law for about nine years in the Seattle area when at age 41, I decided to start my own practice. I knew I wanted to have a general practice where I could serve private individuals and multi-generational families, as well as small businesses. Developing long-lasting relationships with clients and understanding their individual needs is central to my personal and work philosophy. I have been admitted to the State Bar of California, in addition to Washington and Oregon, so Ashland was the perfect fit for both personal and professional reasons.
How are you liking living and working in Ashland so far?
I truly feel so fortunate to be here and am very pleased with our decision! The weather is lovely, the people friendly, we've had a great introduction to the schools (Luca attends school on a farm which suits him perfectly), and the proximity to nature is just what we were looking for, be it a short walk out our front door to hike the watershed, or a short drive for a mushroom foray. My mother lives in Pleasanton, CA, in the East Bay, and is now only half a day's drive away rather than a plane flight, which ensures plenty of Luca/grandma time! And we spend much less time in our cars. I am able to walk to my office in under 10 minutes (a welcome change after commuting by car and ferry in Seattle), and I love being able to serve clients in my local community.
What services are you offering currently?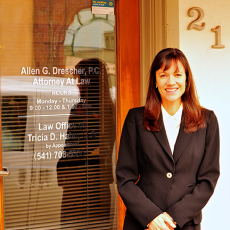 I have a general practice which includes the areas of Elder Law (Estate Planning, Wills, Trusts, Guardianships), Business Law and other Civil Practice Areas, and DUII. I focus my practice on assisting seniors and clients of all ages prepare for their future, both immediate and long term – by listening closely to each person who walks through my door, and tailoring my legal services to accomplish their objectives.
What drew you to law as a profession originally?
I came to realize I was a natural advocate when I worked for a social services agency in the Bay Area before attending law school. I learned that I had skill and compassion for understanding not only the needs and challenges of my clients, but also those of local developers and homeowners. With this understanding, I could advocate for creative solutions to serve both groups. I was also exposed to a variety of different legal issues faced by my clients that I was motivated to tackle as their advocate, but was limited by what I could accomplish without a law degree.
Your previous career in the non-profit sector must have really been a challenge. How did it help you transition to studying law?
My meetings with clients often occurred when they were faced with particular challenges in their lives, as they do now, as a lawyer. I learned how important it was to provide a calm environment for them to explain their situation, so I could sort through it and determine how I could help. I learned how to effectively communicate and negotiate with state and local government agencies on my clients' behalf. And I learned how incredibly motivating it is to achieve positive results for a client faced with a challenging situation.
Listening must be a significant part of your job. Tell us more about that.
Yes it is, listening and understanding clients' goals are, of course, key. Two different people could be faced with the exact same legal situation but want very different outcomes. Understanding their objectives is essential to providing a personalized approach to meet their needs – whether it be preparing legal documents, negotiating with opposing counsel, advocacy in the courtroom, or simply listening to their situation and explaining their options and offering advice. I state in my ad that I am committed to compassionate and aggressive representation because based on my experience, that is what it takes.
Did you have any mentors when you were starting out practicing law in Seattle that helped you navigate opening your own practice here in Ashland?
My supervising attorney at the firm where I initially worked was incredibly supportive and encouraging of me throughout my early years as a lawyer. He fostered my legal skills and growth by allowing me the opportunity to work with him on some very interesting cases, including appeals to the Ninth Circuit Federal Court of Appeals, and to the Washington State Supreme Court. He had started his own firm about 30 years prior, and always encouraged me to do the same when the timing was right. But my strongest supporter in this venture by far has been my husband, Tim. He's been my biggest advocate each step of the way.
You've mentioned that you have experienced a very warm welcome from the legal community here in town.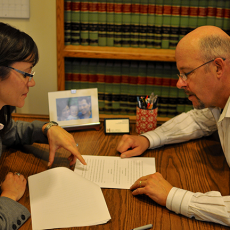 Yes I have; first and foremost, by the person with whom I'm fortunate to share office space — Allen Drescher. Allen is an excellent lawyer, extremely well respected in the community, and has been an invaluable colleague in his help with navigation of the legal landscape here. Through my involvement in local organizations, I have met other attorneys who had started their practices some years ago, who have also been generous with their time and advice.
What do you love about your job Tricia?
Achieving results and accomplishing my clients' goals; whether the issue is small or large, each client deserves and receives my complete dedication. I am particularly passionate about the 'future planning' aspect of my practice (seeing an lawyer isn't always bad!). Helping clients plan for their future with an estate plan is extremely rewarding – seeing the relief on their faces when they know that their loved ones will be taken care of in the simplest and most effective way possible, or that their disabled child will be taken care of with a special needs trust.

I am an advocate dedicated to excellent outcomes. It is an incredibly rewarding feeling to help a client faced with a stressful situation see the issue to its end—for the client to tell me it wasn't as bad as they thought it would be. Providing clients with a calm and confident presence to help put them at ease and know I have the ability to do the necessary work for them is paramount. A judge who I practiced in front of regularly once told me that she appreciated my calm presence in the often hectic courtroom, and I like to provide the same for my clients.
You really appreciate the way that practicing law helps develop great relationships.
I think being able to practice law in a small town does foster on-going personal and professional relationships with clients, and if you have the need to see an attorney it can be helpful to see a familiar face. I tell my clients to let me do the worrying for them.
Tell us about your family Tricia.
My husband's name is Tim MacCurdy and we've been together for 16 years. He is a 1998 graduate of the UC Davis Medical School PA Program and specializes in medical/surgical dermatology. He is a strong advocate for his patients and loves his work. He is also an avid mountain bike rider. After a long hiatus in Seattle, where the terrain was a bit flat for his taste, he now hits the local trails regularly and tells me it doesn't get much better than right here. Our son, Luca, is 5 and will be starting kindergarten next year. We are delighted (and relieved!) to be settled in a place where we want Luca to grow up and attend school. My sister and her husband, who are professors at Humboldt State University, live in Arcata, CA, and have a condo here in Ashland. So when the timing is right, my mom can spend time with both of us during a visit. It did not take long for our family to feel at home in this small town and enjoy the community connections it brings and opportunities to become involved, as well as fully enjoying the accessibility of theater, local wineries, and the overall general sense of belonging to an incredibly unique and special place.
What is your favorite restaurant in town?
The good news is that I truly cannot answer that; there are so many great restaurants here! We all love Sesame Asian Kitchen, Standing Stone and Milagros. As the weather warms up, one of my favorite places to eat is on a blanket at Lithia Park. A walk to the park with a picnic lunch and ball to kick around can be a great way to spend a relaxing afternoon.
You mentioned the warming weather, now that spring is upon us are you and your family looking forward to anything else in particular?
We like to take evening "bat-walks," as my son likes to call them, as the evenings become longer and warmer, keeping our eyes out for bats, owls, and other discoveries. That and the spring garden! We are fortunate to have some raised vegetable beds in our yard and it is about time to replace the kale, broccoli, and arugula with sugar snap peas, lettuces, and oh, more arugula! On a warm weekend day, you will often find Tim and Luca working in the garden. They are the main gardeners of the family, as I mostly reap the benefits – a good combination I think!
How can readers learn more about the services you offer?
They can contact me directly at (541) 708-5305, or tricia@triciahahnlaw.com.
Learn More:
Law Office of Tricia D. Hahn, LLC
21 S. Second St. Ashland
(541) 708-5305