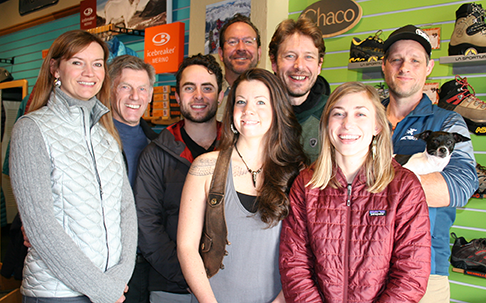 The Wild Rogue Loop is a 25-mile trail route that features the best of southwest Oregon's 35,000-acre Wild Rogue Wilderness. The connection of historic trails were filled in with trees killed by wildfire. Other sections had congested after decades of no maintenance, until 2015 when Siskiyou Mountain Club crews restored the best weekend backpack in southwest Oregon.
The loop features the deep gorges of Mule Creek, a major tributary of the lower Rogue, and commanding views from Hanging Rock. It winds through primeval old growth along Panther Ridge and Clay Hill, and contours "the most scenic section of the Wild Rogue River," says Gabriel Howe, executive director of the SMC.
"No shuttle, no fuss," he says. "Pack your bags and go."
To hike the loop, or parts of it, start with an Oregon Road Atlas. Pick up the Siskiyou Mountain Club's field guide and the Powers and Gold Beach Districts Map, both available at Ashland Outdoor Store. Then head to Tucker Flat Campground and approach the loop counter clockwise in 2-4 days.
The loop conjoins sections of Rogue River Trail 1160, Clay Hill Trail 1160A, Panther Ridge Trail 1153, and Mule Creek Trail 1159.
The newly opened trail route hit the national circuit in fall 2015, with highlights in Backpacker Magazine, San Francisco Chronicle, and the Seattle Times.
"It's an old trail system that we got the chance to bring back to life," says Howe. "And now I'm getting calls and emails from a lot of people who are hiking it."
2015 SMC intern Kora Mousseaux mentions that the work was challenging. "The toughest part was the heat." Mousseaux and her crewmates worked over 20 days on the project. "I did more than I thought I could," she says.
Mousseaux is an SOU student, now with a summer job working for the City of Ashland.
Mikaela Lea, a 2015 SMC intern who is returning in 2016, says her favorite part of the loop was Mule Creek. "If you just swim the creek from where the trail crosses, there are some amazing spots," she says.
Siskiyou Mountain Club interns work for the summer, off their cell phones, in the wilderness restoring historic trails on 10-day work "hitches." In 2016 they aim to restore trail routes in the Kalmiopsis, Siskiyou, Red Buttes, and Sky Lakes Wilderness.
The Club still needs about $12,000 in donations to help with paying 2016 scholarships for interns. The Siskiyou Mountain Club is a 501(c)(3) public charity that restores, maintains and promotes primitive trails in the Siskiyou backcountry.
"We're working through the longest maintenance drought in United States history," Howe remarks. "We can do it."
To learn more about the SMC, or to sign up for a hike or volunteer trip, just
go to

www.siskiyoumountainclub.org

,

call

541-708-2056

email

info@siskiyoumountainclub.org

.

send mail to 130 A Street #2B, Ashland, OR 97520.
This article space was kindly donated to the Siskiyou Mountain Club by Ashland Outdoor Store.