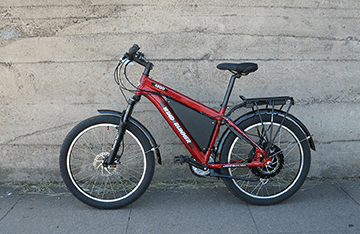 If you're one of those folks who just got a killer Black Friday deal on an electric bike, and are eager to use it before spring, we wanted to share some tips with you to ensure you stay safe and warm until those spring tulips start popping again.
First let's start with layers. Layers will allow you to moderate your core temperature based on the changes of your ride. If you're planning to climb to the top of Roxy Ann and then cruise down to take in the beautiful valley views, you may only need a long sleeve thermal and a t-shirt for the climb up but will probably appreciate another layer and a windbreaker on the way down. Rain gear is also something to consider. Just because they called for partly cloudy, doesn't mean it won't turn into rain before you're back. You might not need it, but better to be prepared than cold and wet on the ride home.
It's also easier to keep your motivation to ride if you're warm from the jump vs hoping you'll warm up once you get going. This means that if your bike is stored in the garage, that you'll want to be mostly dressed before you walk out, and this includes your feet. Bare feet on concrete will quickly change the temperature of your toes and weaken your conviction to head out for your ride. Additionally, putting on a pair of glove liners in the warm house may help keep your hands warm, while still allowing you the dexterity to lace up before you put on thicker gloves or mittens.
Once you start riding, feet are often the first thing to get cold. Investing in a pair of upsized boots for winter rides will allow you more room for additional insulation layers. If you're on a tight budget and new boots aren't in the cards, then some of the more nontraditional methods including tinfoil over the toes, might help. I personally like to use neoprene socks. Originally purchased for my canyoneering hobby, these also do a good job of keeping my feet warmer on winter bike rides. They're significantly cheaper than new boots and you can choose from multiple mils of thickness based on your needs.
Lastly, if you're like me and you enjoy the beauty and peacefulness in the early morning hours after a snowfall, then consider a pair of aggressive knobby tires or even studded winter tires to swap out on your bike. These can help you stay upright in slick conditions. With some good mudguards and rain gear, you can stay warm and dry while you enjoy Mother Nature's winter blanket, glistening across our fields and hillsides.