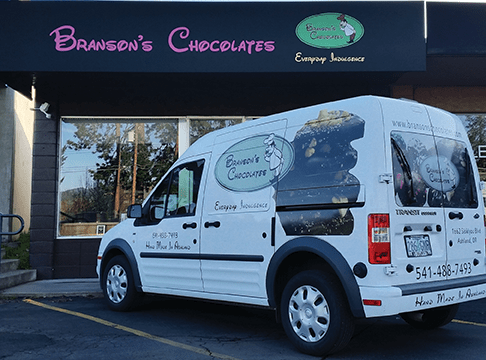 If you like your dessert a little spicy, or slightly exotic, or even a bit adventurous, we have the chocolate for you—Wasabi Ginger Chocolate is our Product of the Month for March. We add wasabi powder to a chocolate ganache square and top it with a piece of candied ginger.  It's a gourmet treat for adventurous chocolate lovers, inspired by a wasabi ginger potato chip.
Easter is early this year, on Sunday March 27. So plan ahead and pick up some of our Chocolate Bunnies, in sweet Milk Chocolate or rich Semi-Sweet Chocolate before they're gone. We will also have gift boxes of chocolate, perfect for your Easter basket, and filled with your favorite chocolates.
Be sure to catch our March Chocolate Talk video on our YouTube channel. Our videos are always directed and shot by Brian Goodwin, and feature, of course, our newest items—Wasabi Ginger Chocolate. Every month you will find me there, making our latest product, and talking about chocolate. You can also find us on Facebook, where you'll find out all about our latest events and happenings, and if you follow us on Instagram or @bransonschocolates, you know that's where we post mouth-watering photos of our delicious chocolate.
If you want to catch us out and about in March, here's where we will be:
March 4

th

-6

th

, Friday, Saturday, and Sunday, we will be at the Oregon Chocolate Festival at Ashland Hills Hotel & Suites, where we will have chocolate for sale.

March 19

th

, Friday 10-5, you can find us at the Oregon Cheese Festival, held at Rogue Creamery in Central Point. 
Branson's Chocolates
1662 Siskiyou Blvd.
Ashland, OR 97520
(541) 488-7493
Check out their website here