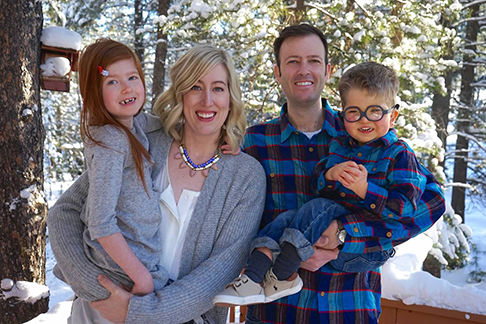 White Dental Studio recently celebrated their third anniversary here in Ashland! Over the past three years Dr. Brandon White and his staff have gone above and beyond to exceed their tagline: "Exceptional Dentistry – Environmentally Friendly." Not only do customers report that Dr. White and his staff have exceeded their expectations, but they also appreciate the genuine care and attention that goes into each visit. Many Ashlanders appreciate the cutting-edge environmentally-friendly dentistry practices of White Dental Studio, which have also inspired and served as a resource for others seeking more environmentally conscience equipment, systems, and materials. In this month's interview I spoke with Dr. White to learn more about the past year's milestones as well as their plans for 2017!
Dr. White thank you for speaking with us today and congratulations on another successful year and continued growth here in Ashland!
Thank you and we are only getting started. We've had a very successful start to 2016, especially with adding Cindy to provide dental hygiene services and education to the team – she's been so well received by our patients and I just today had a long time patient tell me that loved seeing her last week. We can palpably tell that the business is on the threshold of change and growth, and I'm focusing during this process to maintain a rock solid commitment to excellence. Adding more time for Cindy and increasing our hygiene availability to three days a week is a big step for us in that direction.  Previously, I spent 1-2 days a week associating with Dr. John Price in Medford. Since his practice sold, I am now dedicated full time to practicing in Ashland. Also, we now have a new office manager, Erin, who took over in April and brings over 16 years of dental treatment and patient care coordination experience.
Dr. White, White Dental Studio has been driven by a very strong mission please tell us about it.
We are still dedicated to providing exceptional care while working to be environmentally responsible in our choices. When we opened the practice, we adopted many best practices guidelines for managing mercury containing materials (amalgam) – some of these practices are (or will eventually become) law but we felt it best to adopt them as soon as we were able. I've also continued to stay abreast of some of the emerging technologies and materials used in dentistry. I try to touch on these during the monthly column but I am still so geeked out excited over two new-er materials we have been using: High Translucency Zirconia (strength without metals, esthetics that rival natural teeth) and Bioactive restorative materials. The staff and I work hard to evaluate products and our options before we employ them in our daily use in an effort to realize which systems will be widely accepted by our patients, reduce risks of complications, and which are also more environmentally responsible in packaging and delivery.
Please introduce us to your team and what everyone does.
The backbone of White Dental Studio is Tishena. She continues to keep me on track, maintain our supply and organize everything we use and do chairside with patients, and build strong relationships built on communication with our patients. Tishena continues to impress me with her dedication not only to her position in White Dental Studio, but also as a role model and citizen of our community. She is active in teaching fitness classes to other busy women, frequently is training for marathons, and recently rescued a sweet little doggie from the shelter.

Ensuring the schedule runs smoothly and coordinating insurances and patient care, while stepping into the role of office manager, is Erin. I have known Erin for most of my 10 years practicing in the Rogue Valley as an outstanding patient care coordinator and insurance coordinator from another office in Medford. Both of us have had our children in swimming camps and dance classes over the years and I was delighted to hear she was interested in joining White Dental Studio this Spring as we said goodbye to Megan who moved away. Erin has experience as a leader and is a fantastic communicator – in her 2 months with us she has demonstrated a dedication to quality care and an eagerness to learn the ways and methods of a general dentistry practice.

Every dentist I know has had patients who don't come to see them because "they're such a good dentist" or "the practice has a great waiting area and comfortable chairs" or even "I get free toothpaste and floss samples at the end". These patient come for one reason and one reason alone – the hygienist is awesome.

Cindy stepped in to our fill our hygiene needs this winter on the recommendation of a colleague after having spent the better part of her career practicing in Redding. So dedicated to her practice and her patients, Cindy commuted from Southern Oregon to Redding for the last several years, and we are so fortunate to have had an opportunity available and welcome her in to the practice.

And, as always, I give so much credit for our social media, online, decorative, and marketing genius to my wife, Lauren. She is the behind the scenes team member who accomplishes so much while also juggling the busy lives those of us with kids know all too well! A huge thank you to Lauren, Cindy, Erin, and Tishena I think is more than appropriate!
Customers in the Rogue Valley appreciate environmentally-friendly dentistry and have chosen to work with you for very specific reasons.
That's right. You know, a large number of our patients come from Medford and Central Point. We spend a considerable amount of time with our patients discussing their concerns and the options available to them. I think this is a pretty big attraction to our patients.

The vast majority of our patients seek us out on their own in their search for providers who focus on detail and quality outcomes. As I've said numerous times, we have an abundance of quality minded dental professionals in Southern Oregon. I believe in setting the bar for myself as high as the science and evidence of modern dentistry reasonably allows and providing that service – even in a situation where a patient requests an alternative to the most 'optimal' outcome. The classic examples of this are how we replace missing teeth with implants, bridges, or partial dentures. All are viable options, but carry very different expectations from myself and the patient, as well as significant financial investment.
How has having inspired patients pushed you professionally and then how are you staying up to speed on developments and changes in the field of environmentally-friendly dentistry?
It is amazing to me some of the questions our patients will ask. Sometimes the questions we are asked or the advice sought is well outside the scope of dentistry or beyond my comfort level to discuss. I learned many years ago to understand the limits of my knowledge and to rely on others for their expertise. Technology drives a lot of what we are able to provide regarding environmentally-friendly dentistry. A lot of that comes from water and energy efficient systems and advances in infection control. Many of the larger conventions and conferences are also now incorporating 1-3 hour long Continuing Education seminars on "Going Green" in the dental profession. I try to make it a point to get in to one of these classes whenever I attend a convention with an available class.

I also still rely heavily on the Eco Dentistry Association's best practices and product guides for dentists. They do an excellent job of evaluating and recommending different products from large equipment to infection control to restorative materials and supplies. We frequently consult the EDA on new products or alternatives for our practice.
Dr. White please tell us about your personal approach to dentistry and why you have chosen environmentally-friendly dentistry as a model of practice for White Dental Studio?
Well I think there has been some slight confusion in choosing environmentally-friendly dentistry as a philosophy in that we've had a number of people ask if I am a holistic dentist. The term "holistic" is pretty simple to throw on a business or approach and I personally have no problem with holistic practices and approaches to medicine. As our society and expectations of medicine evolve, we continue to see more and more blending of traditional, natural, eastern, and alternative approaches to medicine. While I'm not going to package myself as a biologic or holistic dentist, I am here to say that I firmly believe diet, lifestyle, nutrition and wellness go a very long way in preventing disease – including dental disease. It doesn't mean it cures disease nor does it mean it creates an environment for immunity to disease, because the simple fact is that we abuse our teeth and gums on a daily basis, and it is through the body's amazing capacity to recover and to protect itself, combined with good habits, that we have success in preventing disease, slowing and reversing its progression, and recovering after correction of disease.

Combining evidence based dentistry with good technique, attention to detail, education, awareness of diet and medications, and use of biocompatible materials are all part of my practice.

My daughter is our at-home environmental leader. I still believe strongly in the advantages of practicing in an environmentally responsible manner and following systems established in the green dentistry community. Reducing paper and plastic waste is one area I look at regularly. We also strive to minimize and the use of toxic chemicals in the office – this is a big reason my office doesn't "smell like the dentist" like my dentist's office from my childhood. The EDA was a fantastic resource in choosing our systems. We don't use so called 'cold sterilants' or disinfectants which harm the environment, choosing for much cleaner alternatives. Digital imaging, both with photographs and very low radiation radiography, reduces our chemical and film/paper dependency dramatically as well as protects our patients. We separate amalgam waste as required by law with an amalgam separator as well as collect our scrap for proper disposal and reprocessing. With that comes techniques I believe to safely and efficiently remove amalgam fillings when necessary. And lastly, reducing our demand for water and electricity in our mechanical systems, and eliminating paper charting by utilizing digital charting.
Maintaining a high quality of patient relationships is always one of your highest priority. How do you do the dance between technician and friendly and available dentist?
There certainly is a delicate balancing act here. As we've become busier, it sometimes is harder and harder to spend extensive time with a new patient discussing their needs. We will often invite our patients back to review the options available with our team and also to discuss any options which may be available through coordinating with a specialist. I also make it a point to care-call my patients after a lengthy or challenging visit. Typically that is within 24-48 hours of an appointment and patients are always glad to get that call.

We share call coverage with a group of about 10 other doctors in the Rogue Valley, so someone is always available. During the week that's me and most weekends I'm still around. I've had long-standing patients call or get a message in to me late in the evening or early in the morning and we have always been able to find a way to address whatever needs arise. Most of the time it is something simple that we can handle over the phone in a couple minutes. Other times we set up a time for the next day to work in an evaluation. Every now and again we open up a little early or I meet up with a patient to check in on how they are doing.

I always look for a way to accommodate people and there usually is a pretty obvious solution. The most challenging times for us are usually between Thanksgiving and New Years – not only do patients want to get that crown they've known about for 6 months done, but our schedules typically fill up quickly, staff members (and I) take time to be with our families, and the labs we work with get busy and also take time off. We worked through an incredibly busy December last year, and my best advice to patients after 10 years is to plan ahead if you're looking for times that are best for you, and do everything you can to keep those appointments.
Tell us about some winning qualities that can grow between practitioner and patient.
Well there are a handful of things I look at in the conversations I have with patients in an effort to gauge our relationship. It's fine for a patient to be skeptical or to ask a lot of questions. I enjoy discussing with a patient the science of the materials we are using. We enjoy reviewing existing plans and offering second opinions, sometimes on my own plans, in an effort to establish what method of treatment will best serve our patient's needs and expectations with a reasonable expectation of success. There is one quality I look for that tells me everything I need to know in a budding doctor-patient relationship, and that is respect. In my opinion, every patient who comes through the door is worthy of the same respect I would have for my grandparents. As a team, Erin, Tishena, Cindy and I expect this of ourselves, and in turn our patients reciprocate that respect. Our mutual time, effort, and energy has value beyond any monetary means. When we work together from a place of mutual respect towards setting expectations, managing compromises, and planning for success, we are able to achieve incredible long-lasting outcomes.
Please share some recent customer testimonials with us.
From Google: "Omg! I cannot express to you how amazing Dr. White and his staff are . I have not been to the dentist in over two years and they took such excellent care of me and whitened my teeth with their whitening system.  I highly recommend them to anyone who needs a dentist and…they practice eco-dentistry which I believe is the only one in the valley!! Thank you TIshena and Erin."

From Facebook: "This is a wonderful office! The front desk is helpful and professional. I loved being able to fill out my new patient information on the computer; it's faster and wastes less paper. I barely had to wait at all in the lobby and not at all in the chair. Tishena, the dental assistant, clearly is very experienced; my x-rays took way less time than at some other offices. The images they took of my teeth (both photo and x-ray) were very clear. Dr. White then did a very thorough exam and explained everything he found while showing me on the screen. He and Tishena worked like a well oiled machine while taking down all of my chart notes. All in all, a great experience! I'll be going back soon to have my cleaning, whitening, and two small cavities filled. I really liked that I didn't leave doubting his judgment on what needed to be done, and what could be done down the road if I so choose. I have been to some other office where it seemed like they just wanted me out of there and to get to the next patient. Not here! The whole staff truly seems to care about me and my dental health. Thank you!"

And from Yelp: "Our experience at Brandon whites dental studio was nothing short of amazing! I wish we could give them 10 stars. Their office is so warm and welcoming and it is a beautiful atmosphere everyone there is so kind and loving. Dr. White was so incredibly compassionate and understanding to the issues that my son was having he even took the time and stayed after hours to see what was going on regarding the pain he was having. My 16 year old son had had some dental work done previously just a couple months ago At different dental office and there were still cavities in all of the teeth that were supposed to have been previously restored, Dr. White got him in immediately to address the work that had been done and now his teeth are fully restored. We are so grateful to Dr. White and we definitely won't be going anywhere else we are so happy that he is our new family dentist!!"
Dr. White, your practice has you working on patients of all ages. What have you enjoyed most about practicing dentistry here in Ashland?
I've really enjoyed the opportunity to meet so many people here in Ashland. Whether meeting people while out and about town or welcoming a new family to the practice, it's very exciting to hear people's stories. Many of us are transplants to Southern Oregon, my wife and I moved here from Kansas City, Missouri right after graduating in 2007, and I work hard to learn from my patients what their journey has been that led them to Ashland. Most of our patients appreciate the opportunity to have a discussion with us that doesn't revolve strictly around teeth and gums!
Many times monthly you are collaborating with specialists. Please say more.
Collaborating with specialists is key to success as a provider. It's also a great way to get feedback from other professionals about your work and thought processes. In Ashland, we are very fortunate to have several specialists here in town. I've worked very closely over the years with Dr. Kai Reynolds at Siskiyou Endodontics, Dr. Darren Ravassipour of Ravassipour Orthodontics, and Dr. Dana Schmidl of Schmidl Orthodontics. Just up the road in Medford, we work closely with Dr. Bruce Logan of Oral and Maxillofacial Surgery Center of Oregon, Dr. Mike Doherty of Rogue Valley Oral and Maxillofacial Surgery, Drs. Raj and Savage of AOMS, Dr. CH Chou of Southern Oregon Periodontics, Dr. John Ferrin of Ferrin Periodontics, Dr. Lance West of West Orthodontics, Dr. Matt Gebhardt, endodontist, and Dr. Mike Hall of Southern Oregon Endodontics. Discussing treatment options with colleagues and specialists gets us on the same page and typically leads to more efficient and more predictable outcome. Coordinating specialty care is a team effort within our office and we enjoy helping our patients choose the team that is best for them and working with that team to meet our patient's needs.
Dr. White how is your family doing? Do you have any special plans lined up this summer?
This summer, I'd like to find a way to keep up with our kids' busy schedules. Our daughter is a busy swimmer and dancer and our son will have lots of trips to visit his buddy Auden at Hope Equestrian Center where he has equine therapy to build his strength and coordination. It has been really enjoyable watching his bond with horse, Auden, grow over the last two years as well as the strength it's given him. My wife and I enjoy fishing and camping and spending time on the lakes and rivers. We hope to get some quality time outdoors with our friends and family.

Congratulations on the continued growth and great service to our community. Do you have any last thoughts or comments you would like to share with our readers?

I am so grateful for the opportunity to participate with LocalsGuide. We enjoy having an outlet to share our business with the community which reaches so many individuals and families. Our message is the same now as it was in early 2014 in that we strive to provide exceptional dentistry while being environmentally friendly. I'm very glad we've had the success we've had since starting our practice in Ashland and I look forward to continued success! Many thanks!
Learn More:
White Dental Studio
Dr. Brandon White
727 North Main
Ashland, OR 97520
www.mywhitedental.com
541-708-6288
http://ashland.oregon.localsguide.com/wp-content/uploads/2016/03/White_Dental_Cover.png
324
486
LocalsGuide
http://ashland.oregon.localsguide.com/wp-content/uploads/2018/05/logo-1-300x76.png
LocalsGuide
2017-06-28 21:11:21
2017-06-28 21:13:19
Dr. Brandon White - White Dental Studio