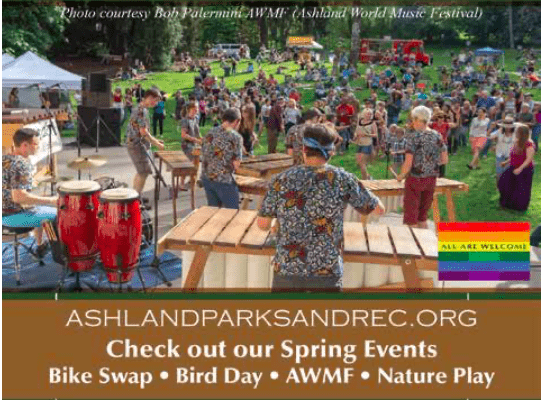 RECREATION… 
Watch for our 2022 Summer Community PlayGuide later this month! View the guide and register for programs at AshlandParksandRec.org. 
Mark your calendar for upcoming events. Check website for details, AshlandParksandRec.org: 
 • Rogue Valley Bird Day on Sat, May 14 – RogueValleyBirdDay.net 
 • Ashland World Music Festival on Memorial Day Weekend – RogueWorldMusic.org/AWMF 
 • Opening celebrations for the Nature Play area at North Mountain Park on Wed, May 11
And… The Rogue Valley Bike Swap is back in 2022! The Bike Swap will be held on Sat, Apr 30, noon-2:30 p.m. at The Grove, 1195 E Main St in Ashland. Admission $2/person or $5/family – Cash only! 
Buy, sell, or DONATE a bike, parts, or accessories. Test ride an e-bike, register your bike with the Ashland Police Dept, and learn about bike events and advocacy efforts in your community. A portion of each sale will go to fund youth bike education programs in local public schools. More info at rvtd.org/bikeswap.
Bike drop off locations for sale and donation:
 • Fri, Apr 29, 4-6 p.m. at the RVTD building at 229 S Front St, Medford
 • Fri, Apr 29, 5-7 p.m. at The Grove 
 • Sat, Apr 30, 8-10 a.m, at The Grove
SENIOR SERVICES… 
Our Senior Services Division enhances the lives ?of seniors by promoting healthy aging, well-being, dignity and independence.  We empower older adults as valued, contributing members of the community and together advocate for the diverse needs of seniors and their families throughout Ashland. We offer many in-person activities at Ashland Senior Center. Or increase your social connections from home by joining our Ashland Senior Phone Buddy program. Learn more and sign up at AshlandSeniorServices.org or 541.488.5342.
VOLUNTEER… 
Volunteers are needed at the Rogue Valley Bike Swap! Help out on Fri, Apr 29 and Sat, Apr 30. You don't need any bike knowledge to lend a hand. 
If you enjoy working on bikes, or simply want to learn more about it, you can help fix up bikes in preparation for the Swap! Bike maintenance work parties will take place on Wed afternoons and Thu mornings at The Grove. 
Ashland Parks Youth Conservation Corps is now accepting applications for summer 2022! Incoming 8th through 12th graders can earn 25 hours of academic community service by spending four days performing a variety of parks and trails maintenance tasks. Two sessions will take place on Jun 13th-16th and Jun 27th-30th. Limited openings – sign up early! To apply, visit ashland.or.us/youthcorps. 
Join the volunteer gardening team at the North Mountain Park Demonstration Gardens! Work parties are held every Wed, 9 -11 a.m., Mar through Nov. All experience levels are welcome. Adopt a garden for the season or drop in anytime. 
For all volunteer opportunities, to learn more, sign-up or to join an email list, please call or email Volunteer Coordinator, Sulaiman Shelton, at 541.552.2264 or Sulaiman.shelton@ashland.or.us. 
For more info visit AshlandParksandRec.org, email ParksInfo@ashland.or.us or call 541.488.5340. Follow us on Facebook and Instagram @AshlandParksandRec and use the hashtags #APRCstayConnected #AshlandParksandRec #APRC #FunItsInOurNature #AshlandWhatToDo