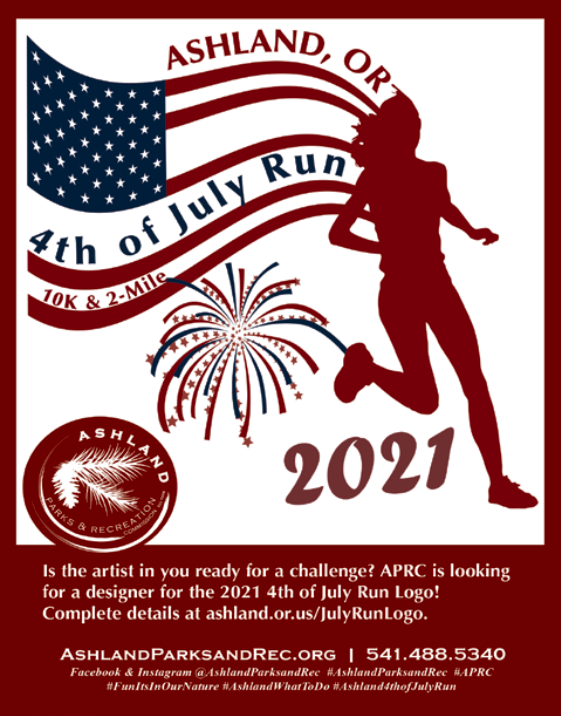 Logo Design Contest 2021 for the 45th Annual 4th of July Run… Is the artist in you ready for a challenge? If you answered yes, we have an opportunity for you! Once again, we are looking for an artist to design the logo for the annual 4th of July Run. If your artwork is selected you will win $100, three free t-shirts featuring your design, and the pride of seeing your work in multiple mediums! Submissions are due no later than Friday, April 30. The winner will be notified by Monday, May 3. For guidelines, additional information and to see logos from events past, please visit ashland.or.us/JulyRunLogo.  
Our 2021 WinterSpring PlayGuide is now available at AshlandParksandRec.org. Due to COVID-19, the PlayGuide does not include recreation programming and will only be available in digital format. We hope you use this guide as a way to learn a little bit more about us… projects we are working on, our core values and more!  
Be sure to check out all our Senior Services Division has to offer the citizens of Ashland. The division enhances the lives of seniors by promoting healthy aging, well-being, dignity and independence. We empower older adults as valued, contributing members of the community and together advocate for the diverse needs of the seniors and their families throughout Ashland. Visit AshlandSeniorServices.org, email SeniorInfo@ashland.or.us, or call 541.488.5342. 
Are you familiar with our dog friendly parks and walks? Learn more at ashland.or.us/DogFriendly – Remember dogs are not allowed in Lithia Park or at North Mountain Park. Read about the impact dogs can have on wildlife, even when dog owners are doing all the right things! See our Wildlife column in the 2020 WinterSpring PlayGuide, AshlandParksandRec.org.  
Remember, the Oak Knoll Golf Course is open and ready for your business! Stop in for a round of golf. More at OakKnollGolf.org. 
Volunteers are needed to provide grocery shopping and essential errands for Ashland residents most vulnerable to COVID-19. If you fall into the low risk category (under 65 years old with no chronic health problems) and would like to help a neighbor, please sign up to help at adoptneighbor.org. If you have any questions please contact Volunteer Coordinator Sulaiman Shelton at 541.552.2264 or Sulaiman.shelton@ashland.or.us. Volunteer with us, "It's the Natural thing to Do!"
For more info visit AshlandParksandRec.org, email ParksInfo@ashland.or.us or call 541.488.5340. Follow us on Facebook and Instagram @AshlandParksandRec and use the hashtags #FindYourSpace #InThisTogether #APRCstayConnected #AshlandParksandRec #APRC #FunItsInOurNature #AshlandWhatToDo.