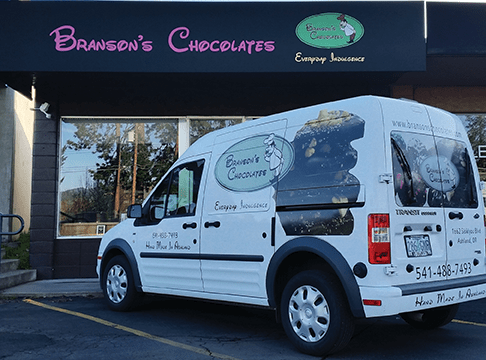 November is a month of giving thanks, and Branson's Chocolates would like to say Thank You to our customers, both our long-time loyal ones and the new ones we meet every day—you are the reason we get to do what we love! We would also like to say Thank You to our employees and family (which is often the same thing when you own a small business)—your support and hard work keeps us going. And of course we would like to thank the many local businesses that we partner with—our suppliers, the merchants that wholesale and retail our chocolate, the wineries and breweries that we collaborate with, and all the other businesses that support our growth in any way.
If you want to find us on the web, we are at—
If you want to catch us out and about in November, here's where we will be—
November 5th & 6th, I will be at the 10th annual Ashland Culinary Festival at the Ashland Hills Hotel & Suites, where we will have chocolate for sale. I will be teaching a workshop – All Things Chocolate! – on Saturday the 5th. There is more information at ashlandchamber.com/culinaryfestival .
November 19th 11am-7pm, I will be at Paddington Station's 43nd Annual Holiday Open House, with Peppermint Bars and Peppermint Squares for sale, in addition to all our other chocolate that Paddington Station regularly carries.
Remember that the holiday season is fast approaching, which makes this the perfect time of year to come in and order chocolate for the holidays. Take the craziness out of the holiday season with our custom gift boxes complete with pretty bows. Stop in and our friendly staff will help you put together the perfect gift, whether it is boxes of fudge, assorted chocolates, truffles, bars, or turtles.