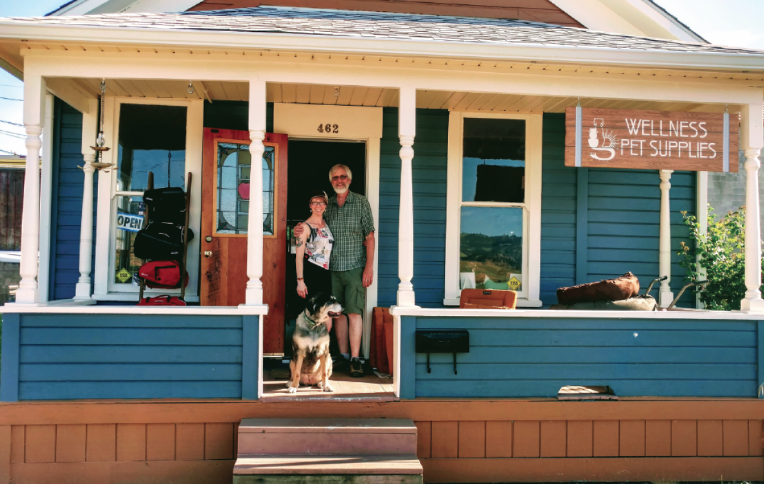 Events – Nail clinic day is here at the store on the first Sunday of every month, from 11- 1 pm. $7. The next clinic is on June 3rd. No reservations needed. It is first come first served…and becoming quite popular.
– Keep an eye out. We will be creating a "Yappy hour", doggie social. The details are being worked out, so check in with us for more information.
– Our one year anniversary is just around the corner. I cannot begin to tell you how happy we are to have been in business for one year already. We are going to celebrate in style with so many fun things. Just to name a few there will be: free give aways, samples, music, agility demonstrations, wine tasting with 2 Hawkes Winery and much, much more.
New Products
Roam Pet Treats – Healthy novel proteins such as crocodile, grasslands venison and ostrich from Southern Africa. They give pets a break from treats that cause allergies and weight gain. These meats are more lean… have less calories and 80% less fat.
Feliway – The #1 solution to help cats adjust to challenging situations at home. They help curb stress-related, unwanted behaviors. Interestingly, when cats feel comfortable in their environment, they often will rub their cheeks against objects, leaving a message known as a facial pheromone. This marker provides confidence to cats. Feliway replicates that pheromone and it is clinically proven to help reduce stress which leads to inappropriate behaviors.
Sun God – Southern Oregon's very own Hemp CBD pet oil. They combine hemp and herbs to help with muscle spasms & seizures, anxiety & stress, and inflammation & pain.
doTerra Essential Oils – Top quality essential oils that use responsible sourcing and safe processing to preserve the delicate chemical profile. Additionally, doTerra's innovative scientific testing and commitment to not add "fillers" guarantee the highest level of quality. The ones we carry are safe to use for your pets. So, please come in to get a guide on how to use them correctly or attend one of our workshops!
MinTies (dental chews) – They like to compare themselves to Greenies but I think they are better for our dogs. My reasoning is that the MinTies bone breaks down better in the gut, they use real mint oil and the dogs actually love them. The company does not YET make them for our cats.
Fur- Ever Paw, In Loving Memory – A LOCAL custom made paw print of hand blown glass with your pet's ashes placed in the middle in the shape of a heart. We share a special bond with our pets, why not incase them into something you can cherish every day. Robert Perkins is one of Ashland's own glass artisan's. (Come in and ask to see my Rueben's commemorative piece.)
http://ashland.oregon.localsguide.com/wp-content/uploads/2017/10/Screen-Shot-2017-10-25-at-5.01.11-PM.png
484
764
Wellness Pet Supplies
http://ashland.oregon.localsguide.com/wp-content/uploads/2018/05/logo-1-300x76.png
Wellness Pet Supplies
2018-05-23 19:44:40
2018-05-23 19:44:40
Here's What is New!