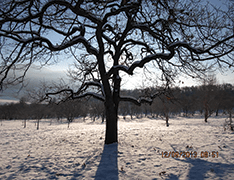 Last month we tossed around a few options that while hard to find, would be a dandy addition to your landscape…
We focused on conifers, both evergreen and deciduous. This month, we will explore some additions that will "rock" the neighborhood!
The only one on your block? Let's see… Where to start?
Ohh, I got one! How about a Chinese Wingnut? If you have ever stopped for a mocha at the Human Bean on the way out of town, northbound, you were graced by the elegance of the HUGE Wingnut that towered over your car. What a great tree! Kinda' hard to come by, but when you do, it will make a statement!
One of my favorites, and I obtained one for my Miss Kelly, is a Big Leaved Magnolia. Stunning Banana sized leaves, smooth lime green bark, awesome!
High on the list of rare birds would have to include a Firmiana Simplex, or Chinese Parasol Tree.  Almost tropical, and deals with the sweltering summers we have here better than you would expect.
Daphniphyllum, being a smaller tree, comes in a few different forms, very cool in every way, and again, the only one on the block!
Let's switch to my world. The Oak world… I am an OAK guy! With Oaks, you can never go wrong.
My first pick will be the Valley Oak, of central and northern California. These stunning and stately gems adorn every sign, wine label, business card, and yellow page ad in the golden state north of Monterey Bay.While gangley puppies, they make a mighty fine dog, indeed!
Why they never made the pilgrimage north over the Siskiyou Pass in the beak of so many Blue Jay's, I'll never know, but these Oaks thrive here!
English Oaks, or Quercus Robur, are another star of the show. A mind numbing choice of cultivars exist for this champion of Oaks: weeping, columnar, variegated, standard, hybrid, you name it! The English Oak has proven itself to be a bombproof tree for our "neck of the woods"!
Hungarian Oaks, while being utilized as a more common street tree planting, shows a penchant to resisting the rigors of urban settings, maintaining a "one off" look…
Northern Red, Schumard, Sartori, Dentata, round out the stable of rare but 'gettable" oaks, take your pick!
Many southern and south of the border Oaks work here as well, you will just have to dig a little deeper to source them. Even the evergreen Oaks from the desert southwest of the U.S. and Mexico are options here, but may go dormant for the winter.
There are some Oaks from China that will do just fine, but be warned, single digit temps can split the bark on the thin skinned varieties.
Maples, Maples, Maples! With a thousand to pick from, the reason for choosing these is color, either spring or fall! Pretty much every color on the palette, and coming from every corner of the globe!
My favorites, in no order, are: Chinese, Sugar, Japanese, Korean, Siboldeanum, Psuedosieboldeanum, Kinran. Palmatum, Japonicum, Griseum, Circinatum, Grandidentatum, Macrophyllum… Whew!
Plant early and often, plant proud, with a firm foot, and plant something that you can be proud of!